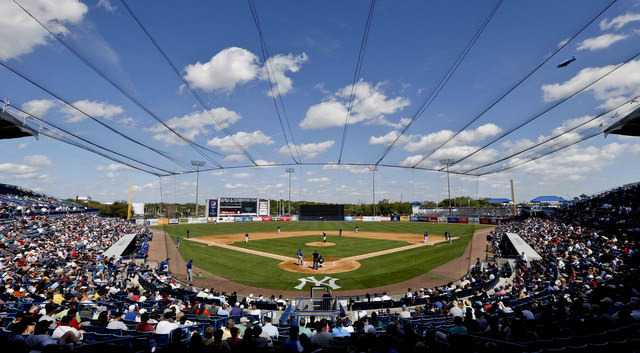 Late Friday evening the Yankees announced their 2018 Spring Training schedule. Pitchers and catchers are due to report Tuesday, February 13th, and the first Grapefruit League game will be played Friday, February 23rd. Here are the key dates:
Pitchers and catchers report: Tuesday, February 13th
First workout: Wednesday, February 14th
Position players report: Sunday, February 18th
First full squad workout: Monday, February 19th
First Grapefruit League game: Friday, February 23rd (home vs. Tigers)
The Yankees will make two trips to the other side of Florida next spring, including once to play the Mets in St. Lucie on Wednesday, March 7th. The Mets will visit Tampa three days later. That Yankees close out their spring schedule with an exhibition game against the Braves at SunTrust Park on Monday, March 26th.
All told, the Yankees will play 33 exhibition games next spring, including 16 home games at George M. Steinbrenner Field in Tampa. The various networks will release their spring broadcast schedules in a few weeks. All networks have been scaling back their spring coverage in recent years — those midweek afternoon games don't get good ratings, apparently — but a good 20-25 of those 33 games should be televised.
Eventually the complete spring schedule will be available right here. Spring Training season tickets are on sale right now. You can buy them here. Individual spring game tickets will go on sale sometime in January. The Yankees open the 2018 regular season on Thursday, March 29th in Toronto. The season begins midweek now to accommodate extra off-days during the season.