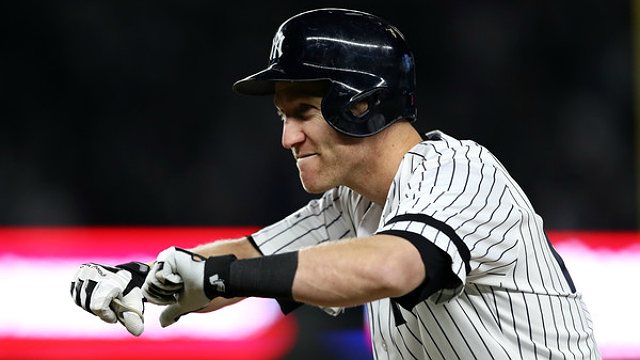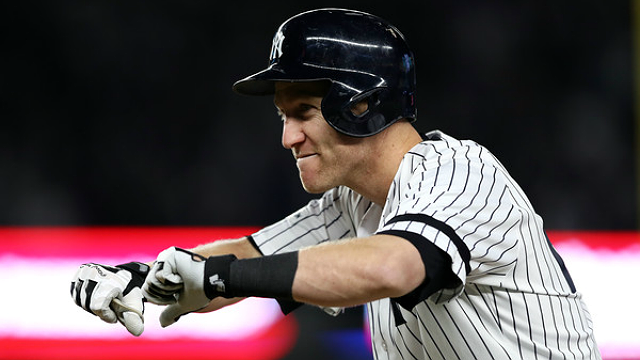 In 2016, the Yankees sold at the trade deadline, signaling time for a rebuild. A year later? The tables had turned with the Yankees as buyers looking to bolster a club already in playoff contention.
Through two big deals and a few smaller ones, Brian Cashman was able to give the Bombers an extra boost they needed for the stretch run, October and beyond.
July 19
Yankees receive: Todd Frazier, David Robertson and Tommy Kahnle
White Sox receive: Blake Rutherford, Tyler Clippard, Ian Clarkin and Tito Polo
In one move, the Yankees solved multiple problems. Need another corner infielder in case Greg Bird doesn't come back? There's Frazier. Need to bolster the bullpen that's gotten slightly overused? Robertson and Kahnle. It was a perfect move.
It did cost the Yankees, but not irreparably. They had to deal Rutherford just a year after drafting him in the first round. While he has plenty of potential, he's yet to show any power. Clarkin and Polo likely wouldn't have been protected in the Rule 5 draft, so they were expendable (Clarkin was added to the White Sox' 40-man, Polo was not after getting hurt in the Arizona Fall League).
And somehow Tyler Clippard got himself traded to the Astros and won a World Series ring. Go figure.
We've already written about Frazier, D-Rob and Kahnle's respective impact in our season review series, but each has potential impact beyond this season. Robertson is under contract for 2018 while Kahnle won't be a free agent until 2021. That's a lot of value, even if the Yankees don't re-sign the ToddFather.
As far as 2017, they each filled their roles to a tee. Frazier fixed the Yankees' last hole in the lineup and brought energy to the club (Thumbs Down!). Robertson and Kahnle were studs down the stretch and in the postseason.
July 30
Yankees receive: Jaime Garcia
Twins receive: Dietrich Enns and Zack Littell
Garcia represented a fill-in for the Yankees' rotation, an extra arm to allow Jordan Montgomery to throw fewer innings in the second half. As a rental, there was no expectation of him sticking around and it's not like the Yankees expected him to start in the postseason.
He ultimately gave the Yanks 37 1/3 kinda-sorta average innings over eight forgettable starts before throwing 2 2/3 innings in ALDS Game 1. Remember that outing? He wasn't bad, walking two and striking out three while absorbing eight outs.
Enns made two appearances for the Twins, allowing four runs (three earned) on seven hits over four innings. He was probably getting DFA'd or outrighted in the offseason, so he was highly expendable.
Littell less so. The 22-year-old righty acquired for James Pazos had a remarkable year between High-A and Double-A in 2017. Between the Yankees' and Twins' organizations, he threw 157 innings, struck out 142 and had a 2.12 ERA while going 19-1.
He is a new member of the Twins' 40-man roster. He may not have made the Yankees' roster this offseason, but he could be someone the Yanks regret dealing.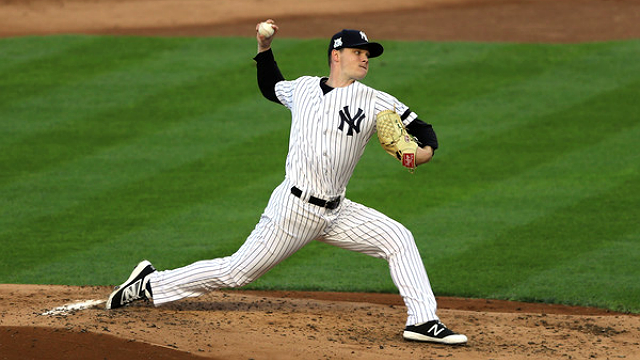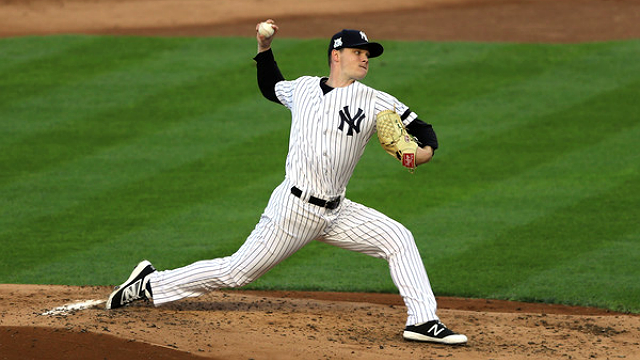 July 31
Yankees receive: Sonny Gray and International Bonus Pool Money
Athletics receive: Dustin Fowler, James Kaprielian and Jorge Mateo
This deal made all the sense in the world. Getting 2.5 years of Gray for three prospects, two of whom were injured and one likely blocked.
Who knows if Kaprielian can stay healthy at this point? He has the stuff to pitch in the majors if he ever does stay on the mound, but that's seeming less and less likely. Fowler had a pretty bad knee injury and the Yankees had Clint Frazier, not to mention Gardner, Judge, Hicks and Ellsbury in the majors (and now Giancarlo!).
Mateo seemed to have broken out after reaching Double A Trenton, but he was blocked by plenty of outfielders, just like Fowler.
So the Yankees dealt from a position of strength and added Gray, who had two playoff starts after a solid end to the season. He had some homer issues, but he's still a good middle-of-the-rotation starter for the Yankees and much more affordable than similar arms on the current free-agent market. Even with the strong potential of all three players given up, it's a deal the Yankees should make every time.
The other trades
– While the Yankees picked up bonus money in the Gray deal, they also dealt two possible Rule 5 picks for extra money in July. They dealt RHPs Matt Wotherspoon and Yefry Ramirez to the Orioles for a lot of Baltimore's pool as the O's don't really wade into the international market.
Considering the fact that Shohei Ohtani is now a Los Angeles Angel, these moves didn't quite work out. The Yankees can still use some of the pool on other prospects, including the few remaining ex-Braves, but they couldn't reel in the big fish of the international market and are left holding a little too much bonus money. Oh well.
– In exchange for Rob Refsnyder, the Yanks acquired Double A first baseman Ryan McBroom in mid-July. Refsnyder had been DFA'd and McBroom was a non-prospect. He did fill a hole as depth after the team had run through multiple first basemen in the majors. McBroom had previously hit some homers against the Trenton Thunder, so it was good to get him out of the opposing dugout.
– Along the same lines as the McBroom deal, the Yankees dealt LHP Tyler Webb for Garrett Cooper. Cooper filled in for Chris Carter/Greg Bird for a month or so before going down with injuries. Webb gave up a grand slam on literally his first pitch with the Brewers. Seriously!
– Lastly, at the waiver deadline, the Yankees acquired Erik Kratz from the Cleveland Indians to be their depth catcher. He had two hits in two at-bats, produced 0.1 WAR and mostly rode the bench before being outrighted off the roster this offseason.
2018 Outlook
For next year, the Yankees still have Gray, Kahnle and Robertson as well as, to a lesser extent, McBroom and the bonus pool money. McBroom is hitting over .400 in Mexico right now!
But at the 2017 deadline, Cashman acquired a starter and two late-inning relievers for 2018. He has plenty of prospects left if he wants to add further at next season's deadline.
As for the prospects traded away, it'll be nice to see what Fowler can do in the majors this year. The rest of the prospects dealt are either further away from the show or are unlikely to even reach the majors in 2018. Regardless, monitoring their development from afar will be a pleasant side gig for Yankees fans.