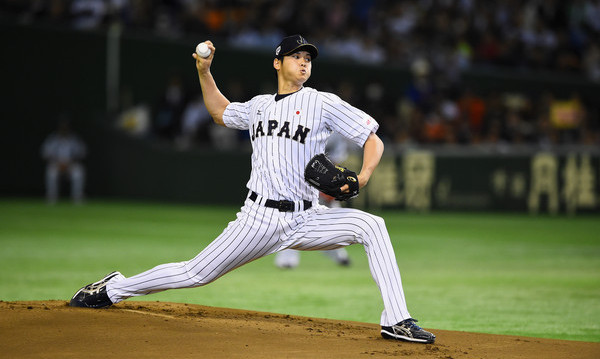 Shohei Ohtani will not sign with the Yankees. At a charity event tonight, Brian Cashman told Brendan Kuty and Bryan Hoch that Ohtani informed the Yankees he will not sign with them. Ohtani's camp said the Yankees made a great presentation, but ultimately, he wants to play in a smaller market and on the West Coast. The Red Sox and Twins have also been ruled out, reports Ken Rosenthal.
The Yankees had been considered the favorite to sign Ohtani for weeks now because they have as much international bonus money available as any team ($3.5M), also because they have a great young roster loaded with talent. It looks like they'll be a World Series contender for years. Ohtani could've joined the rotation, taken aim at the short porch between starts as the DH, and had a great chance to win. Alas.
Because he is only 23, Ohtani is subject to the international hard cap, meaning the Yankees could not blow him away with an offer. They couldn't simply continue adding millions to their offer until he said yes. The financial playing field was level, so Ohtani's personal preferences are going to drive his decision, and his preference is to play on the West Coast. He has every right to make that decision.
Cashman confirmed the Yankees were planning to pursue Ohtani aggressively, but that is off the table now, so they'll move on to other business. That $3.5M in international bonus money will go to other prospects, maybe the guys the Braves lost, and the Yankees will look for rotation help (CC Sabathia?) and another bat for the lineup. At least Ohtani didn't string them along. The Yankees can move on with their offseason now.