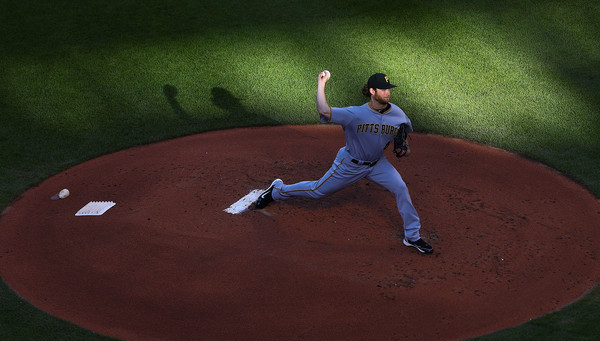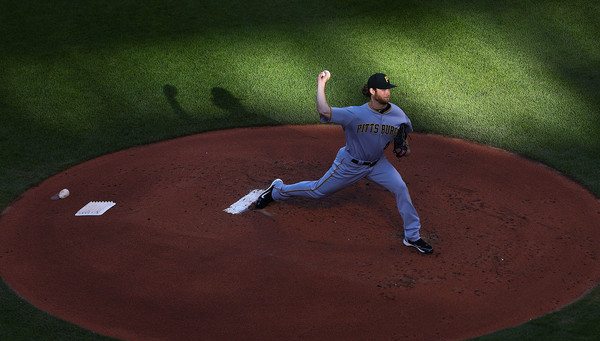 As of today, pitchers and catchers are 59 days away from reporting to Tampa for Spring Training. Two months. There's lots to do in those two months too. The Yankees need another pitcher and probably another infielder. and eventually the top free agents are going to have to sign. Anyway, here are some notes to check out.
Yankees, Pirates talking Cole trade
As rumored during the Winter Meetings, the Yankees and Pirates are indeed talking about a Gerrit Cole trade, reports George King. The deal "possibly" could include Clint Frazier, and the Pirates are said to want a young big league ready pitcher as well. Chance Adams is the obvious fit there, though who knows, maybe the Pirates prefer Domingo German or Luis Cessa. Strangers things have happened.
On one hand, Cole turned only 27 in September, and he has obvious ace-caliber upside. Plus he's under control for two seasons, not just one. On the other hand, Cole has gone backwards the last two years. He had a 4.26 ERA (4.08 FIP) in 203 innings this season, which is as close to league average as it gets. League average is fine! A league average workhorse is quite valuable. I just worry about trading an ace package for a guy who hasn't been an ace in two years.
Yankees, D'Backs talked Ellsbury trade
The Yankees and Diamondbacks discussed a Jacoby Ellsbury trade at some point recently, according to Brendan Kuty, though apparently it was a one-sided conversation. The D'Backs weren't interested. Arizona appears to be one of the few potential landing spots for Ellsbury given the fact they need an outfielder, and Ellsbury and manager Torey Lovullo know each other from their Red Sox days. Plus Ellsbury has a house in Arizona, apparently.
Supposedly Ellsbury does not want to waive his no-trade clause, which could simply be his way of playing hard to get, and leveraging the no-trade clause into some sort of compensation for agreeing to a deal (pick up his 2021 option)? That might be pushing it. Or maybe Ellsbury doesn't really want to leave the Yankees because he wants to win, and is willing to accept a reduced role. Whatever it is, he is in control here. If he doesn't want to go to the D'Backs (or anywhere else), he doesn't have to.
Judge will be ready for Spring Training
Earlier this week Brian Cashman told Brendan Kuty that following his shoulder surgery, Aaron Judge will be ready for the start of Spring Training, though the procedure will throw a wrench into his offseason workouts. Judge will have to start hitting a little later than usual. Here's what Cashman said:
"He won't be hitting in the winter the way he's used to doing but in terms of hitting the ground in spring training he should be fine," Cashman said. "But as far as his normal cage work and picking up a bat at a certain point, that's going to be delayed for a period of time. But in terms of the recovered and the rehab puts him well in advance of spring training."
While every surgery comes with risk, I'm not too worried about Judge because it was a fairly minor procedure — they scoped out a loose body and repaired some cartilage, there wasn't any damage to his labrum or rotator cuff — and he has plenty of time to recover. Missing some offseason cage time isn't the end of the world. As long as Judge is ready in time for Spring Training, he'll get more than enough at-bats to be ready for the season.
Fowler suing White Sox for injury
According to Tom Schuba, former Yankees farmhand Dustin Fowler is suing the White Sox and the agency that manages Guaranteed Rate Field over the injury he suffered this summer. Fowler suffered an open rupture of the patella tendon when his knee hit an electrical box along the sidewall chasing a foul pop-up, as I'm sure you remember. It happened in his first inning as a big leaguer. From Schuba:
The lawsuit, filed in Cook County Circuit Court, claims the White Sox and the Illinois Sports Facilities Authority acted negligently by not securing the metal box or taking precautions to prevent players from colliding with it. In addition, the suit alleges the White Sox and Sports Facilities Authority failed to adequately inspect the right field wall and the box. The box was installed at knee-level "in a manner so as to create a hidden and undetectable hazard" to Fowler and other ballplayers, the suit alleges. By failing to properly pad, guard or cover the exposed box, the defendants showed "an utter indifference to or conscious disregard" for Fowler's safety.
The lawsuit says Fowler, who later went to the Athletics in the Sonny Gray trade, suffered "severe and permanent" injuries as well as mental pain and anguish, and adds Fowler has had to spend "large sums of money" on medical care related to the injury. I have no idea whether he has any chance of winning the lawsuit, but I hope Fowler cleans them out and they have to rename the ballpark after him. He started baseball activities as part of his rehab last month, so it seems he's doing well. Hopefully Fowler wins the A's center field job in Spring Training.