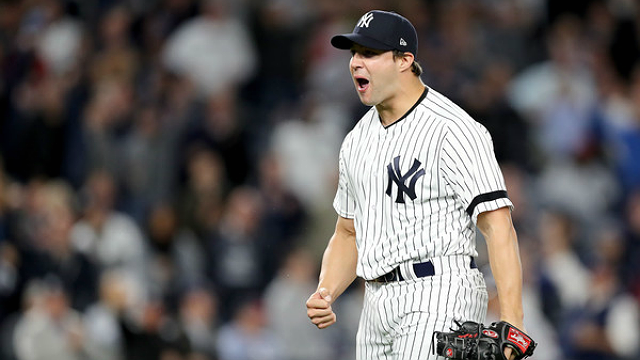 Four years ago — when he was striking out 11.1 batters per nine innings with the Trenton Thunder — it was easy to imagine Tommy Kahnle being an impact reliever with the New York Yankees.
A year ago? That was tougher to imagine.
Kahnle's 2017 season is a story of a reliever figuring things out and arriving in a place able to showcase his talents.
Before the trade
There's a reason Kahnle wasn't highly sought after prior to the 2017 trade deadline. The former Rule 5 Draft pick had long struggled with his command, walking north of a batter every other inning even in the minors. LaTroy Hawkins, former Yankee (and nearly every other team), called him "one of his worst teammates ever." His high velocity, accompanied by top-notch strikeout rates, made him an interesting prospect, one on which both the Rockies and White Sox took a chance.
What changed in 2017 were the walks. In 36 innings with the White Sox, he walked just seven batters after walking 20 in nine fewer innings a year prior. Meanwhile, he actually upped his strikeouts, K'ing a shocking 42.6 percent of batters while more than halving his walk rate. Surely some of this was small sample size noise, but it looked like a legitimate turnaround.
And so on July 19, he was flipped with more well-known players Todd Frazier and David Robertson to the Yankees for Blake Rutherford, Tito Polo, Ian Clarkin and Tyler Clippard. Despite Frazier and Robertson's respective reputations, Kahnle seemed to be the centerpiece of the deal. Under team control for 3.5 seasons and not even arbitration eligible, he was both cheap and effective. The two veterans had larger contracts with shorter terms.
An ugly August
Kahnle pitched in his first game after the trade and struck out two batters in an inning. He struck out eight batters over six outings before allowing a hit and didn't walk anyone until his 11th game in New York. But beginning in late July, he gave up a fair number of hits.
From July 29 to Aug. 30, he gave up 17 hits and walked five in 12 1/3 innings. He continued to get strikeouts, 14 to be exact, but he allowed a .327/.383/.481 line. He essentially turned the opposition into 2009 Derek Jeter.
Kahnle's worst stretch in pinstripes came in three outings from Aug. 18-23 against the Red Sox and Tigers. While recording just five outs, he gave up five runs on seven hits, one home run and two walks, striking out just one. Before that stretch, he'd allowed the go-ahead inherited runner to score in a crushing loss to Boston on Aug. 13 and hadn't seemed like the surefire middle inning reliever the Yankees had acquired.
His fastball and slider velocity both trended down in August by about 0.8 mph, which may have been due to fatigue. He'd thrown in 20 games over his last 43 days by the end of the month. He was already at 57 total appearances after throwing in just 52 games between AAA and the majors in 2016 and 57 in 2015.
A return to form
After his slight downturn, Kahnle was removed from most high leverage innings in September and subsequently began to thrive. His velocity didn't jump, but he cut down on the usage of his slider. He'd used it 25.3 percent of the time in July. But once he came to the Yankees, he cut it down to 15.2 percent in August and 5.8 percent in September. Meanwhile, he increased his reliance on his changeup in August and became fastball heavy in September.
For the final month of the year, he allowed just eight hits in 10 innings (though he walked five) and gave up just one run. He struck out 15 of 41 batters faced and didn't give up a single extra-base hit. That was the Kahnle the Yankees were expecting in the trade.
It was perfect timing for the Bombers, who would need his arm in October.
Postseason excellence until the end
With Dellin Betances out of the mix, Kahnle moved up a spot in Joe Girardi's circle of trust in the postseason. He returned the favor by not giving up a run until the Yankees' last game.
In the Wild Card Game, he recorded seven outs, his most of the season and highest total since his rookie season. While he struck out just one batter, he retired every batter he faced and provided the bridge from Robertson to Aroldis Chapman to secure the Yankees' advancement. He also got a bit lucky on a peculiar grounder down the first-base line.
His shining moment was likely ALDS Game 4. Entering the game with two on and none out in the eighth inning, he proceeded to strike out five of the next six batters en route to his first (and only) save of the year. He was dominance personified and allowed the Yankees to save Robertson and Chapman for the crucial Game 5 two days later.
Kahnle pitched two scoreless innings in ALCS Game 2 before throwing three scoreless in the Bronx over Games 3 and 5. He allowed some hard contact in the last outing as he worked past his career-high in innings. He'd previous thrown 68 2/3 with the Rockies in 2014, but eclipsed that with 74 between the regular season and playoffs this year.
So that fatigued reared its ugly head in Game 7 against the Astros. He allowed three runs, tarnishing his unblemished postseason and turning a 1-0 game into a 4-0 game. With the way Charlie Morton and Lance McCullers were pitching, it may not have mattered, but it felt like the nail in the coffin for the Yankees.
2018 Outlook
Kahnle remains under Yankees control for a while and figures to keep his prominent spot in the bullpen, provided he can keep up his 2017 breakout. His walk rate certainly climbed post-trade and he'll have to prove whether his turnaround in command was for real or a mere flash in the pan.
Still, even with an elevated walk rate, Kahnle was still an effective reliever for the Yankees and will continue to be a key cog in middle relief. His first full year in pinstripes is a big opportunity for the 28-year-old righty.