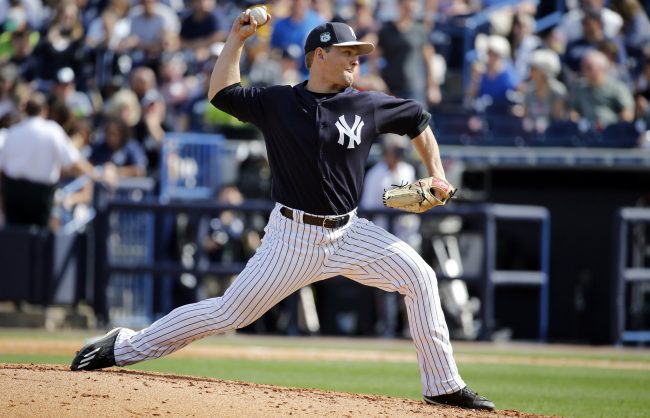 Chance Adams | RHP
Background
The 23-year-old Chance Adams was born and raised in Scottsdale, AZ, where he attended Chaparral High School, winning back-to-back state championships in his final two seasons. That small school, whose graduating classes are generally around 300 students, also produced Brian Bannister, Ike Davis, and Paul Konerko (as well as Brie and Nikki Bella, but I digress). Adams spent two years at Yavapai College, a junior college, before transferring to Dallas Baptist University for his junior year in 2015. He was excellent there, posting a 1.98 ERA and striking out 83 (against just 13 walks) in 59 IP – though, he did so pitching exclusively out of the bullpen in a set-up role.
While it would be inaccurate to say that there was no hype for Adams heading into the 2015 draft, his name was not well-known to most. Baseball America had him ranked as the 245th best prospect in the class, and that represented the high water mark for his pre-draft stock. The Yankees saw something they liked, though, and snagged him with their fifth round pick, 153rd overall. Adams signed to a below-slot $330,000 bonus shortly thereafter.
Pro Career
Adams made his professional debut less than two weeks after being drafted, and he pitched at three levels – Short Season Staten Island, Low-A Charleston, and High-A Tampa – before season's end. He continued to work out of the bullpen, and his numbers weren't too dissimilar from his production at Dallas Baptist; in 35.1 IP, 24 H, 9 BB, 45 K, 1.78 ERA. Rumblings that the Yankees would convert Adams to a starter for the 2016 season began in earnest before the season was over, and it was confirmed by the team before the end of the calendar year.
With a new course charted, Adams made his first professional start at Tampa on April 9, 2016; it didn't go too well, as he allowed 6 hits (including 2 home runs) and 6 runs (5 earned) in just 3.1 IP. He struggled mightily in three of his first five starts, but he righted the ship when the calendar turned to May, and he was utterly dominant from that point forward. Over his last 20 games (19 starts), Adams pitched to the following line – 107.2 IP, 56 H, 31 BB, 119 K, 1.67 ERA, 45% GB. And that included a mid-season promotion to Double-A, where he ranked among the top-three in ERA, K%, and K-BB% among pitchers who started at least 10 games.
Despite his excellent season, Adams didn't get much love on prospect lists heading into 2017. He didn't make the top-100s of Baseball America, Baseball Prospectus, Keith Law, or MLB.com, which are oftentimes the go-to lists for baseball writers and fans. He did, however, have a fan in John Sickels of Minor League Ball, who ranked him as the 78th best prospect. And Adams made him look like something of a genius.
Adams opened 2017 back at Trenton, making six dominant starts (35.0 IP, 1.03 ERA) before earning his promotion to Triple-A Scranton/Wilkes-Barre for a May 14 start. He proved to be right at home in the highest level of the minors, with two scoreless outings in his first four times out, including a what may be his most dominant performance to-date – 6 innings of one-hit, no run ball, with 12 strikeouts and 2 walks against the Columbus Clippers. All told, Adams made 21 starts at Triple-A, tossing 115.1 IP of 2.89 ERA ball, with a 22.3% strikeout rate and 9.3% walk rate.
Prospect outlets got in on the action this time around, with Baseball Prospectus ranking Adams 37th on their midseason top-50, and Baseball America placing him 56th on their list. In fact, the BP staff went as far as to say that "[h]e's probably a MLB fourth starter already."
Scouting Report
Adams is short for a pitcher, checking in at right around 6′ tall, and he's a solidly-built 215ish pounds. He works quickly on the mound, drawing praise for both his smooth, compact delivery and the natural deception in his mechanics. And – TINSTAAPP be damned – many believe that those clean mechanics have played a huge role in his ability to stay healthy.
Stuff-wise, Adams has two pitches that grade out as plus: his mid-90s fastball with "rising" action, and a diving, mid-80s slider. Those are the two pitches that helped him dominate as a reliever in college, and they've only improved as he has worked with professional coaches. He also features a couple of fringe-average to average offerings in his mid-80s change-up and a curveball in the upper-70s. The curveball is probably the better of the two right now, if only because he repeats his delivery so well, and it has a similar shape to his slider with much less velocity.
Adams is one of those pitchers that falls prey to the "control versus command" argument, as he has plenty of the former, but sometimes lacks the latter. The 2017 season was the first time that Adams struggled a bit with the free pass, though, and his walk rate has been trending up each year; that goes hand in hand with a slip in strikeouts, as well. That is not unexpected, given that each year represents a move up the organizational ladder, and his walks did drop back down at Triple-A – but it's something to keep an eye on nonetheless.
2018 Outlook
It feels almost inevitable that Adams is going to serve as trade bait for the Yankees. He is just about as ready as a prospect can be for the show, but the big league team already has a full rotation, and they've been consistently linked to young, controllable pitchers. Joel Sherman reported that the Yankees don't want to deal Gleyber Torres, Estevan Florial, or Justus Sheffield in such a deal, which leaves Adams and Clint Frazier as the most attractive young pieces in the organization.
Should the Yankees stay the course, Adams will probably be the team's sixth starter – and that could be a substantial role. Eight different pitchers made at least five starts for the team last year, and he could be first in line for that overflow. Moreover, Luis Severino and Jordan Montgomery both set career-highs in innings pitched last year, and their workloads are sure to be monitored as a result.
My Take
Adams has more than earned a shot at the majors, and I am confident that he has all of the makings of solid starting pitcher. He has stayed healthy and productive under increasing workloads, and he has stuff that belies his size. I do think that he is more likely to be a fourth starter than his statistical profile suggests, given his size and modest groundball rates, but there's a ton of value in that – especially when the player is under team control for six years.