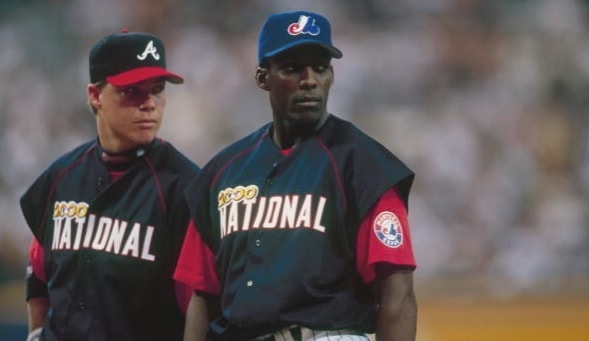 There are four new members of the National Baseball Hall of Fame. Tonight it was announced Chipper Jones, Jim Thome, Vladimir Guerrero, and Trevor Hoffman have been voted into Cooperstown by the BBWAA. Hoffman just snuck over the 75% threshold for induction. The other three sailed in with ease. Edgar Martinez fell only 20 votes short of induction. Ouch.
Thome and Chipper were both on the Hall of Fame ballot for the first time and were no-brainer selections as far as I'm concerned. Thome is eighth all-time in home runs (612) and was one of the best sluggers of his generation. Chipper is simply one of the greatest switch-hitters in baseball history. In fact, he's the only switch-hitter with at least 3,000 career plate appearances in the .300/.400/.500 club.
Last year both Guerrero and Hoffman fell only a handful of votes short of induction, and historically, when you get as close as they did last year, you get voted in the next year. That's what happened here. Guerrero was a five-tool star in his prime — I'm still annoyed the Yankees signed Gary Sheffield and not Vlad back in the day (and Sheffield was awesome) — and Jeffrey Loria tried to trade him for Derek Jeter. True story. Hoffman? He had a lot of saves.
Former Yankee Mike Mussina was on the Hall of Fame ballot for the fifth time and he is gradually inching closer to induction. His voting percentage from 2014-18: 20.3%, 24.6%, 43.0%, 51.8%, 63.5%. That is a positive trend. Mussina is on track for induction before his ten years on the ballot are up. That's awesome. Mussina will (and should) go into the Hall of Fame as an Oriole, but I still love him. He is 24th all-time in pitcher WAR and ninth since the mound lowered in 1969.
Other former Yankees on the Hall of Fame ballot this year include Sheffield (11.1%), Roger Clemens (57.3%), Andruw Jones (7.3%), Johnny Damon (1.9%), Hideki Matsui (0.9%), and Kerry Wood (0.5%). Clemens and Barry Bonds haven't gained much ground in recent years, and this was the sixth year on the ballot for both guys, so they only have four more years of eligibility remaining. They might run out of time. The full Hall of Fame voting results are at the BBWAA's site.
Next year both Mariano Rivera and Andy Pettitte will join the Hall of Fame ballot for the first time. Derek Jeter joins the ballot the following year. Rivera and Jeter will be first ballot Hall of Famers for sure. Pettitte is on the bubble and I don't think he'll get in when it's all said and done. We'll see. Jorge Posada dropped off the ballot last year, in his first year of eligibility. A damn shame.