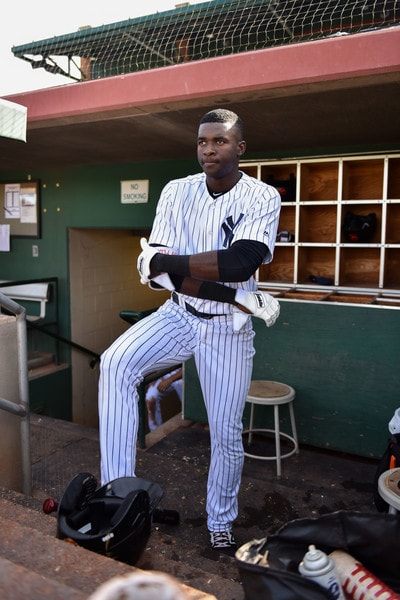 Here's a simple answer to the question presented at the title: he's a young guy, having turned only 20 this past November. He is clearly talented but his hitting needs polish, which could come as he advances through the minor league levels.
There is no doubt that Estevan Florial is talented. Baseball Prospectus rated him the No. 2 prospect in the organization behind Gleyber Torres and projects a 70-grade player (All-Star center fielder) as the overall future potential. However, when you strike out at a 31.9% clip in Low-A, there are some eyebrows raised. Florial's .297/.373/.483 line has assuaged some concerns about those strikeout tendencies and, rightfully so, put him in the conversation among the top young prospects in the entire minor leagues. There are still questions to be answered for his future. First off, would that translate poorly as he ascends through the minor league levels? Secondly, even if he hits higher level pitching, will high strikeout rate be a long-term thing?
In 2017, Florial's strikeout rate is the third highest in the South Atlantic League behind Mitchell Gunsolus (32.7% rate, .205/.347/.286 in 431 PA) of the Red Sox system and Khalil Lee (32.1% rate, .237/.344/.430 in 532 PA) of the Royals.
What is very much worth noting is that neither Gunsolus nor Lee came anywhere close to Florial's 2017 production. Florial is a bit of a unique profile because, while he struck out a ton, he also could hit the crap out of the ball and hit close to a .300 average. Usually, the correlation is that, the more you strike out, the less likely you to hit for average – Florial has found a way around it. He's pretty gifted with power (helps with hitting ball hard) and speed (helps with beating out infield singles), which helped his sky-high .431 BABIP in 91 Sally league games.
Is there any precedent or past cases similar to Florial's combination strikeout rate and production? Of course. Here are some of the recent (2007-17) South Atlantic League hitters that showed high strikeout tendency yet mashed at the plate. My criteria: strikeout rate over 27% and a wRC+ (weighted runs created plus) over 130.
2017
Estevan Florial, NYY: 31.9% strikeout rate, 143 wRC+
Vince Fernandez, COL: 28.5%, 135 wRC+
Fernandez was a 10th rounder in the 2016 MLB Draft out of UC Riverside. He turned 22 in the past July so that kind of takes him away from ML top prospects conversation. However, to his credit, he's hit well in the pros. Christopher Crawford of Baseball Prospectus projects him to have an above-average power but not quite a batting average guy. While Fernandez has a potential to carry himself into the bigs with his bat, Florial should be in high minors or knocking on the ML door by the time he's Fernandez's age.
2016
Chris Gittens, NYY: 27.9%, 140 wRC+
Just like Fernandez, Gittens is a college bat draftee (12th round in 2014 MLB Draft). He was 22 when he put up those numbers in Low-A and will turn 24 in upcoming February. He did, however, continue his strong hitting performance by hitting for a 150 wRC+ in High-A in Tampa. But, again like Fernandez, Gittens is nowhere near any top prospects conversation.
2015
K.J. Woods, MIA: 30.3%, 143 wRC+
Just like Florial, Woods was in his age-19 season when he spent 2015 in the South Atlantic League. He was a multi-sports star in high school and the Marlins were appealed by his high power tool. While there were reasons to be excited about Woods, the scouts were not as high on him as Florial. Woods was ranked Mo. 15 prospect in the Miami system after the 2015 season but was released by the organization during 2016 aNter hitting .483 OPS in High-A. He was picked up by White Sox and it seems that he missed the entirety of 2017 with an injury.
2014

None.
2013
Joey Gallo, TEX: 37.0%, 163 wRC+
Gallo lived and died by strikeouts and power – and still does the same. He struck out a lot all throughout the minors but his prodigious power carried him to the majors. In 2017, his first full-season in MLB, Gallo marked a 123 wRC+, and a 36.8% strikeout rate.
Nick Williams, TEX: 27.2%, 148 wRC+
A second-rounder by the Rangers in the 2012 MLB Draft, Williams had been a top prospect for a bit awhile. He was ranked Baseball America's No. 27 prospect in the all minor after the 2015 season and made his ML debut with the Phillies in 2017 — he was one of the top pieces in the Cole Hamels trade — hitting 110 wRC+ in 343 PA. Not bad.
2012
Harold Riggins, COL: 27,4%, 155 wRC+
Riggins was another college bat guy (22 years old in Low-A) who mashed and struck out a lot in the Sally League. His peak as a prospect was being ranked No. 23 in the White Sox organization after the 2012 season. However, his strikeout rates ballooned the next few seasons and he was out of the pro baseball by the end of 2015.
Matt Smith, MIA: 27.2%, 136 wRC+
Smith was even older (24 years old in Low-A). He was an undrafted guy who simply hit younger pitchers very well and couldn't replicate his performance in a higher level. After hitting 29 wRC+ in 14 games in 2013, Smith was released by the Marlins.
2011
None.
2010
None.
2009
Jim Murphy, PHI: 27.2%, 148 wRC+
Just like the many aforementioned guys, Murphy was an old dude (23 years old in 2009) in Low-A. A 17th-rounder out of Washington State in the 2008 MLB Draft, Murphy hung around long enough to make it to Triple-A but never got to big leagues. He retired after the 2014 season after posting a 101 wRC+ in Triple-A Lehigh Valley IronPigs. He was never mentioned in the Baseball America's Phillies organization top prospect list.
2008
Giancarlo Stanton, FLA: 28.3%, 169 wRC+
We all know about Stanton. He is a ridiculous human specimen and, despite the amount of strikeouts he had, he still terrorized the Sally pitching at age 18. Before reaching the majors, he has a history of being very highly regarded by the scouts and is one of the best players in the Major League Baseball. He is probably the prime example of flashy (or, in this case, ridiculous) tools overriding concerns in a young player's game and enjoy the ensuing success.
2007
None.
***
These guys could be divided into two groups. One group is low-ceiling college bats that could hit low-minor pitching but did not show much beyond that. The other is high-ceiling prospects with attractive tools who also happened to be strikeout prone. Florial clearly belongs in the latter group.
Does that mean that Florial will take the Gallo/Williams/Stanton path of reaching the majors and becoming a future impact Major Leaguer? Many prospect experts will tell you that he clearly has the potential to be a future 30-HR, 20-SB guy in the majors. But at this moment, it's too early to put all your chips on a 20-year-old who just got a taste of High-A. His performance could easily bust as early as 2018 and be forgotten for a long time a la K.J. Woods. It's not ideal. But at the same time, we've seen low-level prospects hit well in Single-A levels and get completely overmatched in the higher ones. Such is life.
Also, it's worth noting that Florial passed the big test of being able to hit Low-A pitching. A lot of high-tool prospects fizzle out after not being able to handle lower-level minor league pitching. A guy that comes to mind is a former Phillies 2008 first-rounder Anthony Hewitt. He was the epitome of the high-risk, high-reward high school bat and they hoped that he'll learn to hit pro pitching. Hewitt ended up repeating Low-A twice (striking out more than 30% of the time in both seasons) and never got past Double-A. You could make a laundry list of guys who has all the athleticism would failed to go past low minors. Florial, it seems, has graduated that level.
My hunch is that, as long as Florial plays, the strikeouts will be a big part of his game. But he can certainly excel at many things and that's what makes Florial so exciting. He might be a type where you want to take some patience since he could need some time to figure out higher level pitching. You might see his strikeout rate climb to 35 or 40% in his first stint in Double-A and flail at a lot of pitches out of the zone – but it's a part of the growing pains. If Florial hits his way up to the big leagues as the future star centerfielder, then the strikeouts will be an afterthought. But for now, it's a homework for a young guy who's working to fulfill his potential.