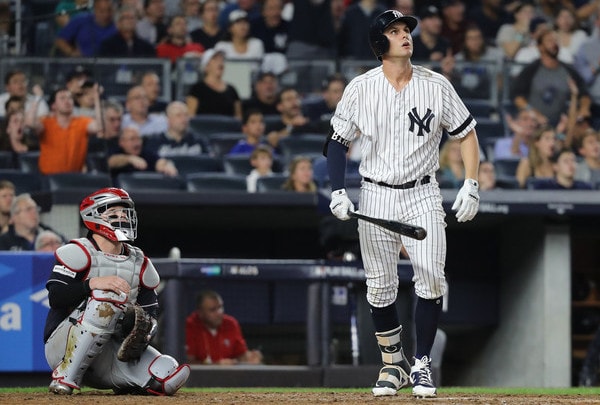 One thing the Yankees have made clear over the years is that they love Greg Bird. Love him. Brian Cashman has said the Yankees internally rated him as their top prospect a few years ago, and on Opening Day last year, it was Bird who hit third in the lineup despite missing the entire 2016 season with shoulder surgery. Heck, during the postseason, Aaron Judge called Bird the team's best hitter.
And really, what's not to love (aside from the fact he is incredibly slow)? Bird turned only 25 in November and he returned from his ankle injury last year to hit .250/.355/.555 (~136 wRC+) with eleven home runs in 42 games between the regular season and postseason. He took lefty destroyer Andrew Miller deep in the postseason and hit six homers in the span of eleven regular season games at one point. Considering how much time he'd missed the last two years, that is a mighty fine showing.
But — there's always a but, isn't there? — Bird did miss all that time the last two years. He missed the entire 2016 regular season with shoulder surgery and missed a big chunk of last season with his ankle injury. The ankle injury was a fluke — it started when he fouled a pitch into the ankle at the very end of Spring Training– but the damage was done. Bird also missed time with back and shoulder trouble in the minors. Injuries have been a career-long problem.
Because of that, it stands to reason the Yankees will go into the 2018 season with some kind of first base backup plan in mind. The starting job is Bird's. There's no doubt about that. But what happens if Bird gets hurt again? It's happened frequently enough that it is something the Yankees have to actively plan for. I see four potential first base backup plans, and, in theory, the Yankees could employ all four at some point.
1. Give Austin one last chance. The 2018 season will be Tyler Austin's last chance to carve out a long-term role with the Yankees. It is his final minor league option year, so there is no going to the minors without waivers after this season. Austin has had his own injury issues over the years, and to date, his big league performance has been generally underwhelming: .236/.294/.447 (94 wRC+) in 136 plate appearances. Then again, that right field power.
Because this will be his final option year, the 2018 season is essentially the club's last chance to find out whether Austin can hack at the big league level. Is he a viable platoon bat? A potential starter? Nothing more than a Quad-A up-and-down guy? Because he is already on the 40-man roster, Austin is the obvious in-house Plan B at first base behind Bird right now. The Yankees could simply stay with the status quo and pencil Austin in as Bird's injury replacement, should he get hurt again.
2. Sign a bargain free agent. The Yankees did this last year with Chris Carter and it didn't work out so well. Does that mean they should stop? Of course not. Keep signing 40-homer power dudes to cheap one-year contracts and eventually you're going to strike gold. First base types are having a hard time getting paid these days, and the free agent market isn't moving at all anyway, which means there will be several first base types looking for jobs in the days and weeks before Spring Training.
Among the unsigned free agent first basemen (not named Eric Hosmer) are Lucas Duda, Adrian Gonzalez, Adam Lind, Logan Morrison, Mike Napoli, and Mark Reynolds. Duda is familiar with New York. Lind and Morrison can fake the outfield. Reynolds can fake third base. Gonzalez is luxury tax plan friendly because he'll only cost the pro-rated portion of the league minimum after being released. Napoli is a good clubhouse guy. There are cases to be made for and against each of those guys.
Signing a bargain free agent right before camp is a sound idea. The only real problem is a potential lack of roster flexibility. If the Yankees were to sign, say, Duda or Gonzalez, how do you squeeze two left-handed hitting first base only types on the roster? The Yankees already have five outfielders for three spots and will need some infield protection. Carrying Bird and another lefty hitting first baseman isn't the best roster construction. So maybe that pushes the Yankees to Reynolds or (ugh) Napoli.
3. What about Stanton or Judge? Inevitable question is inevitable. Chances are both Giancarlo Stanton and Judge will finish their careers as first basemen. They're physically huge and all that running around in the outfield is doing to do a number on their legs. At some point down the line, hopefully not until they're in their 30s, both guys will have to transition to first base because their outfield defense won't cut it. That's usually how this goes.
Both Judge and Stanton were first basemen in high school — the Marlins turning two high school first basemen (Stanton and Christian Yelich) into above-average defensive outfielders is a hell of a player development success story — so it's not like they have zero experience at the position, but playing first base in high school and playing first base in the big leagues are very, very, very different things. Receiving the throw from the other infielders is the easy part. Cutoff plays and positioning are where the learning curve comes into play.
Considering they play the same position and one guy will have to move elsewhere anyway, why not have Stanton or Judge learn first base? It seems simple enough. In Stanton's case, I don't think the Yankees want to overload him too much. He has to adjust to his new city and his new league and the new ballpark and all that. Stanton has enough on his plate already. Judge had offseason shoulder surgery — minor surgery, but still surgery — and has only one (great) year in the show. He's still finding his way at this level.
Also, I don't think the Yankees want to move either Stanton or Judge down the defensive spectrum yet. We have yet to see either guy play left field — my guess right now is Stanton will stay in right while Judge shifting to left, with necessary — and maybe one of them will be great in left. Or maybe they're so bad in left that a move to first base makes sense. Stanton or Judge at first could be the best defensive alignment. I don't think the Yankees will ask either to work out at first base yet, but it is definitely a possibility.
4. What about other guys with no obvious starting spot? Specifically Jacoby Ellsbury. He is at best fifth on the outfield depth chart right now. Give Ellsbury a first baseman's mitt in camp and tell him you're trying to find a way to get him in the lineup. Easy enough, right? The downside here is that Ellsbury derives most of his value from his defense these days. Move him from center to first and he might be straight replacement level given the offensive standard at the position. (First baseman collectively hit .265/.347/.487 in 2017.)
Now, that said, the Yankees might be stuck with Ellsbury. They're trying to trade him, but right now, it doesn't seem all that likely. Chances are Ellsbury will be on the roster this coming season, and in that case, asking him to learn first base would be a way to maximize his value to the team. Either Ellsbury could be the fifth outfielder, or he could be the fifth outfielder/backup first baseman. That's how he would be most valuable to the Yankees.
* * *
Behind Austin, the next natural first baseman on the depth chart is Ryan McBroom, who came over in the Rob Refsnyder trade last year. He hit .247/.323/.395 (98 wRC+) in 134 Double-A games as a 25-year-old last season. McBroom isn't a big league option at the moment, to put it kindly. There's also Billy McKinney, who started working out at first base in the Arizona Fall League. He has eleven games of experience at the position. With Mike Ford a (temporary?) Seattle Mariner, the first base depth chart is:
Greg Bird
Tyler Austin
???
Last week we heard the Yankees have made an offer to Ji-Man Choi, so we know they're looking for some first base depth. Lower cost first base depth at that. That seems like the most likely outcome to me. The Yankees import a first baseman on a minor league deal, either Choi or someone like that, then go into the season with Bird as the starter and Austin as the primary backup plan, with he free agent signing the backup backup plan. I don't think they'll spend limited payroll dollars on another first baseman, even a cheap one a la Carter last year.
In a perfect world, Bird will stay healthy this coming season and join Stanton, Judge, and Gary Sanchez to form the most devastating lineup foursome since … I don't even know. The 2009 Phillies were the last team with four 30+ homer guys (Ryan Howard, Chase Utley, Jayson Werth, Raul Ibanez), so I guess them? Whatever it is, hopefully Bird stays healthy and rakes. But because he's had serious injury problems the last few years, the Yankees have to go into 2018 with a Plan B at first base in place.