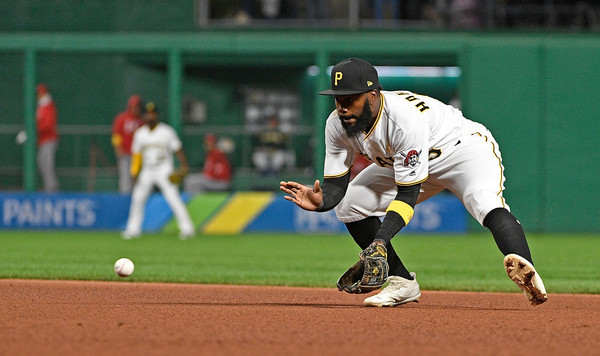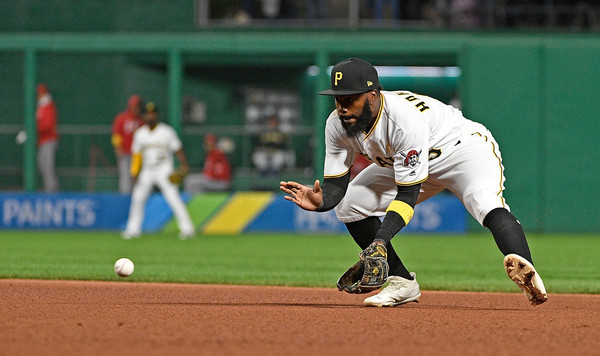 As things stand, the Yankees have unsettled second and third base positions. They could go with Ronald Torreyes and a prospect like Gleyber Torres or Miguel Andujar, or they could go outside the organization for a free agent or trade target. There is an argument to be made for either approach.
In recent weeks the Yankees have been connected, albeit loosely, to Pirates infielder Josh Harrison. He has mostly been mentioned as a secondary piece in a potential Gerrit Cole trade. Both Jon Heyman and Rob Biertempfel have loosely connected Harrison to New York recently, which is about as far as these rumors go. Does the 30-year-old make sense for the infield needy Yankees? Let's take a look.
Offensive Performance
The 2017 season was Harrison's fourth full season as a big leaguer, and his performance has been up and down over the years. More like up, then down, then up again. Here are the core numbers:
| | AVG/OBP/SLG | wRC+ | HR | SB | K% | BB% | wRC+ vs. RHP | wRC+ vs. LHP |
| --- | --- | --- | --- | --- | --- | --- | --- | --- |
| 2014 | .315/.347/.490 | 137 | 13 | 18 | 14.7% | 4.0% | 136 | 142 |
| 2015 | .287/.327/.390 | 98 | 4 | 10 | 15.8% | 4.2% | 94 | 112 |
| 2016 | .283/.311/.388 | 86 | 4 | 19 | 14.6% | 3.4% | 79 | 116 |
| 2017 | .272/.339/.432 | 104 | 16 | 12 | 16.6% | 5.2% | 97 | 125 |
Not much power, not a ton of stolen bases, very few walks. Harrison's 16 homers last season were a career high, though the ball is juiced, so who knows whether that power production is here to stay. What happens if the ball gets un-juiced next year?
Harrison's offensive game is built around being aggressive, putting the ball in play, and hoping for the best. His stolen base total isn't great — he's 59-for-82 (72%) in steal attempts the last four years, so he's not super efficient either — but Harrison has consistently ranked as an above-average baserunner thanks to his aggressiveness, and his ability to do things like go first-to-third on a single and advance on a wild pitch.
Also, it should be noted Harrison's baserunning skill set includes a fun and freakishly consistent ability to avoid tags and escape rundowns with creative slides. Check it out:
How much are those creative slides worth? It's hard to say. On one hand, avoiding the tag is an obvious plus. On the other, is Harrison overly aggressive, thus putting himself in situations where creative slides are necessary because he made a baserunning mistake? Given his overall baserunning numbers, I suspect Harrison is just the right amount of aggressive with the creative slide ability thrown in for good measure.
Harrison's offensive output from 2015-16 was below average overall, and he rebounded at the plate this past season for two reasons. One, the home run spike around baseball. I joke about the juiced ball, but in all seriousness, balls flew out of the park for whatever reason last year, and Harrison benefited like so many others. His ground ball rate and pull rate were in line with his career norms, yet his homers per fly ball rate did this: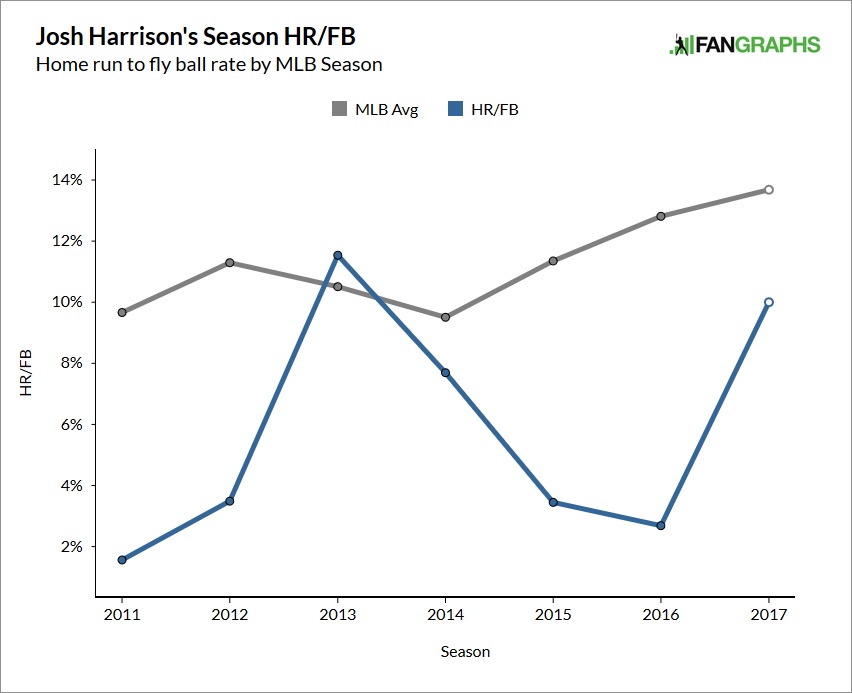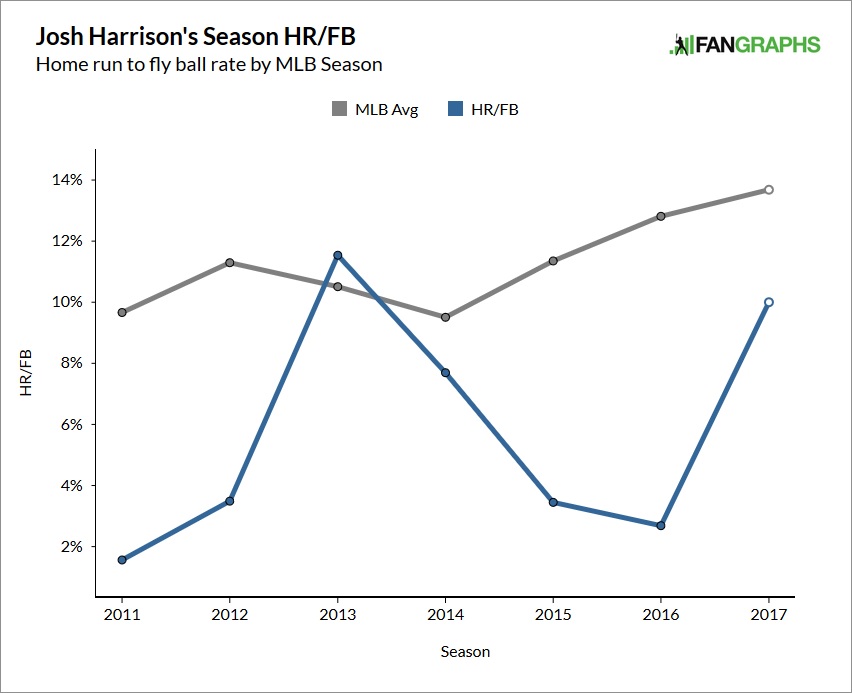 And two, Harrison was hit by 23 pitches — 23 hit-by-pitches! — in 2017. Twenty-three hit-by-pitches in 542 plate appearances in 2017 after being hit by 26 pitches in 2,096 plate appearances from 2011-16. Hmmm. Stephen Nesbitt spoke to Harrison about the extreme uptick in hit-by-pitches back in June:
"I'm not so much shaking my head. I'm over it," Harrison said. "I know it's part of the game; they've got to come inside. But, hey, don't come inside to miss and make that miss a hit."

Harrison's stride carries him toward the plate, he admits. Always has. But he doesn't stand on top of the plate the way the Chicago Cubs' Anthony Rizzo does. Best Harrison can tell, he struggled to hit the low-and-inside pitch last season because of an injured thumb. Once he started getting around on that particular pitch, pitchers adjusted by going even further inside.
Harrison doesn't walk much. That has been made clear throughout his career. Banking on a player continuing to get hit by pitches at an extraordinary rate when he has no history of doing it — there is some skill to getting hit by a pitch as guys like Rizzo, Chase Utley, and Don Baylor have shown — to post a good but not great .339 OBP is quite risky.
With Harrison, I think you have to go into next season expecting his OBP to come down because last season's hit-by-pitch issue was completely out of character. His power numbers did tick up, otherwise everything else stayed to same. So, long story short, Harrison is basically an average-ish hitter who could be above average if the ball stays juiced and he keeps getting plunked, but could quickly become below average if those skills go away.
Defensive Performance
Over the last two seasons the Pirates have used Harrison primarily at second base, but he's also spent extended time at third and some time in the outfield. Here are his defensive assignments the last four years:
Second base: 2,062.2 innings (+18 DRS)
Third base: 1,386 innings (+11 DRS)
Shortstop: 41 innings (+0 DRS)
Left field: 297.1 innings (+0 DRS)
Right field: 265.2 innings (+3 DRS)
The versatility is nice, though I see Harrison as a second or third baseman going forward only. The outfield is an emergency only thing. I wouldn't try to get cute and move Harrison to a different position every game, like one of those mythical supersub players everyone talks about but doesn't really exist.
Harrison is an asset defensively at second and third, which is perfect for the Yankees, who have openings at both positions. If Andujar is ready, Harrison can play second. If Torres is ready, Harrison can play third. Perfect.
Injury History
Harrison has suffered a notable injury in the second half in each of the last three years. In 2015, he tore ligaments in his thumb on an awkward slide, and missed a month and a half. In 2016, his season ended in mid-September due to a groin strain. In 2017, his season ended in early-September with a broken bone in his hand. That was he result of his 23rd and final hit-by-pitch of the season.
The groin strain is whatever. Those happen. The torn thumb ligaments and broken hand are kinda fluky. Harrison hit the base wrong on a slide and ripped up his thumb. He got hit by a pitch and it broke his hand. Those aren't really chronic issues, but, at the same time, when you run the bases aggressively, you run the risk of an getting hurt on an awkward slide, and when you get plunked as often as Harrison last year, you run the risk of one of those hit-by-pitches doing real damage. Those are the risks in his game.
Contract Status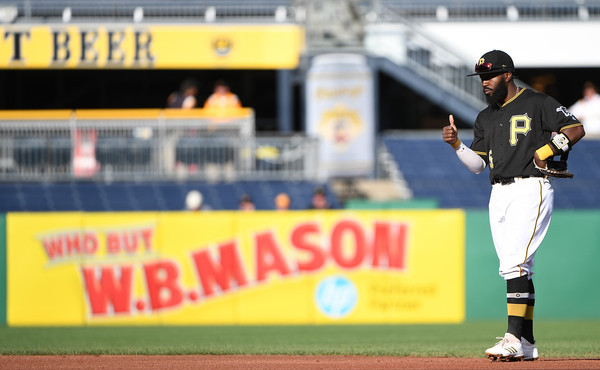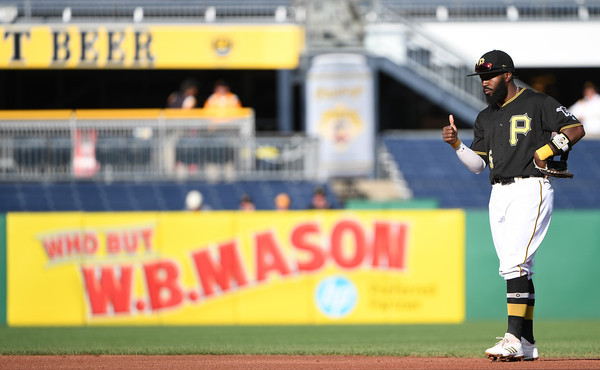 After that big 2014 season, the Pirates rewarded Harrison with a four-year contract extension worth $27.5M guaranteed. The deal includes two club options. For luxury tax purposes, Harrison counts as $6.875M in 2018, which is a good number for the Yankees under the $197M threshold. Here are his actual salaries:
2018: $10M
2019: $10.5M club option ($1M buyout)
2020: $11.5M club option ($500,000 buyout)
The Yankees are more concerned with Harrison's luxury tax number than his actual salary. He's a bargain in the world of dollars-per-WAR — FanGraphs valued Harrison's production at $20.7M in 2017 — though I'm not entirely convinced he would get $10M per season on the open market right now. Doesn't matter though. That $6.875M luxury tax number is the key here.
What Would It Take?
The best trade benchmark I can find is Jed Lowrie, who was traded from the Astros to the Athletics two years ago, when he had three years of control remaining. That was two guaranteed years and one option year. Harrison has one guaranteed year and two option years, so if things go south quick in 2018, whichever team trades for him could walk away.
Anyway, the Lowrie trade was a straight salary dump. He had $15M left on his contract and the Astros traded him for minor league righty Brendan McCurry, who was not among the A's top 30 prospects at the time of the trade and does not rank among the 'Stros top 30 prospects now. The Lowrie salary dump doesn't really help us establish an asking price for Harrison.
Two years ago the Yankees traded Adam Warren for four years and $38M worth of Starlin Castro, but again, that was more of a dump for the Cubs than a baseball trade. They'd just signed Ben Zobrist and Castro was coming off a disappointing season. I doubt the Pirates are looking to salary dump Harrison, but perhaps the Lowrie and Starlin trades indicate the trade value of an okay-ish middle infielder owed a decent chunk of change isn't all that high?
Does He Make Sense For the Yankees?
Oh sure. Definitely. Harrison's luxury tax number fits, he can play second and third base, he's good defensively, he plays with a ton of energy, and he'd add a contact element to a lineup that might be a little too strikeout heavy. I'm not sold on Harrison being anything more than a league average hitter, but he still does enough on the bases and in the field to be worth a lineup spot.
Harrison hit first or second for the Pirates most of last season, but the Yankees won't need him to do that. They can bat him in the lower third of the lineup somewhere and treat him like the complementary player he is, not ask him to do more than he's capable of doing. I have no idea what the Pirates want in trade, but if the Lowrie and Castro trades are any indication, it won't hurt to bring Harrison aboard as a second or third base option. I suspect the Lowrie and Castro trades do not apply here though, and Pittsburgh's asking price will be much higher.