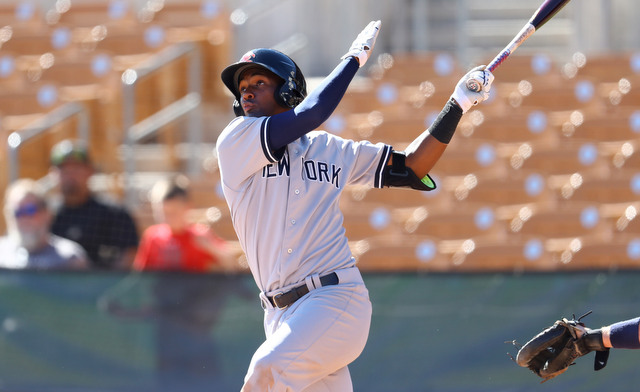 Spring Training is four weeks and one day away, and as of right now, the Yankees do not have a defined second or third baseman. They have candidates for those two jobs, but no clear cut starter at second or third like they do at every other position. That's not necessarily a bad thing! It's just … unusual. Especially for the Yankees.
Among the candidates for the third base position is prospect Miguel Andujar, whose name popped up in trade rumors over the weekend. Well, I guess we should call them post-trade rumors. Gerrit Cole was dealt to the Astros and soon thereafter Jon Heyman reported the Pirates wanted Andujar. Jerry Crasnick says the Yankees made him off-limits along with their other top prospects, like Gleyber Torres and Justus Sheffield.
We'll never truly know how trade talks between the Pirates and Yankees went down, but we do know Cole is an Astro and Andujar is a Yankee. If the Pirates asked for Andujar, they didn't get him, and I think that means something. Josh Norris noted the Yankees "love Andujar." Last week Brian Cashman said Andujar gets asked about often during trade talks (from Brendan Kuty):
"He's a very exciting talent," Cashman said. "One that's being insisted upon, it seems like, in every conversation I'm having with anything that's high-end out there. There's a recognition of Clint Frazier and Miguel Andujar as the next level of guys right below Gleyber Torres and it's understandable why, with what these guys have done coming through our system."
I have made it no secret I am an unabashed Andujar fan. I think he's the next "how was this guy never on a top 100 prospect list?" player, though MLB.com currently ranks him as the 92nd best prospect in the game, so I guess I have to lose that argument. Point is, I'm a big Andujar fan and I think he's long been overlooked, and I'm not alone. Keith Law called him "(the) rare unheralded Yankees prospect" last week.
Given what we've heard since the Cole trade, it sure seems the Yankees like Andujar as well, even though they didn't give him much playing time last season. They kept him in the minors to work on his defense in the second half rather than use him as the big league DH, and hey, that could be evidence the Yankees like him. They want Andujar to improve so they put him in the best position to do so.
More evidence the Yankees like Andujar: Spring Training is right around the corner and they've yet to acquire a veteran third baseman. Now, that doesn't mean much because the Yankees could re-sign Todd Frazier or trade for Josh Harrison tomorrow, this is a slow-moving offseason after all, but the Yankees haven't rushed into anything. They were patient with Cole and now he's an Astro. They were comfortable waiting because they have five starters.
The Yankees are being patient with infield help and, like Cole, it is entirely possible they will lose out on their top third base targets. Frazier could sign with the Mets, Harrison could get traded wherever, who knows? That's the risk with being patient and playing the market. That perfect deal might not come along and you get stuck with nothing. Except the Yankees wouldn't be stuck with nothing. They'd have Andujar at third base. Could be worse.
Last season the 22-year-old Andujar authored a .315/.352/.498 (132 wRC+) batting line with 16 homers and a 13.6% strikeout rate in 125 games between Double-A and Triple-A, and the various projection systems peg him as a league average-ish bat for 2018:
The Yankees would, in theory, be able to live with that given the overall strength of their offense, assuming Andujar actually meets projections, which is a big assumption. At the very least, the team's actions indicate they're willing to roll with Andujar as an emergency option. Are they looking for a veteran infielder? Sure. They're always looking for upgrades. But if nothing comes together, Andujar would be the guy, and I'm excited about that.
We know three things right now. One, Andujar is still a Yankee! That's cool. Two, the Yankees have been going young wherever possible the last year or two. You could go back even longer than that, really. And three, the luxury tax plan exists. The more cheap young players the Yankees have — the more cheap, young, and productive players the Yankees have, I should say — the better it is for the luxury tax plan. Andujar at third frees up money for other stuff.
I have no doubt the Yankees will keep an eye out for a veteran infielder(s) given their second and third base openings because that's what they do. And if something that makes sense comes along, they'll pounce. For now though, Andujar is in line to start, and reports indicate the Yankees had him on their untouchable prospects list. At a time when the Yankees are going very young, Andujar could be the next young player to join the lineup full-time, and it could happen as soon as Opening Day.