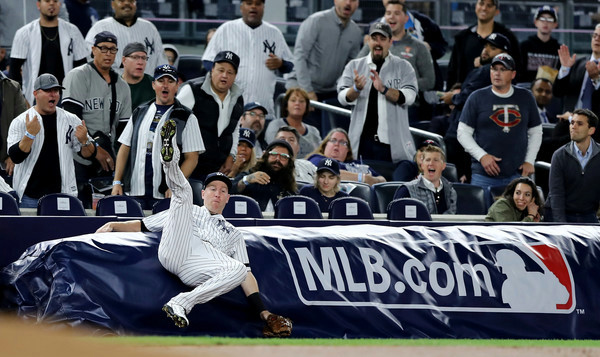 With six weeks to go before Spring Training, the Yankees have openings at second and third bases, and no shortage of ways to fill them. They could stay in house with guys like Ronald Torreyes, Gleyber Torres, and Miguel Andujar, or they could dive into the free agent or trade markets for help. There's an argument to made for both approaches.
One of the best available free agent infielders is Todd Frazier, who was briefly a Yankee last season and has made it no secret he wants to stay in New York. Frazier seemed to genuinely love being a Yankee. According to Brendan Kuty, the two sides remain in contact, but Frazier wants a multi-year contract and the Yankees want to stay under the $197M luxury tax threshold, so the financials could be an issue.
Frazier, 32 next month, hit .213/.344/.428 (108 wRC+) with 27 home runs overall in 2017, including .222/.365/.423 (114 wRC+) with eleven homers in 66 games with the Yankees. He's a flawed hitter, no doubt, but he is productive, he can play a fine third base, and he's an asset in the clubhouse. Are those enough reasons to bring him back? Let's talk this out.
The case for re-signing Frazier
Like I said, Frazier is a flawed hitter but he is productive. He hits for power and he draws walks, and his strikeout rate is basically league average. There's also reason to believe Frazier will be more comfortable in his second season with the Yankees. More comfortable with the ballpark, the division, his teammates, the city, the works. A midseason trade can be overwhelming. It's a lot of change in a short period of time.
The Yankees don't need Frazier to hit in the middle of the order. They can stash him in the bottom third of the lineup and let him pop 20-something homers, maybe more given his extreme fly ball tendencies and all the hitter friendly ballparks in the AL East.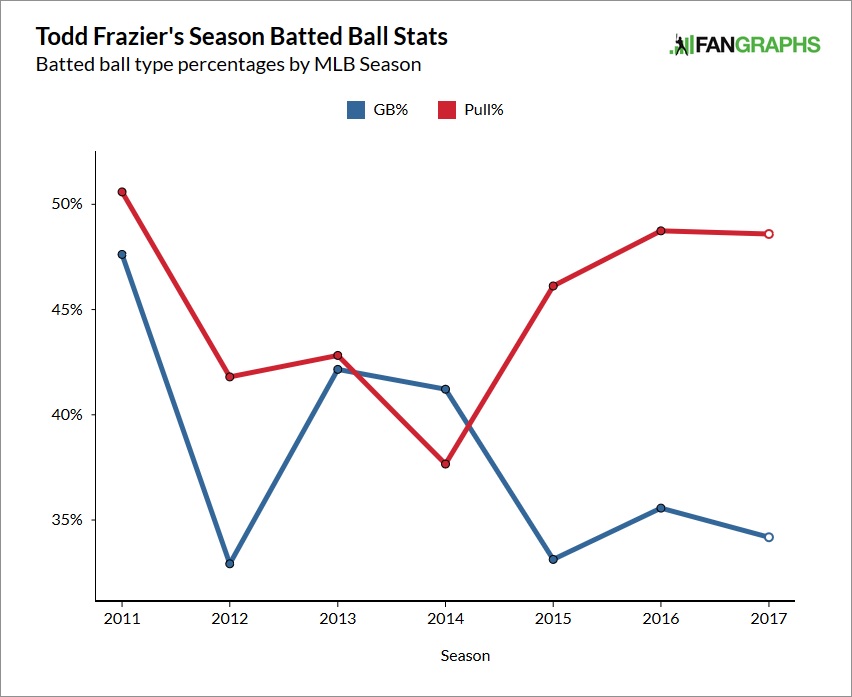 A right-handed hitter who pulls the ball that much won't take advantage of the short porch, but that's okay. Frazier is not lacking power. He'll hit the ball over the fence to left field just fine. I'm surprised the Red Sox aren't showing more interest in Frazier given how many fly balls he pulls to left field. Seems like a good fit for Fenway Park.
Bringing Frazier back would accomplish two things, in theory. It would give the Yankees a solid complementary player, and also allow youngsters like Torres and Andujar develop at their own pace. I love prospects as much of the next guy, but even the most talented prospects can falter. What if Gleyber pulls a 2017 Dansby Swanson in 2018? Frazier would give the Yankees protection, and he won't break the bank.
The case against re-signing Frazier
I suppose the case against Frazier starts with his flaws as a hitter. He is an extreme fly ball hitter, which is good for power numbers, but it can also hurt your batting average. As we saw this year, Frazier is prone to weak fly balls and pop-ups. They're average killers. Frazier has hit .220 in his last 1,242 plate appearances because of those weak fly balls and pop-ups.
The Yankees ran into some problems last season where they struck out in bunches — their team 21.8% strikeout rate was only 13th in MLB and basically league average (21.6%), believe it or not — and adding the totally awesome Giancarlo Stanton won't solve that problem. Frazier doesn't strike out a ton (21.7% in 2017), but a pop-up and a strikeout are damn near the same thing. His low average could compound the team's offensive weakness.
Secondly, Frazier will turn 32 next month, so he's getting to the point where you have to start worrying about age-related decline. And what is Frazier's decline going to look like? His average is already low and if he starts to lose some power, he could morph into a below average hitter quickly. And if his defense slips too, well, it won't take long for the natives to get restless.
A short-term contract would mitigate the risk. The Yankees wouldn't be locked into Frazier long-term, so if he does begin to decline, they can move on quickly. That said, thanks to the luxury tax plan, every dollar the Yankees spend on Frazier is a dollar they can not spend elsewhere. A low-average hitter at increasing risk of age-related decline might not be the best use of finite payroll space.
* * *
Ultimately, the decision to re-sign or not re-sign Frazier is going to come down to price. If he sticks with his multi-year contract demand and wants, say, $10M to $12M per season, it's difficult to think Frazier will wind up back with the Yankees. But, if his market fails to materialize and he's still looking for a job in February, perhaps he would be open to a one-year deal at, say, $8M or so. You never know. He'd get to stay close to home and have a chance to win, and that could appeal to him.
Part of me worries Frazier is getting overrated because he's a high-energy guy who is easy to root for, plus he had some big hits in the postseason. Don't get me wrong, being a great clubhouse guy has define value and should not be overlooked. At the same time, there were a lot of complaints about Frazier's pop-ups and cold stretches following the trade. He can be a frustrating hitter, for sure.
As the seventh or eighth place hitter, the Yankees could probably live with Frazier's low batting average and weak pop-ups as long as he socks the occasional dinger and plays a solid third base. And if someone like Andujar forces the issue, Frazier is versatile enough to play first base or maybe even left field in addition to DH, so he wouldn't be blocking anyone.
I think Frazier's market is worth monitoring. If he's still looking for a job later in the offseason, then it would be time to pounce. Right now, I don't think it makes sense for the Yankees to come in with a market rate offer. There's no reason to do that given how slow the free agent market is moving in general.