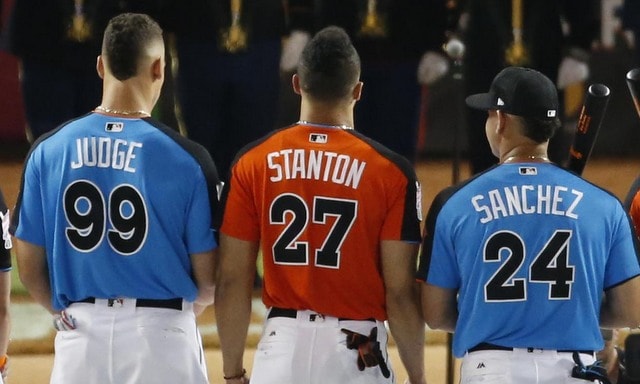 I don't know about you, but as soon as the Yankees acquired Giancarlo Stanton, I started thinking about the lineup possibilities. Heck, I started thinking about them even before the trade went down, during the rumor phase. I reckon most baseball fans — even non-Yankees fans — were thinking about the lineup with Stanton after the trade. How could you not? It's part of the fun of being a fan.
"You know what? Really quick," said Aaron Boone at the Winter Meetings (video link) when asked how quickly he started sketching out lineups after the Stanton trade. "I think that's the first thing I did after I left (Brian Cashman)'s office hearing the possibility of it. I think I grabbed I piece of paper and a pen, and I sat right down — like I bet you guys have as well — to see the potential moving parts."
Spring Training is not going to tell us anything about how Boone may arrange his regular batting order. Grapefruit League lineups are designed to let guys get their work in, then go home. That's why veterans are always stacked high in the order. They get their two or three at-bats, then check out for the day. Spring lineups aren't indicative of what we might see during the regular season.
The Yankees and Boone still have some positions to figure out in Spring Training, specifically second and third bases, but unless they swing a trade for Jose Altuve or Manny Machado, I don't see those positions affecting the lineup. The basic outline of the batting order is fairly straightforward:
Brett Gardner
Really good hitter
Really good hitter
Really good hitter
Really good hitter
Really good hitter
Really good hitter
Second or third baseman
Second or third baseman
There is a case to be made for batting Aaron Judge leadoff given his on-base ability, though as I explained in a recent mailbag, I don't love that idea because it wastes some of his power. Batting Judge leadoff means roughly one-fifth of his at-bats will automatically come with the bases empty. Teams are batting power hitters leadoff these days — Charlie Blackmon, George Springer, and Brian Dozier are regular leadoff hitters — but a 50-homer guy? Nah.
You could also make a case for batting Aaron Hicks leadoff, or even Jacoby Ellsbury. I'm a Hicks believer, though I want to see him do it again before locking him into a premium lineup spot. Ellsbury? He's not even a starter right now. Last season was his best offensive season in several years, and I think he has to earn that leadoff spot back, not be awarded it (and a starting spot) based on … his contract? Not sure what else it could be.
For better or worse, Gardner is the obvious choice at the leadoff spot right now. He's one of the best count-workers in baseball, he gets on base plenty, and he has enough pop to sock a few quick strike leadoff homers throughout the season. (Gardner hit five leadoff homers last year.) Gardner is a natural fit at the leadoff spot until his performance says he should should hit lower in order, and he hasn't reached that point yet.
Realistically, I'm not sure there's anyone the Yankees could acquire for second and/or third base who should hit higher than eighth in the lineup. If they bring in Neil Walker and Eduardo Nunez, they'll hit eighth and ninth. If they go with Gleyber Torres and Miguel Andujar, they'll hit eighth and ninth. Maybe Mike Moustakas would bat sixth or seventh? I suppose, though I'm not counting on the Yankees signing him, not with the luxury tax plan.
The middle of the order, the two through seven spots, have generated the most discussion this offseason because the Yankees have so many good hitters. How do you line them up? As long as Boone doesn't do something silly like bat Judge or Stanton seventh, whatever he does will be fine. He'll have really good hitters in the middle of the lineup no matter what. Let's still talk about the lineup a bit.
1. How important is it to split up the righties? The lineup topic of the offseason. Stanton and Judge are two right-handed power hitters who will strike out, and because of that, I've seen an awful lot of people say the Yankees should squeeze a left-handed hitter between them in the lineup. We should include Gary Sanchez in this conversation too, because he's another right-handed power hitter who will strike out from time to time.
The thinking behind putting a lefty between Stanton and Judge is it forces the opposing manager to do one of two things. Either he has to burn through multiple relievers to match up with the dangerous right-left-right portion of the lineup, or he'll have to leave his righty in to face the lefty (or a lefty in to face the righty). Judge and Stanton are susceptible to righties with good breaking balls (aren't all righties?) and you want to do something to counteract that. The thing about that though:
| | vs. RHP in 2017 |
| --- | --- |
| Aaron Judge | .298/.417/.662 (179 wRC+) |
| Giancarlo Stanton | .270/.354/.596 (144 wRC+) |
| Gary Sanchez | .282/.343/.530 (130 wRC+) |
| Didi Gregorius | .295/.325/.523 (120 wRC+) |
| Greg Bird | .168/.275/.370 (71 wRC+) |
Don't think it's fair to use Bird's overall season numbers given his injury and how crummy he was in April? Okay, he hit .222/.306/.508 (110 wRC+) against righties after coming off the disabled list and .270/.341/.574 (147 wRC+) during his big league debut in 2015, which feels like a lifetime ago.
Point is, the three right-handed hitters all out-hit the two lefties against right-handed pitchers last season. Will they continue to out-hit them against righties this season? I don't see why not. Judge, Stanton, and Sanchez are all in their primes — you could argue Judge and Sanchez haven't reached their primes yet — and they're all really good hitters. We're not talking about some randos who BABIPed their way to a good year against righties in 2017.
The numbers say it's not worth squeezing a lefty between Judge and Stanton (and Sanchez) because they hit righties just fine. Empirical evidence says managers do weird stuff all the time and, inevitably, some manager will burn through his bullpen to play matchups against the right-left-right portion of the lineup, and it'll come back to bite him. A manager will bring in his lefty specialist to face the lefty and leave him in against Stanton or Judge or Sanchez. It'll happen at some point. You watch.
Can you build your lineup around that though? Can you base your lineup on the idea that the opposing manager will make a silly pitching decision at some point? Teams are pretty smart these days. We're seeing more true high-leverage relievers nowadays. Managers bring in their best reliever in the game's biggest spot regardless of platoon matchups. Left-on-left specialists like Clay Rapada are a dying breed. There isn't enough room for a guy like that in the bullpen with starters throwing so few innings these days.
Bottom line, squeezing a lefty like Gregorius or Bird between Judge and Stanton (and Sanchez) means giving an inferior hitter more at-bats. Remember how terrifying it was when David Ortiz and Manny Ramirez batted back-to-back? Now imagine if it was Ortiz-Trot Nixon-Manny instead. Trot Nixon was a pretty good hitter! But we all would've welcomed the one-batter reprieve between Ortiz and Manny. Just think about it. If you were a pitcher, would you rather face …
2. Judge
3. Stanton
4. Sanchez
… or …
2. Judge
3. Gregorius or Bird
4. Stanton
I know what I'd pick. Judge and Stanton (and Sanchez!) are great hitters. Not good hitters. Great hitters. Squeezing a lefty between them for a sake of platoon matchups strikes me as paralysis by analysis.
"Absolutely you can (bat the three righties in a row)," said Boone to George King at the Winter Meetings. "That will be one of those things that we flesh out. What's Greg Bird's continued development? What is the matchup? Do we feel like we want one of those lefties breaking those three guys up? It's something that is a possibility, but I would have no reservation if we feel like it's best to string those three dudes together."
2. What about splitting up the lefties? Paul O'Neill complains about this all the time during YES Network broadcasts. If you're a righty who can't hit righties, no one thinks too much about it. But if you're a lefty who can't hit lefties, it's a Really Big Deal. You get labeled a platoon player and opposing managers have (or had for a long time) a designated guy in the bullpen to get you out. Righty specialists were never as much of a thing as lefty specialists. Not even close.
When Gregorius first joined the Yankees, there was concern he'd never hit left-handed pitching, then he went out and hit .324/.361/.473 (125 wRC+) against lefties in 2016, and everyone stopped talking about his platoon issues. Look at Didi's year-by-year numbers against southpaws though:
2015: .247/.311/.315 (74 wRC+) in 164 plate appearances
2016: .324/.361/.473 (125 wRC+) in 161 plate appearances
2017: .264/.299/.354 (72 wRC+) in 155 plate appearances
One of those things is not like the others. Bird is a .257/.346/.500 (127 wRC+) career hitter against lefties in a whopping 81 plate appearances. The sample sizes are inconvenient, but that's the way it goes with platoon data. There are way fewer left-handed pitchers in baseball than right-handed pitchers. (That's one possible explanation why some lefty hitters have so much trouble against lefty pitchers. They simply don't see them much.)
Two things about this. One, I think splitting up Didi and Bird to potentially avoid unfavorable platoon matchups is more important than splitting up Judge and Stanton (and Sanchez!). And two, I don't think splitting up Didi and Bird should be a top priority. Based on my observations, Gregorius can hang in well enough against southpaws, and will hit for an okay-ish average. Bird has a good eye will annihilate mistake pitches even against great lefties.
Because that obsession with left-on-left matchups exists in baseball, at least moreso than right-on-right matchups, it might be worthwhile to squeeze a righty between Gregorius and Bird. Can that be accomplishment without weakening the lineup overall, and giving fewer at-bats to the cornerstone righties? I'm not sure. I won't sweat it much. Designing a lineup around a scenario that might not happen never made much sense to me. It always bugged me that Joe Girardi would split the lefties to void the late left-on-left matchup rather than use a lineup that creates the best possible matchup against the opposing starter. It is what it is.
3. So what's the best lineup? The best lineup and the lineup Boone is most likely to use are not necessarily the same thing. Using 2018 ZiPS projections and Dave Pinto's lineup analysis tool, this is the best lineup the Yankees could run out there this season:
Brett Gardner
Giancarlo Stanton
Greg Bird
Aaron Judge
Gary Sanchez
Didi Gregorius
Gleyber Torres
Miguel Andujar
Aaron Hicks
Interesting! Interesting because it wouldn't be completely insane if that were the Opening Day lineup. I could see it. Stanton batted second a bunch for the Marlins last season and Hicks would serve as the "second" leadoff guy in the nine-spot. That lineup projects to score 5.482 runs per game, or 888 runs per 162 games, according to the lineup analysis tool.
The lineup Boone will use is a bit of a mystery because this is his first managerial gig and we don't know what kind of manager he'll be. Is he an old school type that wants a bat control hitter second? Is he so new school that he's willing to bat Judge leadoff? How important is splitting up the lefties? We don't know. My guess is the Yankees will go into the season with this lineup:
LF Brett Gardner
RF/DH Aaron Judge
RF/DH Giancarlo Stanton
SS Didi Gregorius
C Gary Sanchez
1B Greg Bird
CF Aaron Hicks
Second or third baseman
Second or third baseman
I can't shake the feeling the Yankees will sneak a left-handed contact hitter into the middle of the three righties to compensate for the strikeouts. Hopefully I'm wrong. Squeezing Didi in at cleanup means you still have that Ortiz/Manny thing with Judge and Stanton, but also split up the lefties. Bird is the x-factor to me. If he stays healthy and produces early, he'll find himself higher in the order.
"We're hoping to see Greg Bird take another giant leap this year and be one of those guys that really makes a pitcher work," said Boone during a radio interview in December. "We saw what Didi did last year. Obviously, Gary Sanchez. When an opposing pitcher looks at our lineup and thinks about having to work through it, it's a team that you better make pitches against. Otherwise, this is a team that not only will make you pay with a base hit, but it will also make you pay with some damage."
My preferred lineup is basically the same lineup as above, only with Sanchez and Didi flipped. I'm not going to sweat batting the three big righty bats in a row. Stack the best hitters together and let 'em eat. Ultimately, the Yankees have so many good hitters that the order won't matter that much. As long as Boone doesn't do anything crazy like bat Judge eighth or Ronald Torreyes leadoff, the Yankees will be fine. The lineup will evolve as the season progresses and, before you know it, the Yankees will settle into a lineup that just works.
"Those little lineup (ideas), they can happen at any time," said Boone during a radio interview last month. "You could be sitting in traffic. You could be lying in bed and not fall asleep, grab out a pad and paper and scribble things down. That's the fun part at this point, especially with some of the guys we have, picturing how they best go together in a lineup."