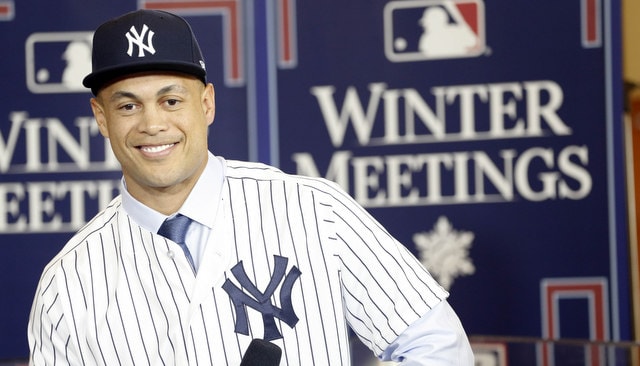 What a difference a year makes. Last year at this time the Yankees were talking about a transition year and dealing with growing pains as they incorporated several young players into the everyday lineup. Now the Yankees are a World Series contender. Those young players thrived last season and helped the Yankees get to Game Seven of the ALCS. Being the underdog was fun. Time for the Yankees to get back to dominating the sport.
The goal this offseason and every offseason is to improve the organization, both short and long-term. Rebuilding teams focus more on the long-term. Contenders like the Yankees do a little of both, though they may sacrifice the long-term for the short-term on occasion, and that's okay. Success can be fleeting in this game and I applaud any team that does all they can to win now rather than focusing on a future that may never come.
With Spring Training a week away, the Yankees have made one big addition (Giancarlo Stanton) and three smaller subtractions (Starlin Castro, Chase Headley, Todd Frazier) this winter. That's pretty much it, right? Minor league signings like Danny Espinosa and Jace Peterson happen every year. Talented but erratic arms like Bryan Mitchell are dealt away every winter. Those are standard baseball moves. The Stanton, Castro, and Headley deals aren't.
So, when camp opens next week, the 2018 Yankees are going to look fairly similar to the 2017 Yankees. I thought last year's club was good enough to win the World Series. They just didn't. Why, then, are the Yankees supposed to be better this coming season? I'll give you five reasons.
Giancarlo
Starting here because this is the obvious upgrade. The Yankees added the reigning NL MVP this offseason! And he also happens to be the game's top power hitter, and he turned only 28 in November. Pretty awesome. It cost them Castro and some prospects, but who cares? Stanton is too good.
For all intents and purposes, Stanton is replacing Matt Holliday in the lineup. He'll play some outfield this year, no doubt, but the Giancarlo trade effectively filled the DH spot because both he and Aaron Judge (and Brett Gardner) have to coexist somehow. A quick statistical comparison:
2017 Holliday: .231/.316/.432 (98 wRC+) and -0.1 WAR
2018 Stanton (per ZiPS): .273/.366/.656 (161 wRC+) and +6.4 WAR
ZiPS projecting 55 homers and a .656 SLG for Stanton blows my mind. I've been looking at ZiPS for more than a decade now and I don't ever remember seeing the system spit out numbers like that. Anyway, yeah, the Yankees are improved because they have Stanton now, not Holliday, who by all accounts is a good dude. He just stopped hitting in mid-June.
Full seasons of Gray, Robertson, and Kahnle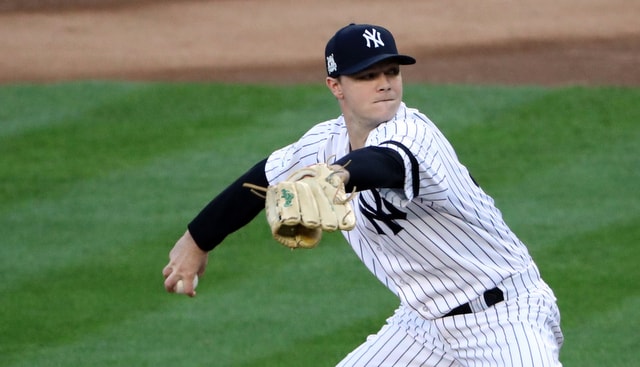 When it became clear the Yankees were contenders and not pretenders last season, Brian Cashman acted decisively and upgraded his roster at the trade deadline. He dipped into the farm system and traded superfluous prospects for Frazier, Sonny Gray, David Robertson, Tommy Kahnle, and Jaime Garcia. Frazier and Garcia were rentals and won't be back this year. Or at least I don't think Jaime will be back. You never know.
Anyway, the Yankees acquired multiple years of Gray, Robertson, and Kahnle. They weren't rentals. Robertson is signed through 2018, Gray is under team control through 2019, and Kahnle is under team control through 2020. All will be back this season and they are all reasons the 2018 Yankees will be better than the 2017 Yankees. Gray effectively replaces Michael Pineda in the rotation. Robertson and Kahnle are replacing Tyler Clippard and, uh, I guess Jonathan Holder? Whoever it is, the Yankees are better off.
A full season of Bird, hopefully
Greg Bird did not come over at the trade deadline, but he was not available to the Yankees most of last season because of his ankle injury. The injury limited him to only 48 games and 170 plate appearances. Didn't even play a third of the season. The Yankees gave way too many first base plate appearances to guys like Chris Carter and Garrett Cooper last year.
With any luck, Bird will (finally) stay healthy this season, and give the Yankees about 600 plate appearances and a bunch of dingers and walks. Some numbers:
2017 Yankees first basemen: .244/.317/.444 (83 OPS+) and +0.7 WAR
2018 Bird (per ZiPS): .240/.333/.480 (116 OPS+) and +1.1 WAR
Last season the Yankees ranked 25th among the 30 teams in first base OPS+ and 22nd in first base WAR. Bottom third of the league production at the position. We still have no idea what Bird can do across a full season. We've seen flashes of excellence, and gosh, his extreme fly ball tendencies make him a great mix for Yankee Stadium. A healthy Bird could be a considerable upgrade for the 2018 Yankees. Unfortunately healthy remains a big "if" with him, but fingers crossed.
More high-leverage work for Green
Chad Green started last season in High Class-A. True story. He didn't join the big league team until May 8th, the day after the 18-inning game at Wrigley Field, and it wasn't until late-July that he started pitching in high-leverage situations consistently. The cat is out of the bag now. Green is excellent, everyone knows it, and he will be used in important situations right from the get-go this season.
The Yankees started last season with Dellin Betances and Clippard as their bridge to Aroldis Chapman. Now that bridge is Robertson and Green, with Kahnle around as the third wheel. The bullpen is in much better shape right now than it was a year ago. It's always fun when a young pitcher like Green comes up, dominates, and begins assuming high-leverage innings. It's much more fun when you already know that young pitcher can dominate and you don't have to wait to see him in important situations.
Natural growth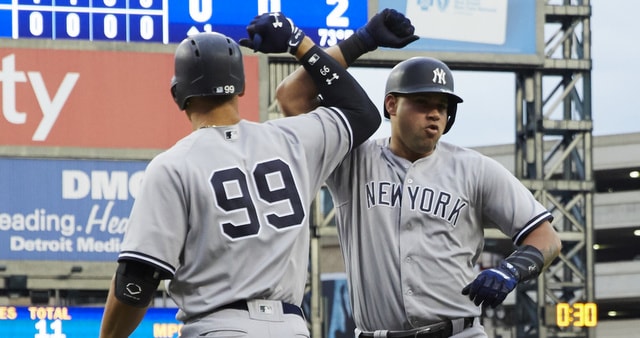 Come Opening Day, chances are Gardner will be the only player in the starting lineup over 30. The Yankees have an increasingly young roster, and talented young players have a tendency to get better. A lot better, in some cases. For some young Yankees, there is obvious room for improvement. Jordan Montgomery can cut down on the walks and be more efficient. Gary Sanchez can improve blocking balls in the dirt.
In other cases, it can be difficult to see how improvement is possible. Example: How in the world is Aaron Judge supposed to get better? With him, it's a matter of gaining consistency to avoid another big midseason slump, and maybe cut down on the strikeouts as well. It's possible Judge will be very good and a more complete all-around player this season while putting up inferior numbers to last season. In his case, improvement may be more subtle. With other young players, it probably won't be.
* * *
There are plenty of other reasons the 2018 Yankees can be better than the 2017 Yankees. Masahiro Tanaka could stop giving up dingers. Betances could stop walking people. Gleyber Torres and Miguel Andujar could outproduce Castro, Headley, and Frazier. I'd bet against that last one, but it is possible. The Yankees are young and talented, and they have more young talent on the way. That's exciting.
More than anything, the Yankees figure to be better this year because they added Stanton, and because they'll have full seasons of Gray, Robertson, Kahnle, Green, and (hopefully) Bird. Losing Frazier, Headley, and Castro is not insignificant. Those dudes combined for +5 WAR in pinstripes last year. Asking Gleyber and Andujar to do that is putting a lot on the rookies. Stanton is the single biggest reason to expect the Yankees to improve this year. There are a lot of smaller things that could add up to large improvement too.