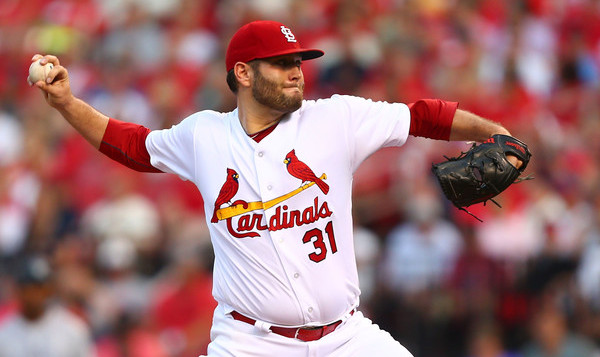 Pitchers and catchers report to Tampa today, after four months of offseason in which the Yankees were connected to pretty much every worthwhile pitcher. Trade candidates, free agents, you name it. The rumors have almost been systemic. Like we're going down a line and seeing the Yankees connected to the available pitcher du jour.
Over the weekend, it was Lance Lynn's turn. Jon Morosi says the Yankees are "monitoring" the market for the 30-year-old right-hander but — you guessed it — the luxury tax plan is an obstacle. From Morosi:
With Darvish — and Todd Frazier — having signed elsewhere, the Yankees' free-agent options are coming into focus. They have monitored Lynn's marketplace this offseason, but it's unclear if they can fit him into the roughly $15 million they have budgeted for spending between now and Opening Day. The Yankees' payroll is not yet close to the $197 million luxury-tax threshold, but general manager Brian Cashman wants to allow flexibility for Trade Deadline moves.
The Cubs signed Yu Darvish over the weekend and I suppose that could mean the pitching floodgates are about to open, especially now that Spring Training has started. I imagine players are starting to get a little antsy. They want to know where they're going to live and play this season (and future seasons). So do their families.
I examined Lynn back at the trade deadline and, for the most part, everything I said then still applies now. He finished the season quite strong, throwing 84 innings with a 3.21 ERA (4.35 FIP) in the second half. Those numbers hide a decline in strikeout rate (22.0% to 17.1%) and walk rate (9.0% to 11.3%) from the first half, for what it's worth.
Now that Darvish is off the board, it feels like the rest of the pitching market will fall into place. Lynn and Alex Cobb wind up with the Brewers and Twins, two teams looking for pitching but probably aren't in position to win a bidding war for Jake Arrieta. I feels to me that Arrieta is heading to the Nationals, where all Scott Boras clients struggling to find jobs seem to land.
The Darvish and Lorenzo Cain contracts show that while so many free agents have had to wait (and are still waiting) to sign, they're not necessarily taking discounts. Cain and Darvish signed for deals right in line with projections. Pitching is always in demand and, because of that, I expect Lynn (and Cobb) to sign for pretty good money at some point. Not at a big discount. Some contract projections for Lynn:
That is Ervin Santana money (four years, $54M) and not quite Ian Kennedy (five years, $72M) or Mike Leake (five years, $80M) money, which makes sense to me. Last season was Lynn's first year back from Tommy John surgery. Kennedy and Leake were among the most durable pitchers in the game when they signed their contracts.
The Yankees have about $22M total to spend under the $197M luxury tax threshold, though they have to set something aside for midseason additions, and that number will reportedly be $10M. That leaves them with $12M or so to spend now. And hey, that might be enough to get Lynn! The projections have him at $14M to $15M annually. A little massaging could get it down to $12M.
Money is not the only cost of acquiring Lynn, however. He rejected the qualifying offer, and since the Yankees paid luxury tax last year, they will have to surrender their second and fifth round draft picks, as well as $1M in international bonus money to sign him. I'd rather give up that package than my first round pick like the old days, though it is not an insignificant cost.
The Yankees clearly want another pitcher, and a good one at that. Enough to spend basically all their remaining non-midseason addition payroll space and give up two draft picks (and international bonus money) to sign Lynn? Maybe! He's pitched for a contending team pretty much his entire career and has done well enough in postseason games, and the Yankees value that to some degree. Lynn isn't Darvish, but he is pretty good.
Weirdly, this is going to come down to a bidding war, a bidding war where the Yankees are at a disadvantage. They were never going to be a serious player for Yu Darvish given the luxury tax plan. They can make a run at Lynn though. It's just a question of whether they're willing to dip into their midseason addition money to outbid the Brewers and Twins and whoever else.