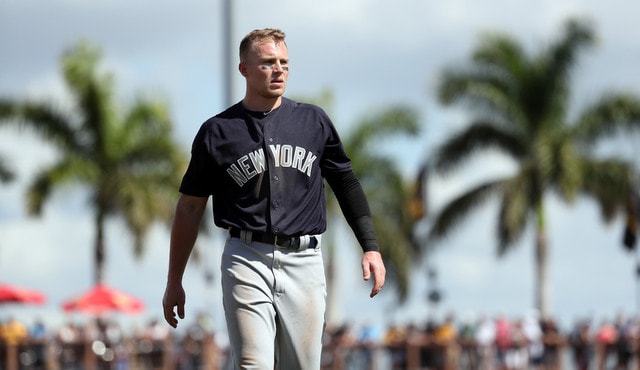 The acquisition of Brandon Drury has added infield depth, even more than the Yankees had going into Spring Training. He joins Tyler Wade, Ronald Torreyes, Miguel Andujar, and Gleyber Torres in vying for a starting position somewhere in the infield. That's a lot of guys for two starting spots and two bench spots before even considering Danny Espinosa, Jace Peterson, and Thairo Estrada. Despite the options, the assumption over the last few days is that Drury will end up the starting third baseman, which would relegate Andujar to Scranton. Let's take a look at how this might impact the Yankee lineup, as well as some other permutations that are now necessarily Drury-inclusive.
The top of the lineup really won't change much. It'll be Brett Gardner followed by some combination of Aaron Judge, Giancarlo Stanton, Gary Sanchez, and Greg Bird. With that top five to carry the load, the pressure will definitely be off the lower two-thirds of the lineup. Slotting the lower half of the order is slightly more puzzling in that there are players with some question marks in the group. Is Didi Gregorius' 25 homer power for real? Can Aaron Hicks be healthy and productive all season? How will one of — or both — Torres and Andujar adjust to and handle a full year of Major League pitching? Will Drury capitalize on his decent power — .177 career ISO — and become an average Major League hitter? These challenges, though, provide Aaron Boone with a little bit of freedom. He can justify batting these players anywhere in the lower half of the lineup with a decent argument to be made for each one — though it would be shocking if Hicks or Gregorius batted ninth.
To return to our Drury focus, let's take a look at the three different possibilities with platoon matchups considered: 1) Drury at third with Torres sent down and Wade/Torreyes platooning; 2) Drury in a 2B platoon with Tyler Wade, which also assumes Torres is sent down; 3) Drury on the bench, assuming both Torres and Andujar make the team out of Spring Training.
| | | | |
| --- | --- | --- | --- |
| Order v R | Scenario 1 | Scenario 2 | Scenario 3 |
| 6 | Gregorius | Gregorius | Gregorius |
| 7 | Hicks | Hicks | Hicks |
| 8 | Drury | Andujar | Andujar |
| 9 | Wade | Wade | Torres |
| Order v L | Scenario 1 | Scenario 2 | Scenario 3 |
| 6 | Hicks | Hicks | Hicks |
| 7 | Drury | Drury | Gregorius |
| 8 | Gregorius | Gregorius | Andujar |
| 9 | Torreyes | Andujar | Torres |
Drury doesn't have much of a platoon split in his career — 99 wRC+ vs. LHP; 94 vs. RHP. He does offer slightly more power against lefties than against righties — a .194 ISO vs. a (still respectable) .169. It's a small difference and Didi does fine against lefties, so you could swap their positions in the order and things wouldn't change much. The same goes for the rookies Andujar and Torres; swapping them in the eight/nine spots won't make too much of a difference.
It's clear that the Yankees have a good problem on their hands — it's likely they'll have nine hitters in the lineup who are, at the least, competent. Even if they go with Torres and Andujar — who have one Major League start between them — there's upside at every position in the batting order. This was true even without Drury on the team, but he gives them an extra option. These scenarios with "too many players" seem to work themselves out. The more fallbacks, the better. Even with those fallback options, though, this team will hit. And it's easy to  take the stance of Giancarlo Stanton: I feel bad for the baseballs.