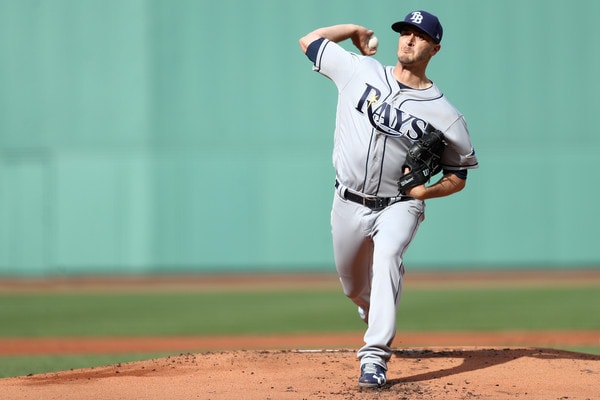 Spring Training is less than a week away and the Yankees are still looking to add a starting pitcher despite already having five starters for five rotation spots. The team seemingly isn't content to go into the season with Sonny Gray, Jordan Montgomery, CC Sabathia, Luis Severino, and Masahiro Tanaka in the rotation in whatever order, plus some nice depth options in Triple-A.
The Yankees made a run at Gerrit Cole and came up empty. They've also been connected to Michael Fulmer, Chris Archer, Patrick Corbin, Yu Darvish, and Alex Cobb at various points this winter. Now you can add Jake Odorizzi to that list. Ken Rosenthal has the latest:
The intentions of the New York Yankees, who have checked in on Odorizzi at various points, are less clear. The Yankees' rotation seemingly is set with Masahiro Tanaka, Luis Severino, Sonny Gray, CC Sabathia and Jordan Montgomery. But the team has been trying to trade center fielder Jacoby Ellsbury to clear money for other pursuits, including a possible run at Darvish.
Not gonna hold my breath on the whole "trade Ellsbury to clear payroll space to sign Darvish" thing, you guys. Of course, the Yankees could just sign Darvish and forget about the luxury tax plan, but something tells me there's a better chance of Ellsbury being traded than the Yankees abandoning the luxury tax plan. But I digress.
Odorizzi, 27, has two years of team control remaining and he's been good but not great the last few seasons. He looked destined to become the next great Rays pitcher back in 2015, when he put up a 3.35 ERA (3.61 FIP) in 169.1 innings. Odorizzi then threw 187.2 innings with a 3.69 ERA (4.31 FIP) in 2016 and 143.1 innings with a 4.14 ERA (5.43 FIP) in 2017. He's also an extreme fly ball pitcher …
2015: 37.3% grounders (10th lowest in baseball)
2016: 36.6% grounders (11th lowest in baseball)
2017: 30.6% grounders (2nd lowest in baseball)
… and extreme fly ball pitchers generally do not mix well in Yankee Stadium. Not when they have a league average pop-up rate like Odorizzi. He gives up fly balls. Like legit fly balls. Not weak pop-ups or shallow flies. Move Odorizzi from Tropicana Field to Yankee Stadium and his career 1.29 HR/9 will get worse, not better. Not many pitchers in baseball are a worse fit for the ballpark.
The Yankees want a pitcher though, so of course they checked in on Odorizzi. It's due diligence. Is Odorizzi truly available to them? Eh, maybe. The whole intra-division rivalry complicates things. Then again, the Rays just traded the best player in franchise history and they've been a sub-.500 team for four years now, so maybe they'd trade Odorizzi (or Archer!) within the division to ensure the greatest return. They can't afford to be picky with their trade partners with that payroll.
More than anything, the Odorizzi interest reinforces the point that the Yankees aren't satisfied with their current rotation. That's not a good way to put it. I take that back. I think the Yankees would be perfectly fine going into the season with their current rotation. It just seems like they really want that extra starter, presumably because the deep postseason run means their five guys endured big workloads last year.
Odorizzi is an imperfect solution because of the fly balls and downward trend in his performance. He is available though — Rosenthal says the Rays are likely to move him to shed payroll — and the Yankees wouldn't need him to be a true impact guy. He'd just have to solidify the back of the rotation. Clearly, the Yankees are still looking for another starter. If they can get one now, great! If not, there's always the trade deadline. They're looking, but not desperate.