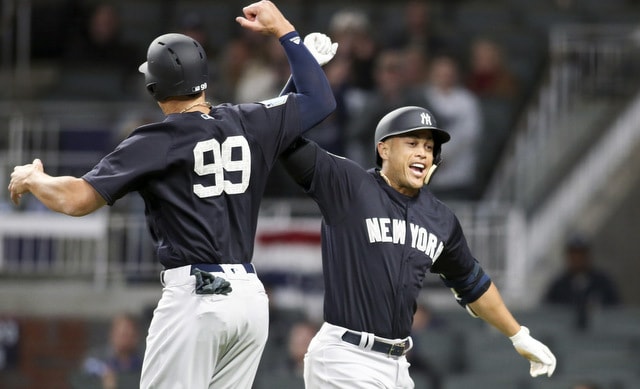 Ever since December, when the Yankees acquired Giancarlo Stanton, it's been impossible not to dream about the lineup possibilities. Stanton and Aaron Judge are arguably the two best power hitters in baseball, and Gary Sanchez is no slouch with the stick either. He missed nearly a month with an injury and still socked 33 home runs last season.
Stanton, Judge, and Sanchez all happen to be right-handed hitters, and these days, the general belief seems to be that stacking batters with the same handedness anywhere in the lineup is a bad thing, especially the middle. Stanton, Judge, and Sanchez back-to-back-to-back in whatever order opens up the possibility for a right-handed specialist.
Of course Stanton, Judge, and Sanchez will bat in the middle of the order. But there has been plenty of talk about squeezing a left-handed hitter in somewhere to break up all the righties. Aaron Boone has called it an "ideal situation," in fact. From George King:
"I think it would be nice (to break up the righties). I am not married to it yet,'' Boone said. "In an ideal situation I would have a lefty splitting those three. Nothing is for certain and it might be a matchup thing. It could be a team's bullpen and how we view that matching up in a game. But ideally, I would like to have a lefty in there.''
Give the Yankees a truth serum and I'm certain they'd tell you they wanted Greg Bird to be the left-handed hitter who broke up the big righty bats, but that's not possible now. Bird will miss the next 6-8 weeks after having another ankle surgery. Sucks. Boone hit Bird third between Judge and Stanton several times late in the spring. You could tell it was something he was strongly considering for the regular season.
With Bird unavailable, Boone slotted Didi Gregorius into the cleanup spot between Stanton and Sanchez in Monday night's spring finale, and he went deep. It worked!
As I've said several times in recent weeks, I don't love splitting up the big righty bats with a lefty. Seems unnecessary to me. Stanton, Judge, and Sanchez all crushed righties last season and they are the three best hitters on the team. My ideal lineup has Judge, Stanton, and Sanchez in the 2-3-4 spots. That way Judge and Stanton are guaranteed to bat in the first inning, and if anyone reaches, Sanchez gets to hit too. Perfect. Stack the big bats and let 'em eat.
There are two sides to this argument, however, so for the sake of completeness, I'm going to be my own devil's advocate and examine the benefits of splitting up those big right-handed bats with a left-hander. Let's talk this out.
1. Mixing in a contact hitter. Among the 144 hitters with enough plate appearances to qualify for the batting title last season, Judge (4th), Stanton (27th), and Sanchez (34th) ranked among the top 35 hitters in strikeout rate. Or bottom five, I guess would be more accurate. Anyway, Judge and Stanton are always going to have some swing-and-miss in their game because they're so big, and Sanchez can get jumpy at the plate, leading to strikeouts.
Batting Judge, Stanton, and Sanchez back-to-back-to-back in whatever order creates the opportunity for the opposing team to escape a jam without a ball being put in play, especially with a high strikeout reliever on the mound. Heck, a few weeks ago someone named Drew VerHagen struck out those three guys in a row.
Those three are going to strike out a bunch. That's just who they are as hitters. With Bird sidelined, Gregorius is the obvious left-handed bat to slot in the middle of the righties, and he'd provide a contact element those three do not possess. Some quick 2017 numbers:
Judge: 30.7% strikeouts (67.4% contact)
Stanton: 23.6% strikeouts (70.5% contact)
Sanchez: 22.9% strikeouts (74.0% contact)
Gregorius: 12.3% strikeouts (80.5% contact)
All contact is not created equal — Gregorius has the lowest hard contact rate of the four by nearly 14 (!) percentage points — but sometimes all you're looking for is a ball in play, and Didi is a much better bet to provide one than the three big righty bats. It's not necessarily about breaking up the righties. It's about breaking up the strikeout prone bats.
2. Giving the pitcher a different look. I'm not sure there's a way to quantify this and it might be total nonsense anyway, but when you stack hitters of the same handedness in the lineup, you run the risk of the pitcher getting into a groove with a specific set of pitches and/or pitch sequences. The starter could get locked in with, say, fastballs in and sliders away, even if only for a few batters. Better execution through reputation.
Whenever Judge, Stanton, and Sanchez hit back-to-back-to-back, a righty is going to attack them with fastballs on the inner half and breaking balls away. That's the way to go after them. If it's a southpaw, we're probably talking fastballs and changeups down and away. Make sure they either can't extend their arms, or have to really extend their arms to get to a pitch. If you miss, miss well outside the zone. These dudes will make you pay dearly otherwise.
Squeezing a lefty (Gregorius) somewhere within the three big righties would, in theory, help prevent the pitcher from getting into such a groove. He can't go fastball in/slider away for three straight batters, not unless he intends to pitch a lefty the same way, and hey, maybe he does. Like I said, this might not be total nonsense, but I feel like I've seen games in which a pitcher faced several batters of the same handedness in a row, and settled in quickly.
3. Opposing managers will do something stupid. Stupid is too harsh. But inevitably moves will be made to match up that are overly cute, and they'll backfire. Happens all the time. All the time. Perhaps that means bringing in a left-on-left matchup guy to retire Gregorius, and leaving him in to face Stanton. Or staying with a left-handed starter to face Judge and Stanton because you want him to face Gregorius. Things like that.
Point is, when you bat hitters of the same handedness back-to-back-to-back in the lineup, it makes life easy for the opposing manager. In this case, with hitters like Judge and Stanton and Sanchez, you bring in your best righty reliever and hope for the best. Insert a left-handed hitter into the mix — it has to be a quality lefty, obviously, not any old lefty will do the trick — and you create the opportunity for the opposing manager to overthink things (i.e. bring in a inferior pitcher), which could potentially lead to mistakes or poor decisions. Some managers won't fall for it. More than you'd think will.
* * *
Based on last season, the platoon splits don't help the argument to break up the big righties with a lefty. Judge, Stanton, and Sanchez all hit lefties and righties better than Gregorius last year. Look:
Judge: 179 wRC+ vs. RHP and 149 wRC+ vs. LHP
Stanton: 144 wRC+ vs. RHP and 202 wRC+ vs. LHP
Sanchez: 130 wRC+ vs. RHP and 131 wRC+ vs. LHP
Gregorius: 120 wRC+ vs. RHP and 72 wRC+ vs. LHP
That's why I am against splitting them. Judge, Stanton, and Sanchez are great hitters regardless of who is on the mound, so don't overthink things, and just let them hit. After all, if you were an opposing pitcher, wouldn't you rather see Judge-Gregorius-Stanton or Judge-Stanton-Gregorius coming up rather than Judge-Stanton-Sanchez? Of course you would.
There is a case to be made for breaking up those big right-handed bats with a lefty, however. Adding a contact bat to the mix and inviting the opposing manager a reason to make a potentially unnecessary pitching change are chief among them. How much impact will that have in a single game or across the entire 162-game season? Eh, hard to say. The overall impact of the lineup tends to be overstated unless we're talking about something like Judge batting eighth instead of second. As long as the big righties are near the middle of the lineup, the Yankees will be fine.