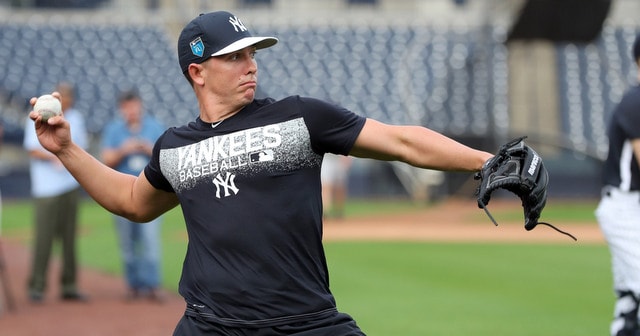 Twelve months ago, if I would've told you the Yankees would reach the postseason as a wildcard team, I think we all would've signed up for it. Last year was supposed to be a rebuilding transition year. And, if I would've told you the first two relievers out of the bullpen in the Wild Card Game would be Chad Green and David Robertson, I'm pretty sure I would have gotten a lot of blank stares in response.
The bullpen that starts the season is rarely the bullpen that ends the season, and that was never more true than last year for the Yankees. Dellin Betances and Tyler Clippard began the year as Joe Girardi's trusted setup crew, and by time the Wild Card Game rolled around, Betances had been rendered untrustworthy by his control problems and Clippard was on his third team of the season.
Instead, it was Green and Robertson who served as Girardi's go-to setup duo late last year, and this season those two are expected to fill the same role under new manager Aaron Boone. Only now the Yankees will have them for a full season. Green started last season in the minors (in High-A!) and Robertson came over in a midseason trade. This year they'll be in pinstripes on Opening Day.
Boone has talked a lot about his relievers — meaning Green, Robertson, Betances, and Tommy Kahnle — being interchangeable and capable of pitching in any situation. That is true, but when push come to shove, Green and Robertson figure to be his top relief arms, at least at the start of the season. Let's preview their seasons.
Green's First Full Season
Green was dynamite last season, throwing 69 nice innings with a 1.83 ERA (1.75 FIP) thanks to excellent strikeout (40.7%) and walk (6.7%) rates. The Yankee brought him to Spring Training as a starter this year — people predictably freaked out the Yankees would screw up his preparation without realizing Green has only ever prepared for a season as a starter — though that experiment didn't last long. He's already back in the bullpen.
Two things make Green such a weapon for the Yankees. One, he misses a ton of bats. Nothing better than a late-inning reliever who can get outs in a close game without a ball being put in play. And two, he can go multiple innings. Green made 39 relief appearances last season and he recorded at least four outs in 29 of them. Twenty times he recorded at least five outs. Green threw as many as 3.2 innings in a relief outing last season.
Boone and the Yankees have already indicated they will use Green in the same way this season, as a multi-inning high-leverage reliever. It sounds obvious, but for whatever reason, teams tend to use great young relievers less and less. They make them their closer or assign them a specific inning, something like that. The Yankees plan to continue using Green as that multi-inning strikeout machine. I love it. Relievers like Green are sooo valuable.
There are two things about Green that make him very unique. One, he succeeds by throwing almost all fastballs. His heater averaged 95.8 mph last season, which is good, though it doesn't really stand out in today's game. When batters swung at Green's fastball last year, they missed 37.9% of the time, the highest rate in baseball. Nearly double the league average. The combination of velocity, spin rate, and deception give Green a truly elite heater. It's awesome.
And two, Green is extremely fly ball prone. I guess when you throw so many fastballs, it's easier for hitters to get it in the air, even if they don't hit it hard. Last season Green had a 26.4% ground ball rate. Three-hundred-and-fifty-five pitchers threw at least 50 innings last year and only two (Emilio Pagan and John Brebbia) had a lower ground ball rate. The thing is, Green generates a lot of weak contract, so not many of those non-grounders traveled deep into the outfield. Here is his fly ball and line drive spray chart, with exit velocities: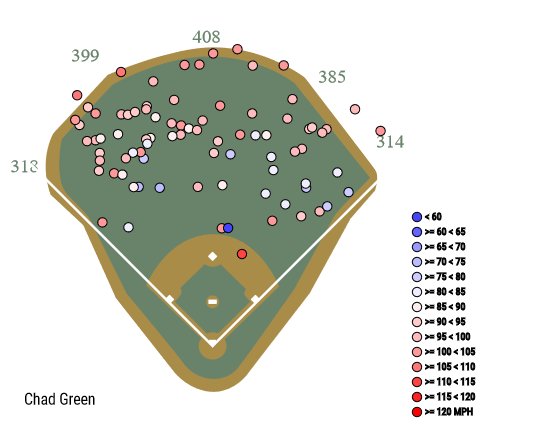 Not many deep fly balls and not many bright right dots on that chart, meaning few really well-struck baseballs. For all intents and purposes, Green is peak Tyler Clippard. Back in the day Clippard got a ton of strikeouts and very few ground balls, but he limited weak contact and so many of those non-grounders were pop-ups and routine fly balls, which are easy outs. Green is the same way. If he doesn't strike a batter out, chances are the contact results in a can of corn.
Can Green do it again this season? I don't see why not. It is an unusual profile, no doubt — how long can a guy succeed throwing basically nothing but mid-90s heaters? — but unusual doesn't mean unsustainable. Green is a strong young (26) man and there is more to his fastball than velocity. It has a high spin rate — high spin correlates well to swings and misses — and, based on the way hitters react, he hides it well during his delivery. The radar gun says 96 and their reaction says 101.
Maybe Green won't be that good again. After all, only eight relievers in history have multiple seasons with a sub-2.00 ERA and a sub-2.00 FIP. I don't think he's a one-year wonder though. The fastball is elite, and he's stretched out and proven capable of throwing multiple innings each time out. Green was the surprise bullpen story of the season last year (I boldly predicted it!). This year he's a very good reliever back for another season. Dominance is expected.
Robertson's Walk Year Part II
Green's dominance wasn't enough to fortify the bullpen last season. Brian Cashman had to go out prior to the trade deadline to get more help, which led to him bringing Robertson (and Kahnle) back to the organization. Robertson was ridiculous after the trade (1.03 ERA, 2.10 FIP, 38.6 K%, 9.1 BB%) and he was so good in the postseason too. He was Girardi's most trusted setup guy, understandably so.
After the trade last year, it was like Robertson never left. He fit right back in and he was willing to pitch in any situation. It was great. And this year Robertson will again be a trusted setup man — maybe the most trusted setup man — and unlike Green, he has a long track record of excellence. No one is wondering whether Robertson can do it again because he's done it again and again and again. He's been doing this for almost a decade now.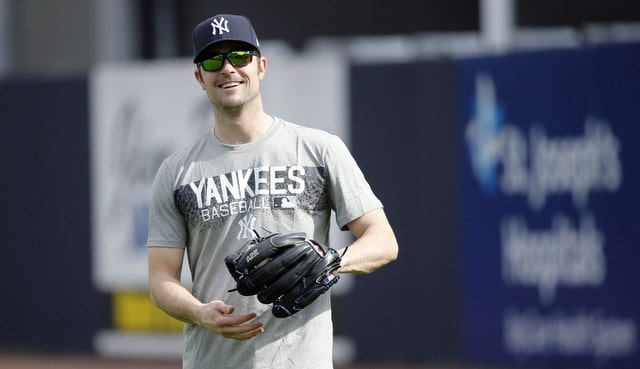 There's not much to preview with Robertson. We know who he is. He's going to throw cutters and curveballs, and he'll wiggle out of some self-created jams, because that's what he does. There are two red flags with Robertson. One, he'll turn 33 shortly after Opening Day, so he's getting up there in age. And two, he threw a career high 81.1 innings last season, and had a shorter than usual offseason to recover. Might not be a bad idea for Boone to take it easy on Robertson early this year.
Moreso than his role and expected performance, the biggest story surrounding Robertson this year is his impending free agency. The four-year contract he signed with the White Sox back in the day expires this year. The Yankees can't give Robertson the qualifying offer to net a draft pick — they gave him one back in the day and the rules now say players can only receive the qualifying offer once — and, as bad as free agency was this year, relievers still got paid well.
With another typical Robertson season, it's not crazy to think he could command a contract worth $15M or more per season next winter. Aroldis Chapman, Kenley Jansen, and Wade Davis are all $17M+ a year relievers. Chances are Andrew Miller will join that club next year. Robertson is a few years older than those guys, but he's very good and he's been durable — Robertson and Clippard are the only relievers to make 60+ appearances every year from 2010-17 — and he's going to get paid well.
How aggressively will the Yankees pursue Robertson after the season? It's hard to say. There is still an entire season to be played first, and a lot can change between now and then. It depends how Robertson performs, whether any young relievers establish themselves as long-term pieces, and his contract demands. Are the Yankees willing to roster two $15M+ a year relievers, even after resetting their luxury tax rate this year? Who knows. We'll just have to wait and find out.
Robertson is entering his mid-30s and he did throw a ton of high-stress innings last year, especially in the postseason, and the Yankees are not oblivious to that. He's being brought along slowly in Spring Training — Robertson missed a few days with food poisoning, which meant more time off than planned — and Boone's supposed plan to spread the bullpen workload around should help Robertson stay fresh in the regular season. Either way, both Robertson and Green will again play important roles in 2018. They are the team's top two relievers.