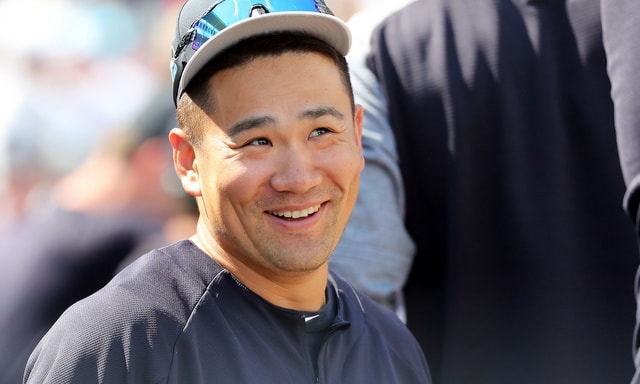 The 2017 season was, by a not small margin, the worst of Masahiro Tanaka's four seasons with the Yankees. He pitched to a 4.74 ERA (4.34 FIP) with 35 home runs allowed — only Rick Porcello (38), Ariel Miranda (37), and John Lackey (36) allowed more — in 178.1 innings. Tanaka made up for his rough regular season with a marvelous postseason, so that was cool.
The Yankees do not want 2017 Tanaka in 2018. They want 2014-16 Tanaka, the guy who threw 490 innings with a 3.12 ERA (3.53 FIP) and was one of the top starters in the American League. We know the dominant Masahiro Tanaka is still in there. We saw it in the postseason. It's just a matter of getting that guy more consistently this summer. Let's preview Tanaka's upcoming season.
Not opting out was the smart move
Going into the winter, the single biggest question facing the Yankees was Tanaka's opt-out clause. He could've walked away from the final three years and $67M left on his contract. Recent free agent history suggested a pitcher of Tanaka's caliber — even with the poor 2017 season — would've commanded upwards of $90M total, if not more.
Instead, Tanaka did not opt-out, instead choosing to stick with the Yankees on the original terms of his contract. Here is the statement he released:
"I have decided to stay with the Yankees for the next three seasons. It was a simple decision for me as I have truly enjoyed the past four years playing for this organization and for the wonderful fans of New York.

"I'm excited to continue to be a part of this team, and I'm committed to our goal of bringing a World Series Championship back to the Steinbrenner family, the Yankees organization, and the great fans of New York."
Given how the free agent market played out, Tanaka sure made a smart decision sticking with the Yankees. Jake Arrieta won a Cy Young award, has a great postseason track record, and he threw 594.2 innings with a 2.71 ERA (3.25 FIP) from 2015-17. Yet he received three years and $75M guaranteed. Never say never, but it sure seems like Tanaka would've had to settle for less (much less) than three years and $67M had he opted out.
Fewer and fewer fastballs
Tanaka is not, and never has been, a blow-you-away pitcher. His fastball is his worst pitch and has been for years now, even though his average velocity has held steady:
2014: 92.8 mph (96.7 mph max)
2015: 92.8 mph (96.3 mph max)
2016: 92.0 mph (96.7 mph max)
2017: 93.1 mph (97.2 mph max)
Since 2014 the narrative has been floating around that the elbow injury robbed Tanaka of velocity — or just maximum velocity — but it's false. Garbage nonsense from lazy people unwilling to look up the facts, or just willing to ignore them. Tanaka's velocity is the same as it's always been, which is actually kinda amazing because it would not be unusual for a pitcher his age to loose some oomph.
That doesn't change the fact Tanaka's fastball is his least effective pitch. He's an artist, not a power pitcher. He relies on a deep arsenal, highlighted by his splitter and slider, to keep hitters off balance and pick them apart surgically. It's cliche as hell, but Tanaka is a pitcher, not a thrower. And since his fastball is his worst pitch, he's been throwing it less and less often. His percentage of four-seamers and sinkers over the years:
2014: 40.8%
2015: 32.3%
2016: 37.1%
2017: 29.0%
Tanaka doesn't throw many fastballs anymore. The Yankees as a whole throw fewer fastballs than any other team — they had the lowest fastball rate in baseball by nearly five percentage points last year — but Tanaka takes it to the extreme. It's hard to believe he can throw even fewer fastballs going forward, but he is trending in that direction, and it wouldn't surprise me to see him drop to 25% heaters or so in 2018.
I can't imagine many pitchers in baseball are equipped to succeed while throwing so few fastballs. Tanaka is one of the exceptions. He throws six pitches (four-seamer, sinker, splitter, slider, cutter, curveball) and both the splitter and slider are devastating, at least when they're on. They weren't on for a big chunk of the first half last season. Tanaka's not going to throw many heaters. We know that. The key to avoiding last year's struggles is being more consistent with the splitter and slider. Those pitches were A Big Problem early in 2017.
Can he solve the home run problem?
On one hand, probably not, because the baseball is juiced and Tanaka's fastball is crushable when he makes a mistake and leaves it out over the plate. Plus there's the whole Yankee Stadium thing. On the other hand, Tanaka had a 21.2% HR/FB rate last season, which is bonkers. We have batted ball data going back to 2002. Here are the worst HR/FB seasons among pitchers with enough innings to qualify for the ERA title:
2017 Masahiro Tanaka: 21.2%
2016 Jaime Garcia: 20.2%
2003 Odalis Perez: 19.7%
2017 Clayton Richard: 19.4%
2012 Ervin Santana: 18.9%
Oy. Tanaka's career HR/FB rate is 16.1% and it was 14.1% prior to last season. The MLB average HR/FB rate was 13.7% last season. Given his home ballpark and effectively mediocre fastball, I would expect Tanaka to run a higher than average HR/FB rate. But 21.2%? Literally the highest among qualified starters on record? Nah. Look at Tanaka's ground ball rate over the years:
2014: 46.6% grounders (14.0% HR/FB)
2015: 47.0% (16.9%)
2016: 48.2% (12.0%)
2017: 49.2% (21.2%)
I don't think a 21.2% HR/FB rate is Tanaka's true talent level. That is frickin' wild. He's always going to be homer prone but hopefully not that homer prone. Tanaka had his fair share of homers just sneak over the wall last season …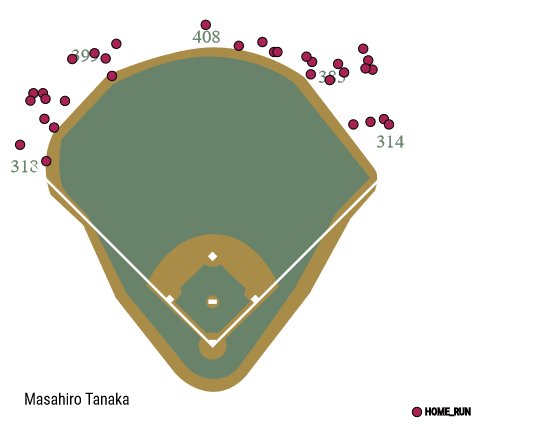 … and hopefully this season a few of those wall-scrapers stay in the ballpark. Tanaka's going to give up homers. That's just who he is as a pitcher. As long as he limits them to solo homers — 23 of those 35 homers were solo shots last season — and baseball stops being a jerk and allows his HR/FB rate to return to his career average, Tanaka can remain effective. Home runs are always going to be part of his game. It is what it is.
* * *
As crummy as Tanaka was overall last season, he did right the ship in mid June, pitching to a 3.54 ERA (3.33 FIP) in his final 16 starts and 101.2 innings of the regular season. He was even better in the postseason. Tanaka is not old. He turned 29 in November. Health questions persist — Tanaka has throw 150 innings each of the last three seasons, for what it's worth — but age-related decline isn't much of a concern. And when you look at the entirety of his career, 2017 is the outlier.
The Yankees were able to reach the postseason last year even though Tanaka was pretty bad overall. I wouldn't bank on the same happening again this year. They're going to need Tanaka to bounce back, perform like he did from 2014-16, and be a bonafide rotation leader rather than a problem in need of a solution. Tanaka's postseason performance was important even beyond those games. It showed us he can still dominate. Now it's up to Tanaka and the Yankees to figure out how to get that version of Tanaka on the mound more often than not going forward.