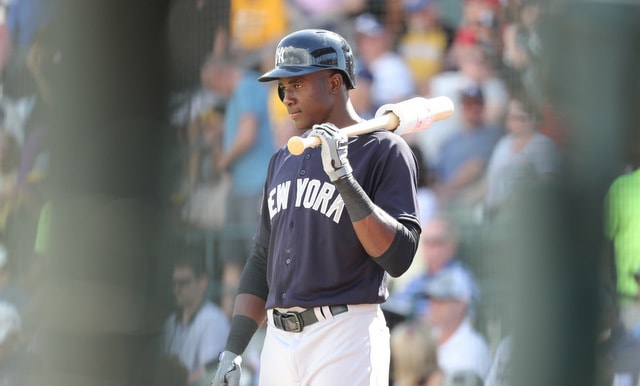 The results are in and outfielder Estevan Florial will be featured in this year's Prospect Watch. I apologize in advance to all of you who believe in the Prospect Watch curse. Florial is one of the top prospects in the farm system — I ranked him fourth in the system — and he could soon be one of the top prospects in all of baseball.
Here are the final vote tallies for the Prospect Watch candidates. It was a landslide:
Estevan Florial: 2,858 (58.7%)
Justus Sheffield: 964 (19.8%)
Dillon Tate: 349 (7.2%)
Jonathan Loaisiga: 288 (5.9%)
Freicer Perez: 217 (4.5%)
Albert Abreu: 192 (3.9%)
No love for Abreu, huh? The 4,868 total votes are not an all-time high. The 5,433 votes we received last year are the record. I'm pretty sure last year's poll was up for a full week — and I did a better job pumping that one up on social media too — while this one has only been up since Tuesday. Whatever.
Anyway, the recently turned 20-year-old Florial hit .298/.372/.479 (145 wRC+) with 13 home runs and 23 stolen bases in 110 games split between Low-A Charleston and High-A Tampa last season. He even made a postseason cameo with Double-A Trenton. Florial also struck out in 31.1% of his plate appearances, which is the glaring flaw in his game. Hopefully the Prospect Watch fixes that.
So what is the Prospect Watch, exactly? It's our simple little feature in which we track a prospect's progress in the sidebar throughout the season. Nothing too exciting, but people seem to like it, so we keep doing it. We'll have daily updates on Florial's performance and his overall season numbers. Think of it is as his FanGraphs player page in our sidebar.
My guess is Florial will return to High-A Tampa to begin the 2018 season after playing only 19 games at the level last year. The Tarpons — yes, they're the Tarpons now — open their season on Thursday, April 5th. Double-A Trenton and Low-A Charleston begin their seasons the same day. Triple-A Scranton opens on Friday, April 6th. I'll get the Prospect Watch up at some point before the season opener.