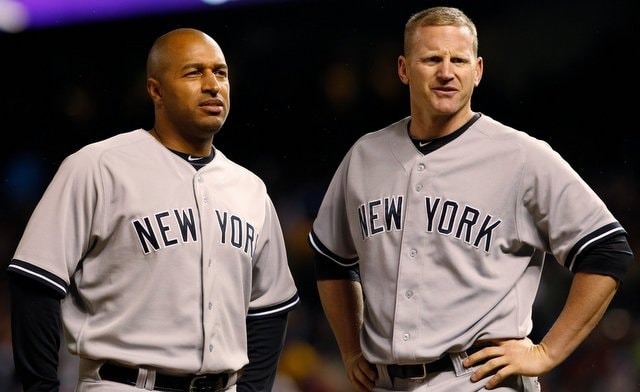 Now that we're a few weeks into March, this is as good a time as any to revisit the MLB Trade Rumors archives. March is typically a slow hot stove month, or at least it was prior to this offseason given the number of free agents who remain unsigned. I get the sense this is the new normal too. Back in the day all the top (and second and third and fourth) tier free agent would be signed by now.
The Yankees were unusually active in March 2013. Curtis Granderson's forearm was broken by an errant pitch in his first Spring Training at-bat and the Yankees were still trying to find the right mix for the bench. The injuries continued to mount in March and that sent Brian Cashman into scramble mode. He was busy in March 2013. Time to look back at the rumors and deals of five years ago.
March 3rd, 2013: Cafardo On Red Sox, Vazquez, Stanton, Cano
The Red Sox, Nationals, Yankees, Orioles, and Brewers had major interest in free agent pitcher Javier Vazquez before knee surgery put his season in jeopardy. "Never say never," said a major league source close to the hurler, "but we won't see him in the immediate future."
Oh man. A third Javy Vazquez stint in New York? Can't imagine that would've gone well. Vazquez was pretty good for the Marlins in 2011 (3.69 ERA and 3.57 FIP), though he missed the 2012 season with injuries, then showcased himself in winter ball. His knee started acting up again and that was that. Vazquez never pitched again. Imagine if Cashman had brought Javy back again? That would've gone over well.
March 4th, 2013: East Notes: Cashman, Ohman, Kendrick, Yanks
The Yankees announced today that general manager Brian Cashman broke his right fibula and dislocated his right ankle on the landing of a tandem skydive. Cashman was skydiving with the U.S. Army Golden Knights to raise awareness for the Wounded Warrior Project.

"I'm in great spirits, and it was an awesome experience," Cashman was quoted as saying in the press release.
Heh, remember this? Cashman is definitely a bit of a daredevil. Rappelling down buildings, jumping out of planes, considering bringing Javy Vazquez back for a third tour of duty in pinstripes … the man is a thrill-seeker if nothing else.
March 4th, 2013: East Notes: Cashman, Ohman, Kendrick, Yanks
The Yankees are very likely to receive their worst offensive output from the catcher position since before Jorge Posada emerged in the late-90s, writes Mike Axisa of River Ave. Blues. The Bombers decided against acquiring a standout backstop this offseason and will pull from a group consisting of Chris Stewart, Francisco Cervelli, and Austin Romine.
Every once in a while that idiot Axisa gets something right. The worst offensive seasons by Yankees' catchers since 1990:
2013: 70 OPS+
2008: 75 OPS+
1997: 86 OPS+
1990: 91 OPS+
1999: 92 OPS+
Good gravy the Chris Stewart/Francisco Cervelli/Austin Romine season behind the plate was so bad. So, so bad. If you ever feel like complaining about Gary Sanchez, remember the 2013 catching situation. It's tied with the 1987 team for the worst offensive season by Yankees' catchers in franchise history.
March 6th, 2013: Yankees To Consider Corner Infielders
Mark Teixeira has a strained right wrist and will miss eight to ten weeks, according to Yankees manager Joe Girardi (via Jack Curry of the YES Network on Twitter). The Yankees will look at first basemen and third basemen when considering possible replacements, Mark Feinsand of the New York Daily News reports (Twitter links). Kevin Youkilis' versatility will enable the club to explore options at both corner positions.
Teixeira blew out his wrist taking batting practice with Team USA before the start of the World Baseball Classic, though it took a while before the wrist gave out for good. He received treatment and cortisone shots and all that, and eventually returned to the field in May. Fifteen games later, Teixeira needed season-ending surgery. The injury was described as a wear-and-tear injury, the type of injury that was going to happen eventually no matter whether he was with the Yankees or Team USA, but because the injury happened at the World Baseball Classic, MLB covered a large portion of Teixeira's salary while he was on the disabled list. Lucky for the Yankees, I guess.
March 9th, 2013: Rivera To Retire After 2013 Season
SATURDAY, 9:57am: Rivera made the news official with a press conference this morning.  The 43-year-old told reporters that he has enough left in the tank for this upcoming season but after that he'll have "nothing left", tweets Jack Curry of the YES Network.
Mariano Rivera later admitted he was planning to retire following the 2012 season — that was going to be an unannounced retirement, Mo was going to drop it on everyone after the season — but the season-ending knee injury led to him coming back in 2013. If Rivera had never announced his plan to retire in advance, we never would've gotten to see this …
… and that would've sucked.
March 10th, 2013: Cafardo On Yankees, Headley, Red Sox, Lohse
The Yankees have explored temporary options to fill-in for the injured Mark Teixeira but they have also looked into more significant moves.  The Bombers have inquired on the Padres' Chase Headley, though we learned recently that he's not available at this time.  However, Headley could be on the market this summer.
Aside from all the blast from the past names, my favorite thing about these MLBTR Archive posts is seeing just how long the Yankees pursue certain players before actually acquiring them. This report is from March 2013. It wasn't until July 2014 that the Yankees acquired Headley. The Padres should've traded him sooner too. Headley hit .286/.376/.498 (145 wRC+) with 31 homers in 2012 and the team stunk. Instead, they kept him and wound up settling for Yangervis Solarte and a pitching prospect who never made it. I mean, Solarte's a nice player, but that's it? That's it.
March 10th, 2013: AL Notes: Lee, Porcello, Red Sox
The Yankees, who are hunting for a corner infielder to replace the injured Mark Teixeira, have asked Derrek Lee if he would be interested in returning to baseball, David Waldstein of the New York Times reports. Waldstein reports that Lee did show interest, although no deal is in place.
You know things are going poorly when you're trying to drag dudes out of retirement to play first base. Lee hit .267/.325/.446 (109 wRC+) with the Orioles and Pirates in 2012 — that includes a .337/.398/.584 (179 wRC+) line in 28 games with Pittsburgh late in the season — but he hung up his spikes after the season and had no interest in joining the Yankees. Given how the 2013 season played out, I'm guessing Lee doesn't regret that decision.
March 11th, 2013: Cashman Eyeing Derrek Lee, Chipper Jones, Rolen
Cashman said he'd sign Chipper Jones if the third baseman were willing to come out of retirement, Sherman

reports

. The GM said his interest in Jones was serious and that he intended to call his agent, Curry

notes

. However, B.B. Abbott told Sherman that he can't see his client coming out of retirement. "I don't think [playing for the Yankees] is something he would consider, but he would be flattered," Abbott said.
Like I said, the Yankees resorted to trying to drag guys out of retirement following Teixeira's injury. Chipper was a monster in 2012 though. Dude hit .287/.377/.455 (127 wRC+) with 14 homers and more walks (57) than strikeouts (51) that year. If 41-year-old Chipper Jones was willing to come out of retirement to play for the Yankees, I would've been all for it. That was the case at the time too. I was totally cool with signing Chipper.
As for Rolen, he was coming off a .245/.318/.398 (94 wRC+) batting line with eight homers for the 2012 Reds. He could still play the hell out of third base, but he was starting to show his age (38 at the time) at the plate, and reaching out to Rolen tells you exactly how desperate the Yankees were after Teixeira's injury. They were in bad shape.
March 11th, 2013: Yankees Sign Ben Francisco
The Yankees have signed outfielder Ben Francisco, Joel Sherman of the New York Post reports (on Twitter). The Indians released the John Boggs client earlier today, making him a free agent.
That's Opening Day DH Ben Francisco to you. The Yankees had been looking for a right-handed hitting outfielder to complement their all-lefty outfield (Granderson, Brett Gardner, Ichiro Suzuki) all offseason, and it wasn't until March that they settled on Francisco. He'd hit .247/.315/.408 (97 wRC+) against lefties the prior three seasons, so it wasn't even like he was a bonafide lefty masher. Francisco was the DH against Jon Lester on Opening Day. Sheesh. He hit .114/.220/.182 (14 wRC+) in 21 games with the Yankees in 2013 and was released in June. He spent 2014 in an independent league and 2015 in Mexico, and that's that. Francisco's been out of baseball since.
March 16th, 2013: Yankees Sign Brennan Boesch
SATURDAY: Yanks General Manager Brian Cashman says that Boesch is on a split contract and will earn $1.5MM in the majors and $500K if he's in the minors, according to Andy McCullough of the Star-Ledger (on Twitter).
I remember lots of folks getting irrationally excited about the Boesch signing. He was reasonably young (28) and had some nice years with the Tigers, so yeah, why not get excited? Boesch rode the Triple-A shuttle much of the season and hit .275/.302/.529 (125 wRC+) with three homers in 23 games for the Yankees. I remember wanting the Yankees to give him more playing time once it was clear Granderson would miss considerable time with his forearm injury. Then again, if they'd done that, Boesch's numbers would've gone south quick. He was active as recently as 2016, you know.
March 22nd, 2013: Yankees Agree To Terms With Chien-Ming Wang
The Yankees have agreed to terms with Chien-Ming Wang, Jon Heyman of CBS Sports reports (Twitter link).  Wang is represented by Alan Chang of the Octagon Agency.
The return of Chien-Ming Wang was one of the more fun storylines of 2013, even though he never did reach the Bronx. He looked pretty good in the 2013 World Baseball Classic after all those injuries …
… so the Yankees brought him back on a minor league contract. Wang spent most of the summer with Triple-A Scranton, throwing 58 innings with a 2.33 ERA (3.36 FIP) before opting out of his contract to sign with the Blue Jays. He made six starts for them and was awful (7.67 ERA and 5.42 FIP). Wang pitched in the big leagues as recently as 2016 — he had a 4.22 ERA (4.61 FIP) in 53.1 long relief innings with the Royals — and he is currently in camp with the Yankees "
learning how to coach
."
March 25th, 2013: Quick Hits: Expos, Vlad, Indians, Betancourt, Ankiel
The Yankees had preliminary discussions with Yuniesky Betancourt on Sunday but don't see a fit, Andy McCullough of the Star-Ledger reports (via Twitter).
Oy vey. I guess the Yankees would've played Betancourt at third base and Youkilis at first base after Teixeira's injury? He was so bad though. Betancourt hit .228/.256/.400 (73 wRC+) with the Royals in 2012. He hooked on with the Brewers and hit .212/.240/.355 (54 wRC+) 2013. Geez. He was still active in Mexico last season, hitting .270/.295/.319 in 50 games. Somehow Betancourt got 4,278 plate appearances in the big leagues despite a career .285 OBP.
March 26th, 2013: Yankees Claim Dan Otero
The Yankees claimed righty reliever Dan Otero off waivers from the Giants, tweets Andrew Baggarly of CSNBayArea.com.
The waiver claim who got away. The Yankees claimed Otero off waivers on March 26th and lost him on waivers to the Athletics on March 27th. True story. Since then, Otero has a 2.79 ERA (3.15 FIP) in 303 relief innings. That works out to +6 WAR. Not too shabby for a middle reliever. Alas. Otero was a Yankee for one whole day.
March 26th, 2013: Yankees Acquire Vernon Wells
A player with a supposedly untradeable contract has been dealt for a second time, as the Yankees acquired outfielder Vernon Wells from the Angels on a salary dump deal.  The trade was announced officially today, and the Halos received a couple of token minor leaguers in outfielder Exicardo Cayones and lefty reliever Kramer Sneed.  The big benefit for the Angels was salary relief, as the Yankees will reportedly assume a surprising $13.9MM of the $42MM owed to Wells for 2013-14, of which they'll pay $11.5MM this year to avoid a luxury tax hit in 2014.
I forgot that, as part of trades, teams could structure salary payments in such a way that they reduce the luxury tax hit in specific years. That could come in handy come trade deadline time, though the Yankees appear to have plenty of payroll space under the $197M luxury tax threshold.
Anyway, yeah, so begins the Vernon Wells era. The desperate at hell Yankees took Wells from the Angels because Granderson was injured and they needed another bat, and because the Yankees had some luck squeezing value out of seemingly over-the-hill veterans in the previous seasons. Sure enough, Wells hit .300/.366/.544 (150 wRC+) with six homers in April. He even played a little third base.
Big Vern hit the skids after that, hitting .216/.258/.296 (49 wRC+) in 357 plate appearances from May 1st through the end of the season. Desperate team makes desperate trade.
March 26th, 2013: Yankees Sign Lyle Overbay
The Yankees signed first baseman Lyle Overbay to a minor league deal, tweets Erik Boland of Newsday.  Overbay was released this morning by the rival Red Sox, who avoided a $100K retention bonus in the process.
The dumpster diving continues. What's worse, that the Yankees resorted to playing Overbay in right field at one point in 2013, or that it was totally the right move at the time given the available? Overbay hit .240/.295/.393 (87 wRC+) with 14 homers in 142 games that season — Overbay played 142 games for the Yankees in 2013? eek — but I do remember him having some big hits in the first half, which created this weird "the Yankees are better off with Overbay than Teixeira" narrative. People say weird things sometimes.
March 26th, 2013: Yankees Release David Adams
The Yankees have released infielder David Adams to make space on the team's 40-man roster for Vernon Wells, tweets Sweeny Murti of WFAN. Adams, 25, spent last season in Double-A, where he hit .306/.385/.450 over 383 plate appearances.
Many Yankees fans were Mad Online when they released Adams, who was once one of the better prospects in the farm system, but had been slowed by injuries. Most notably, he caught a spike sliding into second base in 2010 and suffered a very serious ankle injury. Broken bones, torn ligaments, the works. That injury is what the Mariners used to back out of the Cliff Lee trade at the 2010 trade deadline. They claimed they didn't like Adams' medicals. Whatever.
Anyway, the Yankees released Adams to make room on the 40-man roster for Wells, people screamed from the mountaintops, then the Yankees re-signed Adams to a minor league deal three days later. Adams played 43 games for the Yankees in 2013, hitting .193/.252/.286 (46 wRC+). I do not remember that at all. He was active as a player as recently as 2016, in Triple-A with the Blue Jays. Robert Pimpsner reports Adams will manage one of the Yankees' two Gulf Coast League affiliates this summer. How about that?
March 27th, 2013: Yankees Claim Sam Demel, DFA Dan Otero
The Yankees announced that they have claimed pitcher Sam Demel off of waivers from the Astros.  To make room for Demel on the 40-man roster, the club designated fellow right-hander Danny Otero for assignment.
Demel spent the entire 2013 season with Triple-A Scranton, throwing 52.1 innings with a 1.72 ERA (2.96 FIP). He became a minor league free agent after the season and signed with the Dodgers. Demel's been out of baseball since 2014. The Yankees claimed one reliever off waivers, lost him on waivers to claim another reliever off waivers the next day, and somehow lost the trade.
March 29th, 2013: Yankees Designate David Aardsma
The Yankees have designated David Aardsma for assignment, according to Andy McCullough of the Star-Ledger (on Twitter).  The Bombers felt that the right-hander couldn't really provide them distance out of the bullpen and manager Joe Girardi said that he "didn't really fit" on the roster.
The Yankees spent all that time rehabbing Aardsma from Tommy John surgery in 2012, all to have him throw one inning as a September call-up. You win some and you lose some. Aardsma eventually signed with the Marlins and spend the next few seasons bouncing around Triple-A as an up-and-down guy. He was working in the Blue Jays' front office, last I heard.
March 31st, 2013: Yankees Designate Clay Rapada For Assignment
The Yankees have designated left-hander Clay Rapada for assignment to clear a spot for Lyle Overbay, tweets MLB.com's Bryan Hoch. Rapada is out of options. The Yankees now have ten days to trade, release, or outright him to the minors.
LOOGYs, man. Rapada was a stud for the Yankees in 2012, throwing 38.1 innings with a 2.82 ERA (3.20 FIP), and holding lefties to a .183/.263/.255 (.238 wOBA) line with 28.7% strikeouts. Then he hurt his shoulder in Spring Training 2013 and that was it. The Yankees dumped him. Such is the life of a left-on-left matchup guy. Rapada threw two innings for the Indians in 2013 but otherwise bounced around Triple-A from 2013-15. He retired after pitching for the Philippines in the World Baseball Classic qualifying round late in 2016. Never get attached to LOOGYs, folks. They'll break your heart.