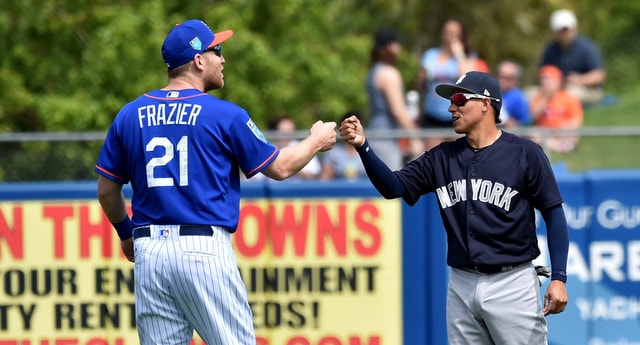 The Spring Training Subway Series — which is not really a thing, but humor me — concludes today as the Mets travel across the state to visit Tampa this afternoon. The Yankees made the trip out to Port St. Lucie a few days ago and walloped the Mets. Always fun beating the Mets.
A win today gives the Yankees the Spring Training Subway Series sweep, which means absolutely nothing. I guess bragging rights are cool though. There are a lot of Mets fans in my family. And I'm certain none of them care about Spring Training. Whatever. Here is the Mets' lineup and here is the Yankees' lineup:
CF Brett Gardner
RF Aaron Judge
LF Giancarlo Stanton
3B Brandon Drury
1B Tyler Austin
C Austin Romine
DH Jace Peterson
SS Ronald Torreyes
2B Tyler Wade
RHP Luis Cessa
Available Pitchers: RHP Dellin Betances, LHP Aroldis Chapman, RHP Jordan Foley, RHP Chad Green, LHP James Reeves, RHP David Robertson, RHP David Sosebee, and RHP Adam Warren. Looks like all the big league bullpeners are pitching today. Robertson will be making his spring debut. He missed some time with food poisoning.
Available Position Players: C Francisco Diaz, C Jorge Saez, 1B Chris Gittens, IF Abi Avelino, IF Danny Espinosa, IF Kyle Holder, IF Gleyber Torres, 3B Miguel Andujar, OF Jake Cave, OF Jeff Hendrix, OF Billy McKinney, OF Shane Robinson.
Not a great weather day down in Tampa. It is cloudy and cool, but the forecast says the rain will hold off until later tonight, so that's good. This afternoon's game will begin at 1:05pm ET and you can watch on YES locally, MLB Network nationally, and MLB.tv anywhere. Enjoy the game.