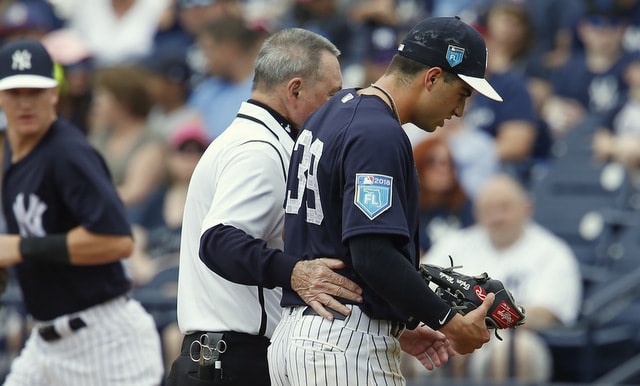 4:42pm ET: Apparently Wade is fine. He iced down the wrist and doesn't need tests, according to Bryan Hoch. He wanted to stay in the game but the Yankees wouldn't let him. "I'm fine. Scary more than anything else. I'm glad I'm okay," he said to Erik Boland. Marc Carig says Wade was all smiles in the clubhouse after the game. Exhale.
3:05pm ET: Tyler Wade, who might be the frontrunner for the second base job, left this afternoon's game with an apparent left wrist injury. He drove for a ball and rolled over on the wrist, and was in obvious pain.
Here's the video:
Tyler Wade leaves the game with a hand/wrist injury pic.twitter.com/7HSUieaCTG

— Jesse Foster (@Jesse__Foster) March 10, 2018
I suppose the good news is Wade was able to open and close his fist, and move his hand around. He also grabbed his bats with his left hand as he headed to the clubhouse. Hopefully that's a good sign.
The Yankees have yet to announce anything on Wade — the injury just happened a few minutes ago — though I assume he's going for an x-ray and other tests. He came into the day 7-for-22 (.318) on the spring and has stood out the most among the second base candidates. If nothing else, Wade was putting up a good fight for the job.
Losing Wade for any length of time would really stink, though the Yankees do have plenty of second base alternatives. Gleyber Torres, Danny Espinosa, Jace Peterson, even Brandon Drury. Neil Walker remains unsigned as well. Let's not get ahead of ourselves though. Hopefully Wade isn't seriously hurt and can back on the field soon.