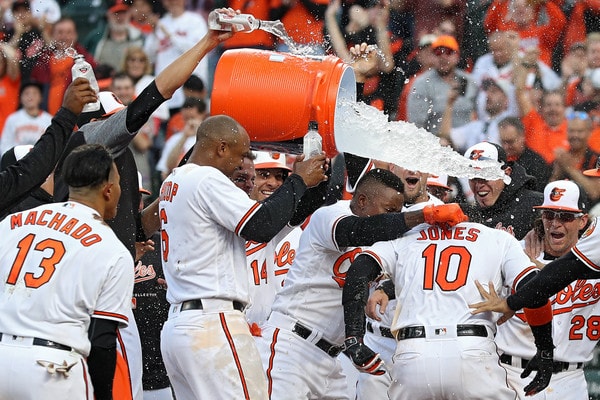 The Last Time They Met
The Yankees knocked the Orioles around last season, taking 12 of their 19 meetings and outscoring them by 66 runs. Their last meeting was in mid-September, when the Yankees took three of four games in the Bronx (and hung 34 runs on the Orioles pitching staff along the way). A few notes:
Aaron Judge obliterated the O's pitchers in the first game, going 3-for-4 with two home runs and 6 RBI in a 13-5 victory. Those two homers gave him eleven against the O's on the season, and they, unsurprisingly, decided to pitch around him for the rest of the series (he took five walks in 12 PA in the next three games).
Greg Bird homered in the second and third games of the series, raising his slugging percentage from a horrific .265 to a … slightly less horrific .318 in the process.
Didi Gregorius had himself a series, going 6-for-13 with 3 home runs and 8 RBI. And, thanks to a couple of sacrifice flies, he had an interesting slashline in those four games – .462/.438/1.154.
And, because it can't all be fond memories, Ubaldo Jimenez returned to his pre-Baltimore form for one night only in the final game. He went 5 innings and allowed 3 hits, 1 run, and 1 walk, while striking out 10.
Check out Katie's Yankeemetrics wrap-up for more fun facts.
Injury Report
Zach Britton is still recovering from a ruptured Achilles, and won't be back until sometime in June (if all goes according to plan). Mark Trumbo and Gabriel Ynoa are on the disabled list, as well, and neither is likely to be back for this series.
Their Story So Far
The Orioles are 1-5, and have been outscored by 20 runs thus far. That's not great. However, it's not all that unexpected either – PECOTA pegged them as a 69-93 team heading into the season, after all. Those projections did pre-date the acquisition of Alex Cobb, but his presence does not move the needle all that much for a team with so many holes; FiveThirtyEight, whose projections have Cobb on the Orioles, saw them as a 72-90 team. The Orioles have outperformed their projections several times on Buck Showalter's watch, to be fair, but it feels like they are in for a long season.
The Lineup We Might See
Showalter showcased some outside of the box thinking in the first five games by batting Chris Davis leadoff each time out. And Davis has responded by slashing an unsightly .048/.167/.048 with 9 strikeouts in 24 plate appearances. Davis didn't start yesterday, due to a combination of his performance and Dallas Keuchel starting for the Astros, and Showalter has been less than forthcoming about how the lineup will look going forward. This is the lineup that the Orioles were trotting out prior to yesterday:
Chris Davis, 1B
Manny Machado, SS
Jonathan Schoop, 2B
Adam Jones, CF
Trey Mancini, LF
Colby Rasmus, RF
Tim Beckham, 3B
Pedro Alvarez, DH
Caleb Joseph/Chance Sisco, C
Or, at least, that's what we could be looking at with Messrs Tanaka and Gray on the mound. Showalter will probably shake things up against CC Sabathia and Jordan Montgomery, likely with Tim Beckham hitting leadoff and Davis sitting in favor of J.D. Davis.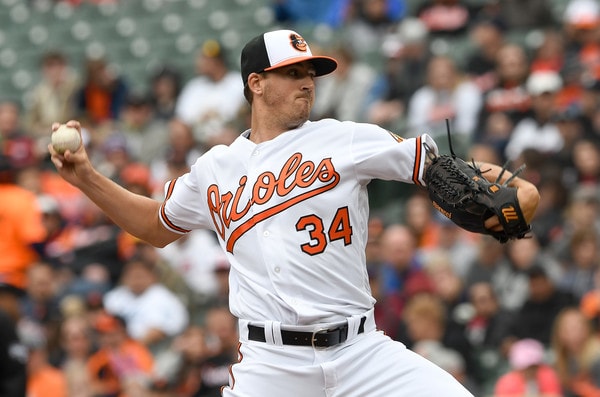 The Starting Pitchers We Will See
Thursday (6:35 PM EST): RHP Masahiro Tanaka vs. RHP Andrew Cashner
Cashner had the best season of his career in 2017, insofar as ERA+ (138) and bWAR (4.3) are concerned. He managed to prevent runs at a well above-average clip even as he made the move into an extreme hitters' park in Texas, and it superficially appeared as though he turned the corner. And then you dig a bit deeper, and see the 4.61 FIP and .266 BABIP, and begin to understand why he wasn't a more sought-after figure this off-season. And then you see his 4.6 K/9, a full 3.7 K/9 below league-average, and 3.5 BB/9, and snicker at the Orioles front office. Cashner gave up 5 runs in 5 innings in his first start for his new team, as the regression machine is in full effect.
Raw stuff has never really been an issue for Cashner. He shelved his slider last year, and now throws a low-t0-mid 90s four-seamer, a low-90s sinker, a high-80s cutter, a mid-80s change-up, and a low-80s curve. His four-seamer and sinker have generally been his best pitches, as his command of the off-speed stuff comes and goes.
Friday (7:05 PM EST): LHP CC Sabathia vs. RHP Kevin Gausman
It appeared that Gausman had finally become the top-flight starter that many expected after 2016, a season in which he posted a 119 ERA+, 8.7 K/9, and 2.4 BB/9 as a 26-year-old with great stuff. That wasn't the case last year, as his ERA+ slipped to 93, and he walked an extra batter per nine. The Yankees had a great deal to do with that, though, pasting Gausman for a .374/.475/.566 slashline in five starts. If you remove those starts from his 2017, his ERA drops from 4.68 to 3.61, and you wonder just how much he must hate facing this team – and that was before they added Giancarlo Stanton.
Gausman is a three-pitch guy, working with a mid-90s four-seamer, a mid-80s splitter, and a low-80s slider. When his splitter's splitting, he's really hard to hit; when it's not, he's not.
Saturday (1:05 PM EST): RHP Sonny Gray vs. RHP Chris Tillman
It isn't hyperbole to say that Tillman was the worst starting pitcher in major league baseball last year. Among pitchers who threw at least 90 IP, he ranked last in ERA (7.84), last in FIP (6.93), last in K/BB (1.24), and last in fWAR (-1.0), and he allowed at least four earned runs in 11 of his 19 starts. He picked up where he left off in his first start of 2018, pitching to the following line: 4 IP, 7 H, 4 ER, 4 BB, 0 K.
Tillman dabbles in six pitches in a low-90s four-seamer, a low-90s sinker, a mid-80s change-up, a mid-80s cutter, a low-80s slider, and a mid-80s curve. His velocity basically evaporated last season, though, as he lost a nearly over a MPH on his four-seamer, and nearly two on his sinker.
Sunday (1:05 PM EST): LHP Jordan Montgomery vs. RHP Mike Wright Jr.
Wright was an up and down guy for the Orioles last year, pitching exclusively out of the bullpen in the majors. He posted shiny strikeout (10.1 per 9) and walk (2.5 per 9) rates in 25 big league innings, but his 5.76 ERA and 4.72 FIP left a great deal to be desired. He has proven to be homer-prone in his four partial seasons in the bigs, allowing 27 HR in 149.1 IP, and his 40.8% GB% means that there are lots of balls hit into the air.
Wright is predominantly a three-pitch pitcher, working with a low-to-mid 90s four-seamer, a low-90s sinker, and a mid-80s slider. He'll also flash a change-up and a curve, but his usage on those two is all over the place.
The Bullpen
The Orioles bullpen has been a detriment through six games, pitching to a 5.73 ERA in 22 IP while blowing two saves and taking two losses. Brad Brach is handling the closing duties while Britton recuperates from surgery, and he had a blown save against the Twins on Opening Day, allowing 2 hits, 2 walks, and 2 runs in 0.2 IP. Digging into the numbers of these players isn't too useful at this point in time, though, given the small sample sizes. As it stands, Brach is the closer and Darren O'Day is the high-leverage guy.
Yankees Connection
Nestor Cortes spent five years in the Yankees organization, having been selected in the 38th round of the 2013 draft. He had a 2.08 ERA in 324.1 IP in the minors, and was lost to the Orioles in this offseason's Rule 5 draft. He's currently in the team's bullpen, where he's joined by Richard Bleier, who was a SWB shuttle guy in 2016. Bleier has a 2.01 ERA (217 ERA+) in 89.2 IP in the majors.
And, of course, there's Buck Showalter.
Who (Or What) To Watch
Alex Cobb may be ready to join the Orioles rotation as early as Monday, so Tillman and Wright may well be pitching for their jobs this weekend – and competition is always intriguing, for better or worse. And there's always Machado's defense.