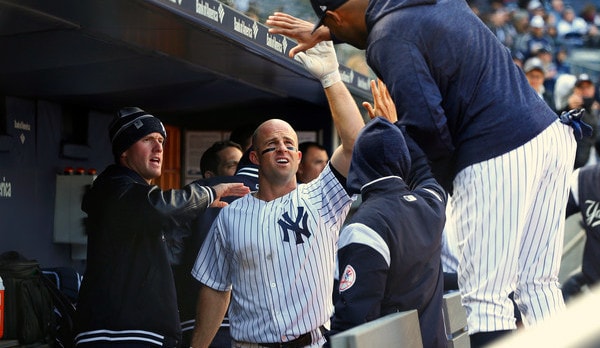 The first homestand of the 2018 season comes to an end today, and this afternoon's series finale with the Orioles will determine whether it's a good 4-2 homestand or a meh 3-3 homestand. The Yankees bounced back nicely yesterday after that tough 14-inning loss Friday night. Get a win today and go into tomorrow's off-day feeling good about things. Sounds good to me.
Jordan Montgomery is making his second start of the season today and, like Sony Gray yesterday, it sure would be swell if he pitched deep into the game. The bullpen is still a little short thanks to Friday's marathon. Aroldis Chapman and Dellin Betances are presumably available, and, uh, Domingo German? Not great, but that's baseball. Here are the starting lineups:
New York Yankees
1. CF Brett Gardner
2. DH Aaron Judge
3. RF Giancarlo Stanton
4. 2B Neil Walker
5. 1B Tyler Austin
6. 3B Miguel Andujar
7. LF Jace Peterson
8. C Austin Romine
9. SS Ronald Torreyes
LHP Jordan Montgomery
Baltimore Orioles
1. 1B Trey Mancini
2. SS Manny Machado
3. 2B Jonathan Schoop
4. CF Adam Jones
5. DH Danny Valencia
6. 3B Tim Beckham
7. RF Anthony Santander
8. LF Craig Gentry
9. C Caleb Joseph
RHP Mike Wright Jr.
Another chilly day in the Bronx, but at least the sky is clear and the sun is out. Hopefully the weather warms up soon. Getting pretty sick of the cold. Anyway, today's game will begin at 1:05pm ET and you can watch on YES locally and MLB Network nationally. Enjoy the game.
Injury Updates: Didi Gregorius is fine and available to pinch-hit. They're just taking advantage of tomorrow's off-day to give Didi two straight days to rest after the 14-inning game, which included Mychal Givens sitting on Gregorius at home plate … Gary Sanchez (calf) is doing better and is available to pinch-hit, if necessary. With the off-day tomorrow, they're giving Sanchez three straight days away from catching just to make sure the calf is okay … Tyler Wade (illness) is feeling much better and is available off the bench … Aaron Hicks (intercostal) ran the bases today and will go to Triple-A Scranton to begin a rehab assignment tomorrow. Sounds like the earliest he will return is Wednesday … Clint Frazier (concussion) is getting at-bats in simulated games but has not yet been cleared for official games … Greg Bird (ankle) gets his stitches out tomorrow and will begin rehab work. He's still looking at a mid-to-late May return … Jacoby Ellsbury (oblique, hip) will see another hip specialist soon.