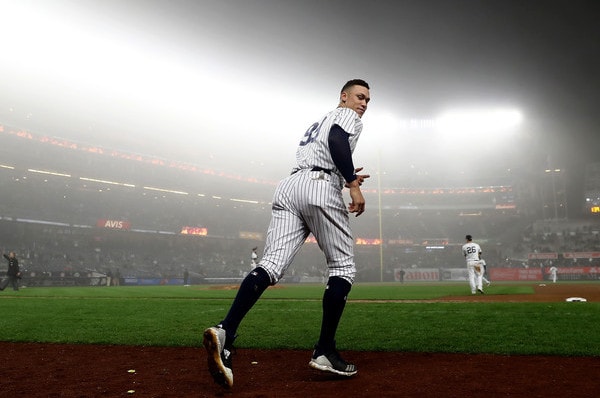 The Yankees wrap up their four-game series with the Twins this afternoon, then they're heading out on a seven-game West Coast trip through Anaheim and Houston. Well, Houston's not on the West Coast, but it's in a different time zone. Close enough. Anyway, I have some thoughts on the Yankees' current state of affairs, so let's get to 'em.
1. Aaron Judge is hitting .345/.481/.655 (205 wRC+) and the crazy thing is that it feels completely normal. It doesn't feel like he's playing way over his head, and I don't get the sense everyone is waiting for the other shoe to drop. This feels like Aaron Judge being Aaron Judge. We saw him hit like this for a long stretch of time last season and he's doing it again. In fact, you could make a pretty strong argument he's actually getting better. Zach Kram wrote an article earlier this week looking at Judge's declining strikeout rate. The season is young and we'll see where things stand in a few weeks and months. Right now though, Judge is showing last season was in no way a fluke. He makes ridiculously hard contact, he's incredibly disciplined, and he knows how to make adjustments. And now that Judge has a full season in the league and is that more experienced, he might be taking his game to another level. He really is this damn good. It's so awesome.
2. Speaking of Judge, is it just me or is he talking to umpires more this season? He's still getting hosed on low strike calls, but last season Judge rarely said a word to the home plate umpire, probably because he was just a rookie. This year he's the reigning AL Rookie of the Year and the reigning AL MVP runner-up. He's established and when he says something to the umpires, it should carry more weight now. I feel like Judge is talking a bit more so far this season. He's not going on tirades or throwing his helmet. Nothing like that. But if there's a call he doesn't like, he'll have a quick word with the umpire, and that's that. A respectful chat, basically. Will it help in any way? Who knows. I'd like to think that, the more Judge talks to umpires, the sooner they'll realize they aren't calling a fair bottom of the zone, and make the adjustment. I'm not going to hold my breath though. I'm just glad Judge is chatting with the umpires more and letting them know he doesn't agree with their call. There's a right way to do it and a wrong way to do it. Judge is doing it the right way.
3. Sonny Gray struggled again last night, this time with Austin Romine behind the plate, so we can stop pretending Gary Sanchez is cause of Gray's problems and start discussing this somewhat intelligently. To me, Gray looks healthy. The stuff is fine. He just can't throw strikes. I don't think it's an unwillingness to throw strikes. I don't think he's scared to throw strikes. He just can't do it. The command is not there at all. The Yankees didn't take Masahiro Tanaka out of the rotation when he struggled early last year — Tanaka was sitting on a 6.34 ERA (5.68 FIP) as late as June 17th last year — and I don't see them taking Gray (7.71 ERA and 5.03 FIP) out of the rotation right now. One reason is the lack of alternatives. Luis Cessa is hurt, Domingo German has pitched once in the last two weeks and isn't really stretched out (love that eighth reliever spot!), and I have no interest whatsoever in seeing A.J. Cole or David Hale throw meaningful innings. Chance Adams? Eh, maybe. He has a 4.82 ERA (4.80 FIP) with a 12.5% walk rate in Triple-A right now. Replacing Gray with Adams feels like making a move for the sake of making a move, not an actual solution. Stick with Sonny for the time being and let him work through it, then reevaluate in a few weeks.
4. Over the weekend Aaron Boone did something Joe Girardi used to do all the time that annoyed me to no end. Chad Green warmed up in the seventh inning in case Luis Severino ran into trouble, and after Severino finished the inning, Green sat down and David Robertson pitched the eighth. Why not just use Green in the eighth inning since he's already warmed up? If you trust Green enough to pitch out of a potential jam in the seventh inning then you should trust him enough to start the eighth. Instead of warming up one reliever and using another, you could just use one reliever and keep the other guy fresh for the next game. This is one of those Girardi moves that I hoped would go away with the managerial change, but I guess not. It's still early though. Maybe Boone will change his bullpen approach going forward. For now, it sure seems like assigned innings are alive and well.
5. Given the nature of his injury (shoulder and biceps tendinitis), it's fair to wonder whether Tommy Kahnle's extended 48-pitch outing three weeks ago contributed to him landing on the disabled list. His velocity had been down even before that game. It's not like he was fine up until that point, then it dropped off. Here's his game-by-game velocity with the 48-pitch outing highlighted: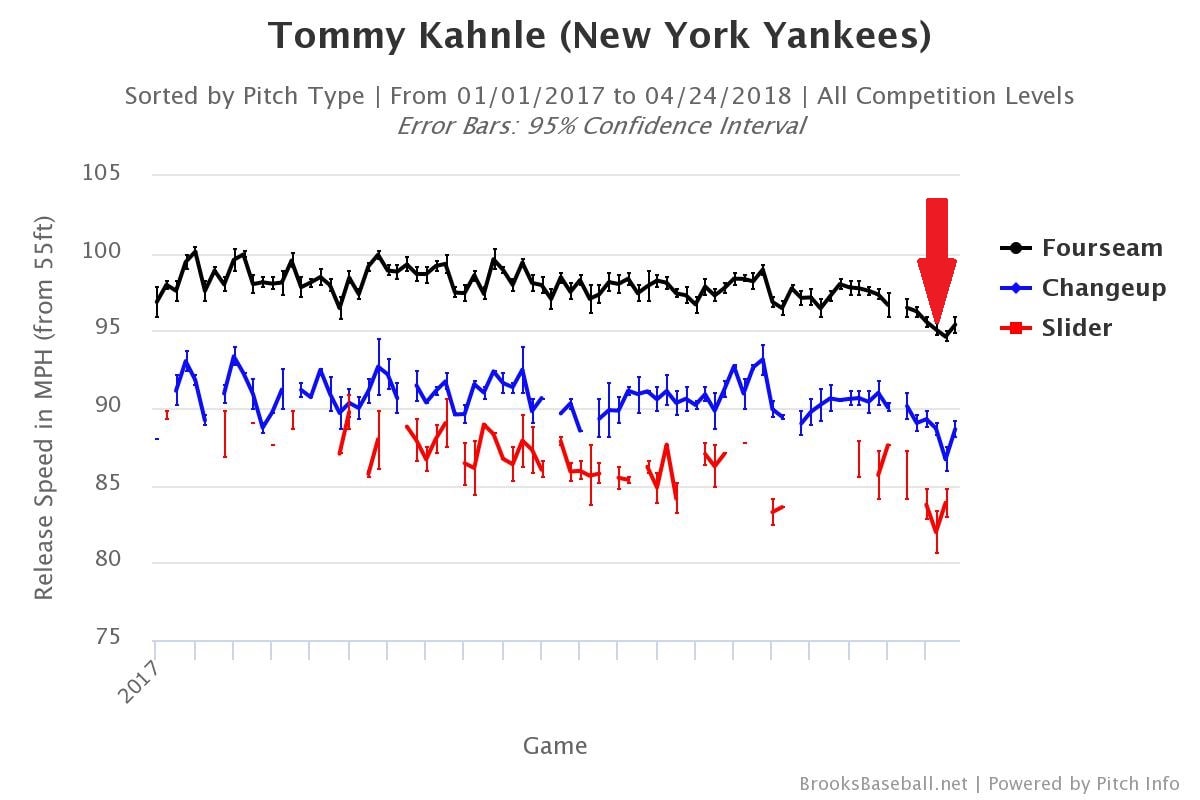 Kahnle's velocity was already down and he was still left out there to throw 48 pitches in a high-stress outing. Not great. Also, Adam Warren threw 2.2 innings and 46 pitches last week even though he'd been nursing a lat injury since the opening series. We don't know whether the extended outings made existing injuries worst. It's hard to think they helped things though. As manager, the blame would fall on Boone. Pitching coach Larry Rothschild would deserve some blame too because he should be in Boone's ear saying hey, this is too much. Again, we don't know whether those long outings were the straws that broke the camel's back, or if Boone & Co. even knew Kahnle and Warren were hurting. It doesn't look good though, two not 100% healthy relievers throwing 40+ pitches and multiple innings, then landing on the disabled list.
6. Miguel Andujar is hitting the snot out of the ball and Brandon Drury started a minor league rehab assignment last night. Rumor has it he could rejoin the Yankees as soon as this weekend. What happens then? The Yankees will cross that bridge when they come to it, but it is something they will have to figure out sooner rather than later. The Yankees made it pretty clear in Spring Training they believe third base is Drury's best position, though that was when no one really knew to what to expect from Andujar. Will Andujar's performance make them more willing to consider Drury at other positions? Say, first base and left field? I guess putting Andujar at first base is another option, though he has so little experience there. A crash course at the MLB level isn't the best idea. I'd rather not screw around with the kid when he's so locked in at the plate. Let Andujar play third base and figure out another plan with Drury. Given the current roster, first base is a potential landing spot, and a little left field wouldn't hurt either. I think there's a path to both guys getting four or five starts a week. I guess we'll find out soon enough.
7. I like what Boone did defensively during CC Sabathia's two starts against the Blue Jays. Toronto loaded their lineup with righties — righties with a tendency to pull the ball, at that — so in Sabathia's first start, Boone had Brett Gardner stay in left field with Judge in center and Giancarlo Stanton in right. He didn't want Stanton's inexperience coming into the play given the likelihood of balls being hit his way. And, last week, Boone played Ronald Torreyes at third over Andujar even though Andujar has been hitting so well. Torreyes is the more reliable defender and he wound up making five or six plays (and one error) during that start against the Blue Jays. The Twins had some lefties in the lineup against Sabathia the other night, meaning there probably wouldn't be as many hard hit balls to the left side of the field, so Andujar played third. I like it. I'm curious to see whether this continues going forward. Perhaps Andujar hits so much that you can't take him out of the lineup for defensive reasons, and perhaps Stanton gets so comfortable in left field that he can play out there against a righty heavy lineup. For now, I'm cool with stacking the left side with the best defenders when Sabathia is on the mound against a right-handed heavy lineup.
8. With so many stats available nowadays, it can be easy to forget this game is played by human beings. Sometimes they feel larger than life, but they're not. They're just people. The Danny Farquhar incident over the weekend was a scary reminder of that. On a lighter note, Gleyber Torres had a look of excitement and also relief on his face after his first hit the other night. Look:
He's a 21-year-old kid, man. An extremely talented 21-year-old with a world of potential, but still a 21-year-old kid. A very nervous 21-year-old kid at that. Thinking back to where I was at 21, I'm pretty sure playing baseball at Yankee Stadium as a hyped up super prospect would've had me curling up in the fetal position. I felt completely in over my head at my stupid summer internship and I spent day after day trying not to embarrass myself, and that was at a crummy little job with low expectations. Doing what Gleyber is trying to do? Nope. As easy as it is to get caught up in the game and the stats and all that, sometimes you have to step back and remember that players are just people, not superheroes.