Lucky 14
The Yankees welcomed their longtime punching bag –- the Twins –- to the Bronx for a four-game set starting Monday, and predictably whipped them, 14-1, in the opener.
Entering this year the Yankees owned a 78-31 (.716) regular-season record against the Twins since 2002 (the last time they lost a season series to the Twins was 2001!). That's the highest win percentage by any team in a head-to-head non-Interleague matchup over the last 16 seasons. Including the postseason, that record improves to a whopping 91-33 since 2002, or the equivalent of 118 wins over a 162-game schedule.
Miguel Andujar continued to swing a scorching-hot bat, homering in the second inning and doubling in the sixth to extend his streak of games with an extra-base hit to seven games. That tied Joe DiMaggio (1937) and Mickey Mantle (1955) for the longest such streak in franchise history by a player age 23-or-younger. Andujar also joined A-Rod (twice in 2007) as the only Yankee third baseman with an extra-base hit in seven (or more) games over the last 75 seasons.
Giancarlo Stanton broke out of his early-season Bronx slump with a 4-for-4, 2-RBI night. The four hits on Monday were one fewer than he had in his first 12 games combined at Yankee Stadium this season.
Didi Gregorius put an exclamation point on the rout with his second career grand slam in the eighth inning, boosting the lead to 12-1. The only other shortstops since 1925 to hit multiple grand slams in their Yankee careers were Frankie Crosetti (3), Phil Rizzuto (2) and Fred Stanley (2).
Gleyber Torres singled in the eighth, getting not only his first career major-league hit but also earning our #FunFact of the game: He became the youngest Yankee infielder with a hit in a game since a rookie named Derek Jeter in 1995.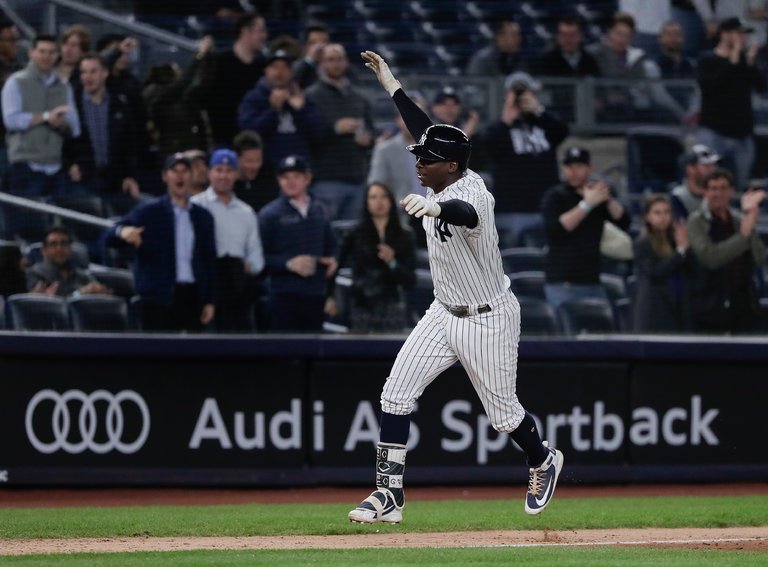 Rinse, repeat, another rout
The Yankees lived up to their Bronx Bombers nickname for a second straight night, belting four home runs en route to an easy 8-3 win on Tuesday.
The fireworks were supplied by the usual suspects — Gary Sanchez, Aaron Judge and Didi "I'm Not a Home Run Hitter" Gregorius — who went a combined 8-for-13 with four dingers while driving in seven of the team's eight runs (alas, the rest of the lineup was 2-for-22).
Sanchez delivered two blasts for his ninth career multi-homer game. He's the only player in major-league history to tally nine multi-homer games within his first 200 career games.
Judge smashed an opposite field shot in the seventh, showing off his ridiculous power to right field. Since the start of last season he is slugging 1.075 and has an isolated power of .626 on balls hit to the opposite field. Not only are those two marks the best in MLB, but he's lapping the field by a wide margin. No other qualified hitter even has an oppo-field slugging percentage of .900 or an oppo-field isolated power of .500.
Didi contributed an RBI single in the third inning and then hit a booming two-run homer in the fifth, increasing his team-leading totals to 27 RBI and eight homers. He is the first shortstop in baseball history to reach each of those marks this early into the season. Among Yankees, only A-Rod during his 2007 MVP campaign and Babe Ruth in 1921 have matched or bettered Didi's totals in the team's first 22 games.
CC Sabathia was in late-career vintage form, generating tons of weakly-hit balls with his crafty mix of sliders, cutters and sinkers. Per Fangraphs, 50 percent of the 16 balls in play were categorized as "soft contact", tied for the second-best rate in any game of his career.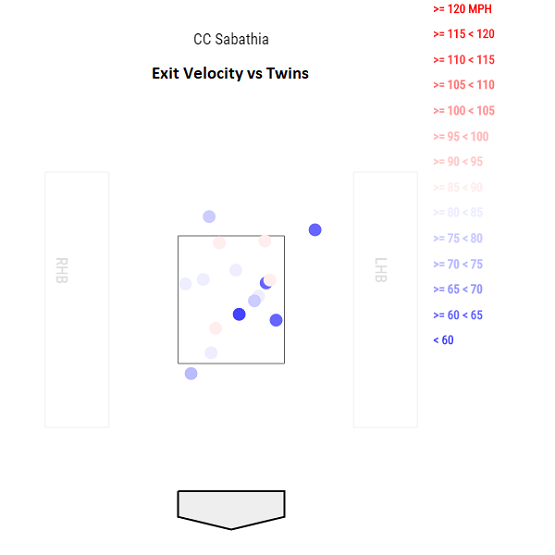 Statcast measured his average exit velocity at 76.4 mph and all 16 batted balls against him were clocked below 90 mph. Since Statcast tracking began in 2015, he's the only pitcher in the majors to allow at least 15 balls in play in a game, with none them coming off the bat at 90 mph or faster.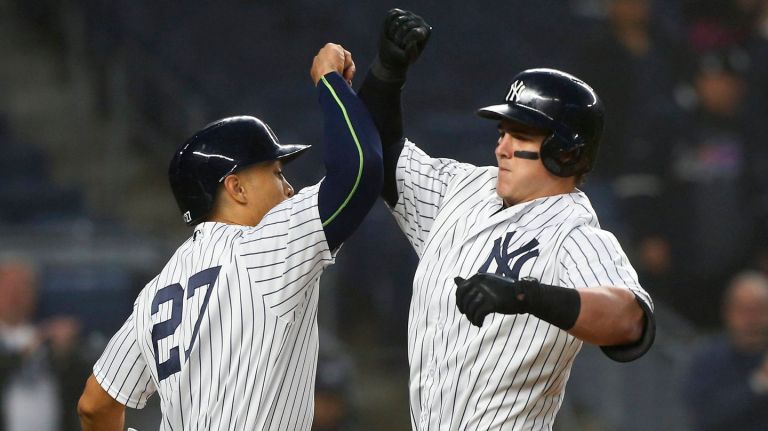 Didi and Tyler's World
Not even another ugly start from Sonny Gray could keep this pinstriped train from chugging to another win over the Twins. Thanks to their relentless offense, another power barrage and a lockdown performance from the bullpen, the Yankees won their fifth game in a row, 7-4, on Wednesday night.
Another game, another dinger for the ridiculously hot Didi Gregorius. His game-tying solo shot in third inning –- his ninth of the season -– etched his name in the record books. He is the:
only shortstop in franchise history to go deep in four straight games
only Yankee shortstop with at least nine homers and 25 RBI in any calendar month
only shortstop in major-league history with at least nine homers and 25 RBI in April
For more context on Didi's nine homers in 20 April games, consider this stat: In his first season as a Yankee in 2015 he hit nine homers in 155 games!
Tyler Austin delivered the game-changing hit, crushing a tie-breaking three-run homer in the third to give the Yankees a 5-2 lead they wouldn't relinquish. It was his 12th career homer, and 10 of the 12 have either tied the game or given the Yankees the lead. He is slugging .914 with a 1.299 OPS in 35 career high-leverage at-bats. Since his rookie season in 2016, that's easily the highest slugging percentage and OPS in high-leverage situations by any MLB player (min. 25 at-bats).
Gleyber Torres showed off his his lightning-quick bat speed with another two-hit performance, including his first career extra-base hit (a double in the fourth). He became the youngest Yankee with back-to-back multi-hit games since a 20-year-old Mickey Mantle pulled off the feat in 1952.
Kraken FTW
The Yankees capped off their sweep of the Twins in stunning fashion, with a dramatic walk-off win on a sunny Thursday afternoon in the Bronx. Gary Sanchez wore the hero's cape as he crushed a three-run homer in the bottom of the ninth to turn a potential 3-1 loss into a thrilling 4-3 win.
Here's a few #FunFacts to celebrate Gary's first career walk-off hit. He is the …
First Yankee with a come-from-behind, walk-off blast against the Twins since Jason Giambi's memorable game-ending grand slam on May 17, 2002.
Youngest Yankee since Don Mattingly on May 13, 1985 to hit a walk-off home run when trailing by multiple runs. Oh, and the losing team in that game? The Twins, of course.
Only Yankee catcher (since at least 1925) to hit a game-ending shot with his team facing a deficit of two runs or more.
There was little to celebrate about this game before El Gary snatched victory from the jaws of defeat in the bottom of the ninth. Twins starter Kyle Gibson took a no-hitter into the sixth inning before Brett Gardner's two-out single broke up the no-no. That was the only hit Gibson allowed in the game, and combined with his career-best 10 strikeouts, he joined an exclusive list of pitchers to allow one or fewer hits and strike out at least 10 Yankees in the Divisional Era (since 1969):
| | Date |
| --- | --- |
| Kyle Gibson | April 26, 2018 |
| Chris Sale | May 22, 2014 |
| Bartolo Colon | Sept. 18, 2000 |
| Pedro Martinez | Sept. 10, 1999 |
| Nolan Ryan | Aug. 29, 1973 |