Folks, the Yankees are starting to look like the team everyone expected them to be this year. They blew the Twins out 14-1 in Monday's series opener for their seventh win in their last ten games. They've held their opponent to one run in each of their last three games and in four of their last seven games. The Yankees have scored 71 runs in their last ten games. I feel sorry for the baseballs.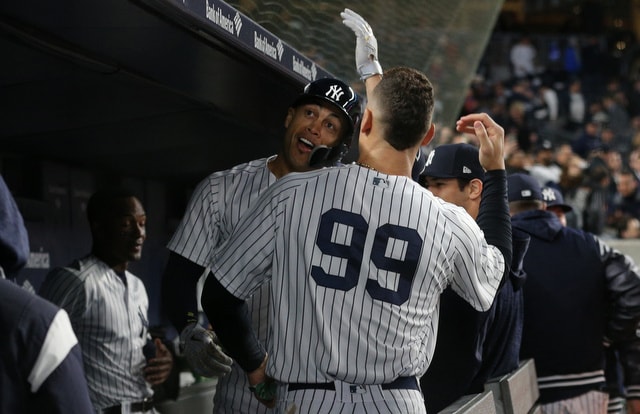 A Great Start
The Yankees are doing that first inning runs thing again. Remember two or three years ago when they were one of the best first inning teams in baseball history? I think it was 2015. Anyway, with three more first inning runs Monday night, the Yankees are up to 20 first inning runs this season, the most in the American League. (The Nationals have 25 first inning runs.)
Jake Odorizzi gifted the Yankees a first inning rally by walking Brett Gardner on four pitches and Giancarlo Stanton on six pitches. He was ahead in the count 0-2 on Stanton, but Giancarlo battled back for the walk. Because Odorizzi struck out Aaron Judge and Didi Gregorius, there were two outs and two on, and Gary Sanchez cashed those runners in with a booming double to left field. It was LOUD contact. Aaron Hicks followed with a single for the 3-0 lead.
After the three-spot in the first inning, Miguel Andujar opened the second with a home run on Odorizzi's first pitch of the inning. Andujar is sooo hot right now omg. Odorizzi did kinda sorta settle down a bit after that — he retired 11 of the next 13 men he faced after the Andujar homer — but Stanton ended his night rudely, with a moonshot home run with two outs in the fifth. Left fielder Eddie Rosario didn't move at all.
Odorizzi got Stanton to swing through the same curveball on the first pitch of the at-bat. Giancarlo looked personally offended he threw it again. The homer left his bat at 115.7 mph and, somehow, it is only Stanton's fourth hardest hit ball so far this year. He has six batted balls at 115+ mph. No one else has more than three. Stanton added another insurance run in the seventh with a single back up the middle. He took advantage of a gift call …
… that should've been strike three. The at-bat continued and Giancarlo made the Twins pay. He deserves a little luck. Been a tough start to the season for him. Home plate umpire Sam Holbrook threw Stanton a bone with the non-strike three call and Stanton took advantage. The single gave the Yankees a 6-1 lead. Giancarlo went 4-for-4 with a walk, raising his batting line from .185/.283/.395 (87 wRC+) to .224/.320/.459 (114 wRC+). He's getting there.
Masahiro My Hero
Two positives to take away from this game. One, Stanton looked like the guy who won NL MVP last season. And two, Masahiro Tanaka looked excellent. The best he's looked in any of his starts so far this year, not that we're deep into the season or anything. Tanaka did not allow the #obligatoryhomer — he'd allowed at least one homer in every start this year, including Spring Training — and he retired 14 of the first 16 batters he faced.
Things got away from Tanaka briefly in the fifth inning, when three straight batters reached base with two outs to give the Twins their run. Tanaka plunked Ryan LaMarre, gave up a flare opposite field single to Jason Castro, then left a pitch up to Brian Dozier, who pounded it to left to score LaMarre. That was pretty much all the Twins could get going against him. Check out Tanaka's pitch locations: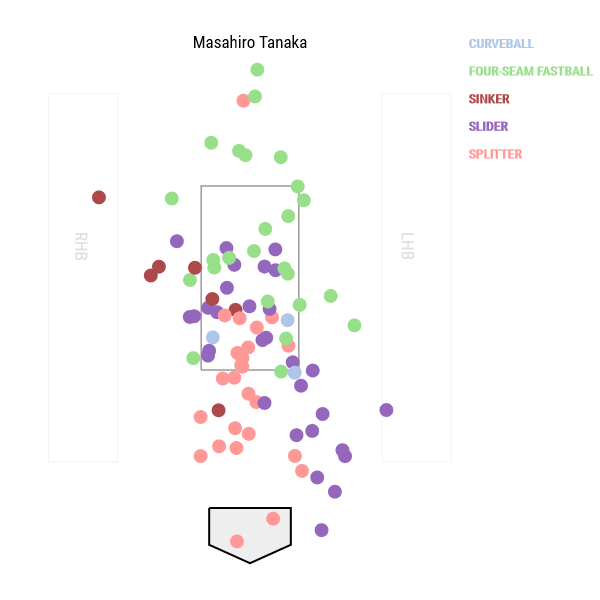 Aside from the way high one that got away from him, the splitters are all in the bottom third of the strike zone or down below the zone, where they should be. Those high fastballs? Those were intentional. Tanaka and Sanchez went after the Twins with elevated fastballs throughout the night, mostly in two-strike counts. Fastballs up and splitters down is a pretty great way to get outs, as Tanaka showed Monday night.
The final pitching line: 6.2 IP, 3 H, 1 R, 1 ER, 2 BB, 5 K on 91 pitches. I thought Tanaka had enough left in the tank to get the final out of the seventh, but going to Chad Green is never a bad idea. Anyway, Tanaka faced 26 batters and 18 saw a first pitch strike. Eleven of those 26 batters saw no more than three pitches in their at-bats. This was the good version of Tanaka, through and through. A very welcome sight.
Blown Open
Can we petition MLB to move the Twins to the AL East? Pretty please? The Yankees really blew this game open in the late innings. Tyler Austin followed Stanton's single with a two-run double in the seventh, then, after Rule 5 Draft pick Tyler Kinley loaded the bases with no outs in the ninth, Sir Didi Gregorius smacked a grand slam. I am 100% here for Didi and Gleyber dancing after grand slams: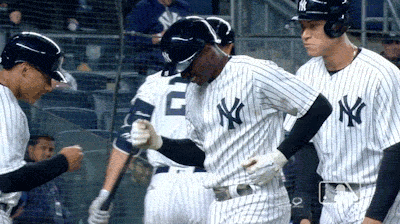 Austin added a two-run home run against outfielder Ryan LaMarre. LaMarre was the first position player to pitch against the Yankees since Nori Aoki allowed three runs in an inning for the Astros last June. Miguel Montero also threw an inning against the Yankees last May. Austin and Gregorius turned a comfortable 6-1 lead into a 14-1 blowout. Odorizzi, three relievers, and LaMarre needed 197 pitches to get 24 outs. The Yankees worked the Twins hard, man.
Leftovers
Gleyber Torres has a batting average! He went 0-for-4 on Sunday and 0-for-3 in his first three at-bats Monday before sending a ball back up the middle for a single against Kinley in the ninth. It wasn't exactly well-struck, but hey, you've got to start somewhere. He scored his first big league run on Didi's grand slam. Glad Gleyber was able to get that monkey off his back.
Every starter reached base multiple times except Torres and Gregorius. Every starter had a hit except Gardner, who drew two walks. Four doubles, four homers, five singles, seven walks, and eight strikeouts for the offense overall. The Yankees went 5-for-11 (.455) with runners in scoring position. Fun Fact: They are 57-for-196 (.291) with runners in scoring position on the season overall.
Another game with multiple extra-base hits for Andujar. He had a double and a homer. He's hitting .316/.333/.649 (161 wRC+) with a 15.0% strikeout rate. Andujar is 15-for-29 (.517) with eight doubles, one triple, and three homers in his last seven games now. He is: Good.
And finally, congrats to David Hale, the guy everyone will forget on the end-of-season roster quiz. He tossed the final two innings without incident once the game was out of hand. It was his first big league appearance since April 19th, 2016 with the Rockies. Hale was designated for assignment after the game. Tough business.
Box Score, WPA Graph & Standings
ESPN has the box score and updated standings and MLB.com has the video highlights. Here's our Bullpen Workload page and here's the win probability graph:

Source: FanGraphs
Up Next
One down, three more games in this series to go. The Yankees and Twins will be back at it Tuesday night with one of those 6:35pm ET starts. Veteran CC Sabathia and youngster Jose Berrios are the scheduled starting pitchers. The offense is going to have their hands full in that one.