Good game, good series. The Yankees picked up a 5-1 win over the Blue Jays on Sunday afternoon, giving them three wins in the four-game series and six wins in their last nine games overall. Things are kinda sorta starting to fall into place after an uneven first two weeks of the season.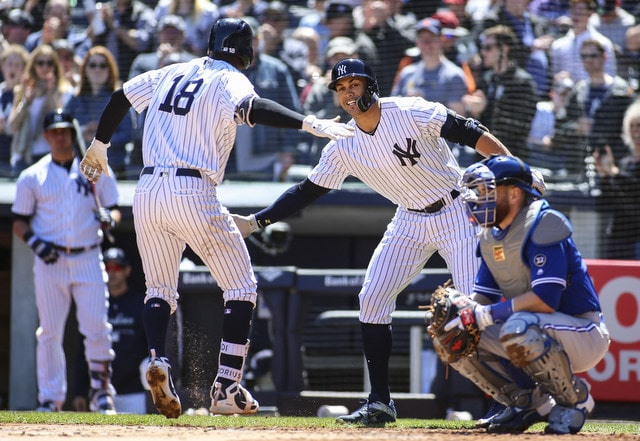 Three Runs Early, Two Runs Late
Didi Gregorius has a Joe DiMaggio stat line going so far this season. He opened the scoring Sunday afternoon with a first inning solo home run — Jaime Garcia caught a little too much of the plate with a fastball and Gregorius golfed it out to right — at that point giving him six homers, six strikeouts, and 15 walks in the early going. How about that? I am enjoying Sir Didi's early season Joey Votto impression. Hope it lasts forever.
That first inning seemed to indicate the Yankees would have a good day against Garcia. In addition to the Gregorius homer, Aaron Hicks and Giancarlo Stanton both hit rockets right at defenders for outs. Four batters faced, three hard hit balls in the first. A good sign, usually. Gary Sanchez opened the second with a four-pitch walk and Miguel Andujar followed with a one-out double down the left field line. After Gleyber Torres struck out (more on him in a bit), Austin Romine came through with a two-out, two-run opposite field double for a 3-0 lead. April Romine is pretty great.
Garcia settled down after that. The middle of the lineup went 1-2-3 on six pitches in the third, then the Yankees blew a two on with one out situation in the fourth. Aaron Judge's two-out walk in the fifth was wasted as well. (He turned an 0-2 count into a walk, which is a thing he does on the regular.) Following the Romine double in the second, Garcia retired ten of the next 13 batters he faced, and only one of those 13 batters managed to hit the ball out of the infield. Annoying!
Fortunately, the last two batters Garcia faced reached base. Sanchez doubled into the left field corner and Tyler Austin smoked a single back up in the middle in the sixth, both with one out. That ended Jaime's afternoon. Seung-Hwan Oh entered, he left a two-strike slider up in the zone, and Andujar hammered it off the center field wall for a run-scoring double. I was a bit surprised Austin didn't score from first, but he's not exactly fast. The double gave the Yankees an insurance run and a 4-1 lead.
In the seventh, Hicks turned his leadoff ground ball single into a run by stealing second and advancing to third when the throw got away. Gregorius drove him in with a deep sac fly. I love Curtis Granderson. He's forever cool with me. But Hicks was basically able to jog home from third on Granderson's arm. The Yankees took a 5-1 lead at that point and that was all they'd need the rest of the afternoon.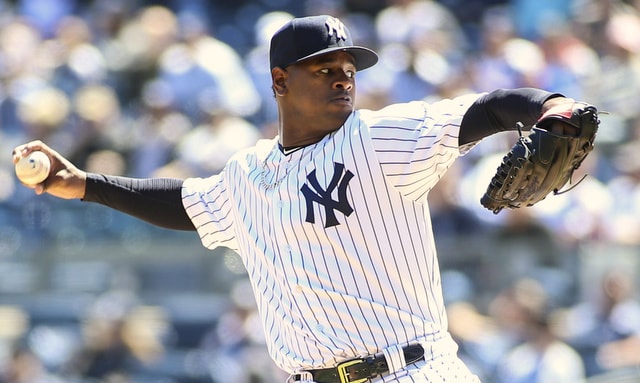 Seven Strong From Severino
It tells you how far Luis Severino has come that he didn't look overly sharp Sunday, yet he still allowed just one run — a Teoscar Hernandez solo homer — in seven innings. There were times in 2016 when every little jam spiraled out of control and turned into a big inning. Now Severino just bears down and (usually) gets out of it. Seven innings, six strikeouts, one run on three hits and a walk. Ho hum. Another day at the office.
The two biggest jams came in the third and fourth innings. Kevin Pillar singled and Devon Travis walked to open the third, then Severino retired the next three batters in order to snuff out the threat. Justin Smoak opened the fourth inning with a double, then Severino again retired the next three batters to end the threat. The Blue Jays started to get something going, but both times it led nowhere. There was no spiraling out of control.
The solo homer is whatever. It was a bad pitch and Hernandez did what he was supposed to do with it. It happens. It was the first homer Severino has allowed this season. Overall, it was a very strong outing for the undisputed staff ace, even though he wasn't at his absolute best. It's pretty special when you can be something less than razor sharp and still work through seven innings of one-run ball against a good lineup, and Severino is pretty special.
Gleyber's Debut
At 21 years and 130 days, Gleyber Torres became the youngest position player to make his MLB debut with the Yankees since Melky Cabrera debuted at 20 years and 330 days in 2005. Torres is the youngest position player to start in his MLB debut with the Yankees since Derek Jeter at 20 years and 337 days in 1995. His youth and inexperience showed in his first at-bat. Jaime struck him out on five pitches, all down and in: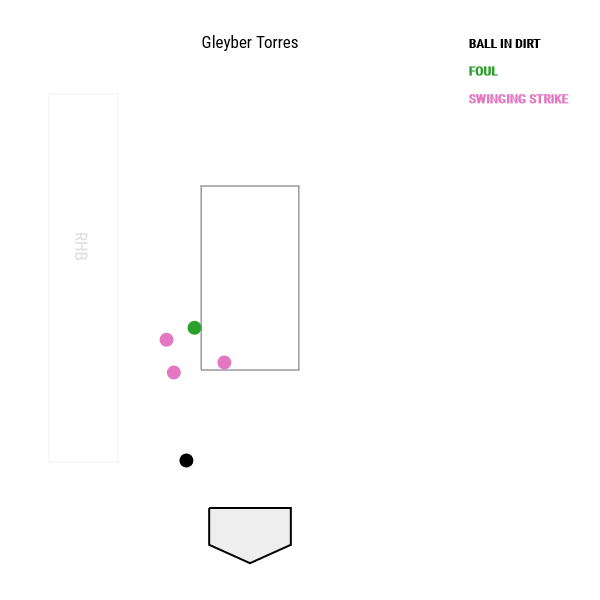 Torres took great big hacks for swings and misses at the first two pitches — I should note there were runners on second with one out at the time — and you could tell he was anxious at the plate. Gleyber wasn't trying to knock those two runners in. He was trying to knock over the outfield wall. Five-pitch strikeout in his first at-bat. Welcome to the big leagues, kid. They don't throw Jaime Garcia breaking balls in Triple-A.
Gleyber's second at-bat was better yet the outcome was worse — he banged into an inning-ending 5-4-3 double play with two on in the fourth inning. Garcia and Russell Martin went back to the down and in well, Torres made the adjustment and took two pitches for balls, then they started to work him up a bit. Jaime caught way too much of the plate with an 88.8 mph heater in a 3-1 count, and Gleyber let him off the hook:
Yeah, Torres wants that pitch back. In his third at-bat he popped up in foul territory, again with two men on base. The big situations certainly found the rookie Sunday. Gleyber stranded two runners in each of his first three at-bats! He'll fight right in with the rest of the offense hardy har har. Torres flew out in his fourth at-bat to cap off the 0-fer. He joins a couple hundred (thousand?) others who went 0-for-4 in their first MLB game.
Defensively, there wasn't much to see. Torres started at second base and had two balls hit his way all game, and they were both hit right to him. The first was a routine 4-3 putout and the second was a nice little 4-6-3 double play turn to end the sixth. That's pretty much it. Nothing resembling a difficult play in the field in his first game. The first of many, this was. Welcome to show, Gleyber.
Leftovers
Pretty terrible instant replay call in the eighth inning. Replays showed Austin was safe at first base because Smoak's foot came off the bag when he reached for the throw. Here's the video. And yet, the replay center in New York stuck with the out call. I do not understand. At times like this I wish the crew chief would have to explain the call to the crowd, NFL style. Whatever. At least the play didn't have an impact on the outcome of the game.
Quite a day for Stanton in left field. He had to fight off the sun to catch a routine fly ball in the fifth, and two batters later, he reached up to make a very good running catch going back to the wall. Stanton went 0-for-4 with a strikeout at the plate and, of course, was booed. Fans need to vent, I guess. Stanton and Torres were the only starters who failed to reach base at least once.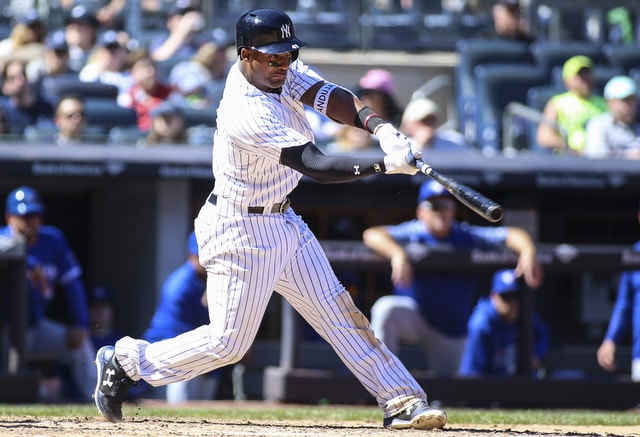 Four hits in four at-bats for Andujar, who had the audacity to mix two (infield) singles into his extra-base hit barrage. He is now 13-for-24 (.542) with seven doubles, one triple, two homers, and two strikeouts in his last six games. His extra-base hit streak has reached six games and his season batting line sits at .308/.327/.596 (146 wRC+) with a 14.5% strikeout rate. Sustainable!
David Robertson and Aroldis Chapman closed things out in the eighth and ninth innings, respectively. Robertson allowed a single and a long fly ball. Chapman walked two. Those two picked a good day to be a little off their game. Chad Green also warmed up in the seventh, in case Severino got into a pickle. He wasn't needed.
Gregorius and Judge became the first set of Yankees teammates with 6+ homers each in the first 20 games of the season since … Granderson and Nick Swisher in 2012. Granderson, Martin, Jorge Posada, and Mark Teixeira somehow all hit 6+ homers in the first 20 games of the 2011 season.
And finally, the Yankees did not have a single player in today's starting lineup age 30 or older. Romine was the oldest starter at 29 years and 151 days. It's the first time the Yankees did not have a 30-something in their starting lineup since September 29th, 1989. Yeah, it'd been a while.
Box Score, WPA Graph & Standings
ESPN has the box score and updated standings, and MLB.com has the video highlights. Here's our handy dandy Bullpen Workload page and here's the win probability graph:

Source: FanGraphs
Up Next
This four-game series is finally over, but homestand is not. The Twins are next up. They're coming to the Bronx for a four-game weekend set. It'll be a 2017 AL Wild Card Game rematch four times over. Jake Odorizzi and Masahiro Tanaka are the scheduled starters for Monday night's series opener.