Fourteen games into the 2018 season, it already feels like the Yankees are in survival mode. Survival mode while players are out injured and survival mode while the bullpen continues to be unexpectedly terrible. The Yankees survived what should've been an easy win Friday night to pick up an 8-6 win over the Tigers in the series opener. Back to .500 they go at 7-7.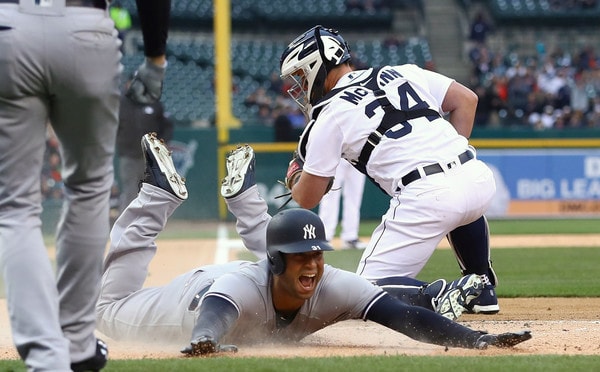 One Inside The Park, One Outside The Park
We've seen a lot of weird stuff already this season. Aaron Judge hit into a 1-2-5 double play the other day. When's the last time you saw a 1-2-5 double play? On Friday we saw an outfielder literally duck under a fly ball. That's a new one. Gary Sanchez slammed a line drive to right field, Nick Castellanos got to the wall, ducked out of the way, and it went for a double. For real. Castellanos was in position to at least attempt the catch. Instead, he ducked. Okie dokie.
The next batter, Aaron Hicks, followed with a ball off the wall of his own. His was more toward center field, it took a weird carom away from the defenders, and away Hicks went. He slid in safely for the two-run inside-the-park homer. To the action footage:
The last Yankee with an inside-the-parker? Curtis Granderson in 2011. That was Hicks' first homer of the season. (This was only his third game due to the intercostal injury.) His second homer of the season came a few innings later, and this was a more traditional outside-the-park homer. It was a rocket solo shot out to right field. Glad to have Hicksie back. He's pretty good.
The inside-the-parker gave the Yankees a 2-0 lead and the outside-the-parker gave the Yankees a 6-1 lead. In between, they scored three runs largely because the Tigers are so bad. Miguel Andujar doubled down the line to open the fifth inning, and Brett Gardner drove him in with a bloop hustle double to center. Leonys Martin attempted the sliding catch, knocked the ball away, and that gave Gardner enough time to get to second.
Judge drove in Gardner with a single against the shift, extending his hitting streak to an AL best 11 games. (Marcell Ozuna has a 12-gamer going in the NL.) Didi Gregorius hit would should've been an inning-ending grounder to second base. As routine as it gets. Then Dixon Machado threw it away. The throw was well wide of first, Gregorius reached safely, and Judge came around to score. The Tigers are terrible and it was easy to see why in that three-run fifth inning.
Monty's Rebound
Strong outing for Jordan Montgomery. Strong and much-needed, both for him and the Yankees. For the Yankees, the starters have collectively stunk over the last week or so, and they were desperately waiting for someone to put together a quality outing. They needed someone to go out and take over a game, and soak up a bunch of innings. Montgomery did exactly that Friday.
For Montgomery, he needed a good bounceback performance after his messy start against the Orioles last time out, when the offense staked him to a 5-0 first inning lead and he couldn't get out of the fifth. He retired 12 of the first 14 batters he faced Friday — one of the two baserunners was an infield single — before giving up a solo homer to James McCann. No biggie. The Yankees were up 5-0 at that point. Solo homers won't kill you.
Montgomery's night came to an abrupt end up in the seventh thanks to a single, a double, and a Gardner error. He airmailed the throw to the cutoff man and allowed the runner to reach third with no outs. Montgomery's final line: 6 IP, 5 H, 3 R, 3 ER, 0 BB, 4 K. That seventh inning messed up what had been an excellent outing. Even with that, this was a very good game for Montgomery. The really needed a start like this.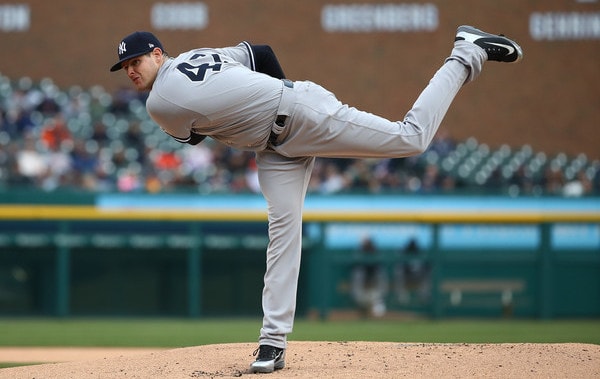 Leftovers
After three good outings, Dellin Betances had another rough appearance in the eighth, allowing a solo homer — it was his third homer allowed in 6.2 innings this year after allowing three in 59.2 innings last year — and two other runs. Two of the five hits he allowed were grounders with eyes, which is annoying, but it doesn't excuse the performance. Good thing the Yankees tacked on insurance runs, huh? Chad Green bailed out Betances and Aroldis Chapman struck out the side in the ninth.
Already five Yankees have had a multi-homer game this season. Hicks joined Gregorius, Sanchez, Giancarlo Stanton, and Tyler Austin. In addition to the two homers Hicksie also had two walks, so he was on base four times. Gardner had two hits (single, double), Andujar had two hits (double, triple), and Ronald Torreyes had three hits (singles). Stanton and Neil Walker were the only starters who failed to reach base.
And finally, Gardner's error was his first in 198 games dating back to August 2016. The Yankees currently lead the AL with 14 errors, and while errors are not the best way to evaluate defense, they've certainly been playing sloppy. Gardner's as sure-handed as they come. That might be his last error of the season. But when Brett's making errors, you know things are going poorly in the field.
Box Score, WPA Graph & Standings
MLB.com has the box score and video highlights, and ESPN has the updated standings, if you must check those on April 13th. Here's our Bullpen Workload page and here's the win probability graph:

Source: FanGraphs
Up Next
Probably a rainout. Probably two rainouts, in fact. The weather forecast the rest of the weekend is ugly — it's supposed to rain in Detroit from basically right now right through Sunday night — and there's a chance the Yankees and Tigers won't get to finish this series. Randy Miller hears a doubleheader on August 20th is possible if the next two games get rained out. We'll see. Luis Cessa and Francisco Liriano are Saturday's scheduled starters.