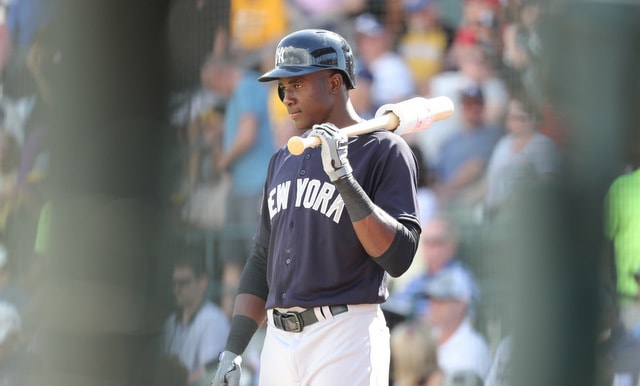 According to George King, top outfield prospect Estevan Florial needs hamate surgery on his right wrist and will be sidelined until August. Florial exited yesterday's game with soreness in the wrist. The Yankees have not yet announced the surgery, but that'll come soon enough.
Florial, 20, was my No. 4 prospect in the system coming into the season. Hamate surgery is fairly common among baseball players. Giancarlo Stanton is among the many who've had it. They literally remove the hamate bone from the wrist, and that's it. Following the surgery, it typically takes the player a few weeks or months to regain their usual power even after returning to the field.
In the early going this season Florial was hitting .246/.353/.343 (110 wRC+) with 30.1% strikeouts and 13.5% walks in 35 games for High-A Tampa. He hit one homer and stole five bases in nine attempts before the injury. Given the injury and all the missed time, Florial figures to be a strong candidate for the Arizona Fall League after the season to make up for the lost at-bats.
As for Florial's trade stock, the injury could hurt for sure, but the Yankees found takers for Dustin Fowler and James Kaprielian following more serious injuries last year, so who knows. The Yankees reportedly labeled Florial untouchable over the winter, though they may've been more willing to part with him in July. We'll see what happens as the trade deadline approaches.