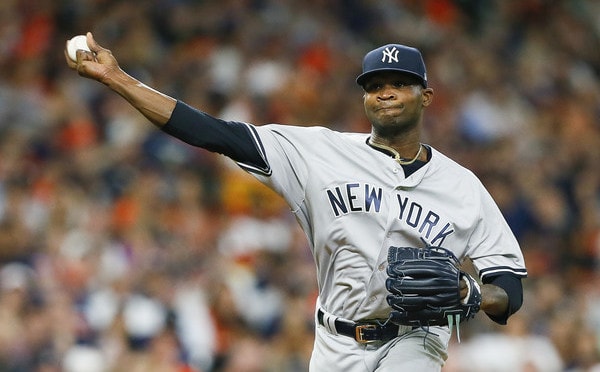 At long last, this 18 games in 18 days stretch comes to an end this afternoon. It has been a smashing success so far. Couldn't have expected it to go any better. The Yankees are 15-2 while outscoring their opponent 100-44 in the first 17 games, and they're not beating up on rebuilding teams either. The Twins, Angels, Astros, and Indians are all projected contenders if not World Series contenders.
This afternoon Domingo German — he's Little Sunday and 6-foot-7 pitching prospect Domingo Acevedo is Big Sunday — is making his first big league start after his successful four-inning relief outing five days ago. Jordan Montgomery is out 6-8 weeks, and unless the Yankees swing a trade soon (unlikely), this rotation spot is German's for the time being. He's not stretched all the way out right now — German hasn't thrown more than 61 pitches in a game this year — so hope for five innings today and let the bullpen take care of the rest. Here are the starting lineups:
New York Yankees
1. LF Brett Gardner
2. RF Aaron Judge
3. SS Didi Gregorius
4. C Gary Sanchez
5. CF Aaron Hicks
6. 1B Neil Walker
7. 3B Miguel Andujar
8. DH Tyler Austin
9. 2B Gleyber Torres
RHP Domingo German
Cleveland Indians
1. SS Francisco Lindor
2. 2B Jason Kipnis
3. 3B Jose Ramirez
4. LF Michael Brantley
5. DH Edwin Encarnacion
6. 1B Yonder Alonso
7. C Yan Gomes
8. RF Tyler Naquin
9. CF Greg Allen
RHP Mike Clevinger
It is cloudy and humid in New York, and that usually means rain. There are some showers in the forecast throughout the afternoon. On-and-off stuff that doesn't look like it'll be anything heavy. Hopefully it doesn't impact the game. Today's series finale will begin at 1:05pm ET and you can watch on YES locally and MLB Network nationally. Enjoy the game.
Injury Updates: Tommy Kahnle (shoulder, biceps) is progressing well and will throw a bullpen sometime this week. The plan is two bullpen sessions, then live batting practice, then at least one minor league rehab game … Adam Warren (lat) has started playing catch. "I don't feel any pain … Just have to build up arm strength," he said.