Got a dozen questions in this week's edition of the RAB mailbag. Send your questions to RABmailbag (at) gmail (dot) com and I'll answer as many as I can stomach each week.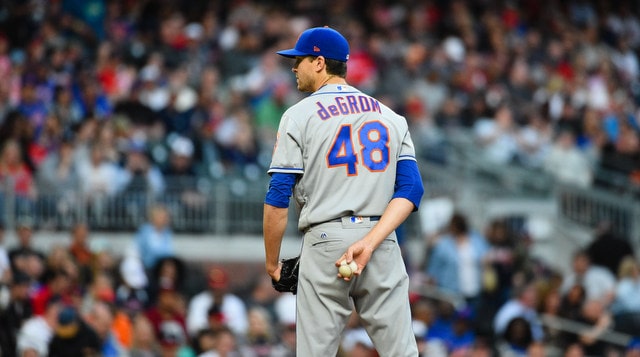 Dan asks: Can you foresee any scenario in which the Mets would deal deGrom to the Yankees, if the Mets are out of it this summer and the Yankees blow them away with a great offer?
The Mets started the season 11-1 and they're now in fourth place in the NL East at 20-19 with a -19 run differential. They're 3-10 in May and have been outscored 69-39. Womp womp. As always, I would bet the farm against a major Yankees-Mets trade. Even if the Mets were open to dealing Jacob deGrom, there would be enough interest that they'd be able to get a significant return without suffering the PR hit that comes with trading him to the Yankees.
deGrom turns 30 next month, and while the last few weeks have been rough — he hyper-extended his pitching elbow taking a swing (love the NL!) then was removed from a start after a 45-pitch first inning as a precaution — he has been as good as ever this season (1.83 ERA and 2.22 FIP) and he's under team control through 2020. He's also performed in New York and in the postseason …
… so if you care about such things, deGrom has already aced those tests. Truly, he would be the ideal pitching trade target for the Yankees. Power pitcher, track record of ace-caliber performance, and under control another few years. Hard to think of a more ideal trade target, isn't it?
The whole Yankees-Mets thing is a very real obstacle, however. Teams do care about bad PR, and trading deGrom would come with enough bad PR as it is. Trading him to the Yankees too? Oy vey. It would have to be a deal the Mets couldn't refuse, in which case I'm thinking Gleyber Torres as the center piece, not Clint Frazier and some pitching prospects. (The Mets don't need outfielders anyway.) If the Mets do put deGrom on the market, the Yankees absolutely should pursue him. It just seems like too many other teams (Cubs, Dodgers, etc.) would be involved for the Mets to make a crosstown trade.
Brian asks: Looking ahead, are you at all concerned about the future roster construction re CF? Like you, I am optimistic about Hicksy, but there is a chance he tops out as a very good 4th outfielder. If that is the case, what is our plan moving forward for CF with Frazier/Stanton/Judge all corner outfielders? Are there any trade or FA targets that you can think of?
Concerned isn't the right word, though the long-term future of center field is up in the air. Brett Gardner turns 35 in August and isn't a realistic solution out there going forward. Even if Aaron Hicks snaps out of his current slump, he'll be a free agent after next season anyway. Estevan Florial is too far away to plan around, and while Frazier and Aaron Judge could be fill-in options in center, I'm not sure I want either guy playing out there on an everyday basis.
Center field is a young man's position. The only full-time center fielders age 30+ in baseball this season are Charlie Blackmon, Lorenzo Cain, Austin Jackson, Adam Jones, Leonys Martin, Tommy Pham, and A.J. Pollock. Pham, Martin, Pollock, and Gordon all turned 30 within the last six months too. The Yankees could, say, sign Pollock as a free agent after this season to play center field, but how long does he stay in center? The Yankees gave Johnny Damon a four-year deal to play center and he was in left full-time by the end of year two.
With the caveat that Florial could really break out and climb the ladder in a hurry, my guess is the next long-term center fielder is someone the Yankees will acquire in a trade. The Padres (Manuel Margot?) and Cardinals (Harrison Bader?) jump to mind as teams with MLB ready center field depth. This is a topic worth revisiting in a few months, but yes, center field is something the Yankees will have figure out sooner rather than later.
Greg asks: Just out of curiosity how long would Drury have to stay in AAA to delay his free agency for a year?
Fifty days in the minors pushes Brandon Drury's free agency back from the 2021-22 offseason to the 2022-23 offseason. I wouldn't worry about manipulating his service time at all. With an elite prospect like Torres, yes, absolutely take advantage of the system and get that extra year of control. (The Yankees did get that extra year with Gleyber.) For a dude like Drury, if he can help you win right now, get him on the roster and let him help you. I wouldn't worry about four or five years down the line with him or most non-elite players.
Jeffrey asks: What's the record for the most multiple home run games by players on a single team for 1 season? (Stanton has 3 already, Sanchez has 2, Judge has 2, Didi, and Austin so far, right?) What's the record for the most players on a team to have multiple home run games in a season?
The Yankees already have nine (!) multi-homer games this season: Three by Giancarlo Stanton, two each by Gary Sanchez and Didi Gregorius, and one each by Tyler Austin and Hicks. Judge doesn't have one yet. The White Sox and Orioles both have eight multi-homer games this year. The Nationals have six and are the only other team with more than five.
The single-season record for multi-homer games is 24 by the 1961 Yankees and 1966 Braves. Three teams have had 23 multi-homer games in a season (1996 Mariners, 1999 Rockies, 2010 Blue Jays). As best I can tell, the record for most individual players with a multi-homer game in a season is ten, done several times, most recently by the 2005 Braves. Could the 2018 Yankees break both records? Yeah, I think they could. Eleven different players with multi-homer games will be tougher to do than 25 multi-homer games, me thinks.
Michael asks: The Yankees have had to come from behind quite frequently and they've won these games often. But if this "win from behind" scenario continues over a full season, does it have a negative effect on the offense?
I don't know if it has a negative effect on the offense. It could be mentally draining to have to come back day after day, though it's not like the guys stop trying to score runs whenever they take the lead anyway. It goes without saying that having to come from behind game after game is not a sustainable strategy. Eventually the comebacks will start falling short. The Yankees have been able to get away with it these last few weeks, but at some point they have to start taking leads and playing from ahead, and I think they will. They're too good not to.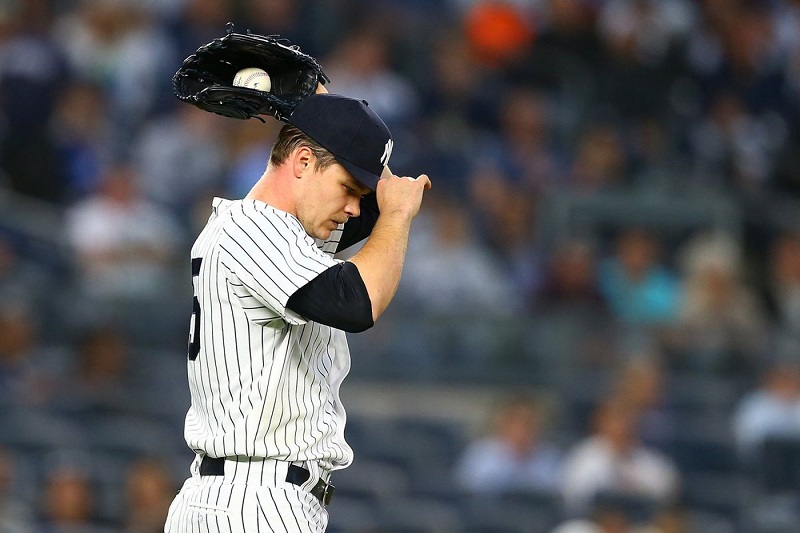 James asks: The Yankees gave up essentially 18-20 years of team control of Fowler, Mateo, and Kaprielian for 3 postseasons of Sonny Gray. Barring a significant injury, Fowler & Mateo will be MLB players and Kaprielian was our best pitching prospect. If just 1 of those three is an average player, the A's did well in that trade. Did Cashman finally make a bad trade?
Brian Cashman has made plenty of bad trades over the years. Run a team as long as he has and there will be screw ups along the way. They're inevitable. As for the Sonny Gray trade, it is way too early to tell. He's under control through the end of next year and the guys the A's received have done basically nothing at the MLB level. Dustin Fowler was only called up a week ago, Jorge Mateo is currently hitting .206/.243/.331 (43 wRC+) in Triple-A, and James Kaprielian was recently shut down with a sore shoulder. If there's one thing the Michael Pineda-Jesus Montero trade taught us, it's that it takes years to evaluate a trade in which young players with multiple years of control are involved. The Gray trade might turn into a big fat L for the Yankees. It is way too early to say.
Paul asks: Periodically, in your analysis you come across a #thingtowatch. E.G. Holder's pitch selection. Do you keep track of these? Can you give an update on all of your things to watch please?
Turns out I've used the #thingtowatch tag ten times total, all since the start of last season. Jonathan Holder's pitch selection is most recent and he hasn't pitched since the post, so we're still waiting to see what happens. Here are brief updates on the previous nine #thingstowatch, listed chronologically:
February 28th, 2017: Gardner started a Grapefruit League game in center while Hicks started in left. That did not continue.
April 4th, 2017: Chasen Shreve's velocity was up in his first 2017 appearance. It stayed up for much of the season before returning to normal.
April 18th, 2017: Austin Romine was wearing out the opposite field. This has continued and is only getting more extreme.
May 18th, 2017: Gregorius used an angry red face for Chase Headley's emoji in a post-victory tweet. An unsolved mystery.
October 13th, 2017: Would the Yankees attack the weak-throwing Brian McCann in the ALCS? Nope. They attempted one steal in the series and Judge was thrown out on a weird play.
October 14th, 2017: How would Luis Severino's fastball play against a great fastball hitting Astros team? Not good, apparently. Severino allowed four runs on five hits and six walks in 8.2 innings in the ALCS.
April 6th, 2018: Severino didn't throw his changeup much in his first two starts. He's thrown it much more since.
April 24th, 2018: Dellin Betances' fastball spin rate was down. It is trending up, so that's good, but it's still down relative to where it was two years ago.
April 30th, 2018: Gray threw more fastballs in his start against the Astros. He has continued throwing more fastballs in the two starts since.
And there you have it. I'm surprised how many things I labeled a #thingtowatch turned into legitimate trends, like Romine going the other way and Shreve's velocity ticking up for half-a-season.
Joe asks: The other week you answered a fun hypothetical about different hitters and their relative value. What if we tried a similar exercise but with pitchers. 1. Pitcher that gives up exactly 1 run in each inning they pitch. 2. Pitcher that can only last one batter but always strikes that batter out. 3. Pitcher that never strikes out a batter but always yields batted ball contact of <90mph. Same idea, how would you rank these in order of value and would these pitchers make the cut on a team's roster.
Pitcher 1 would be quite valuable. Yeah, he'd have a 9.00 ERA, but if you have a three-run lead after the seventh inning, put that pitcher in and the game's over. Up five after the fifth? Put him in and the game's over. Just make sure you stretch that dude out so he could throw four or five innings and you could use him to close out plenty of games.
Even though he's limited to one batter, I think Pitcher 2 would be more valuable than Pitcher 3 because he could get you out of any jam. Bases loaded, two outs in a one-run game? Pitcher 2 comes in and that's that. He'd be a great high-leverage weapon for one batter at a time. Getting weak contact is a wonderful thing, but no strikeouts means Pitcher 3 won't be able to strand many runners on third with less than two outs. I'd rank them in that order: 1, 2, 3. And I think all three would have big league jobs.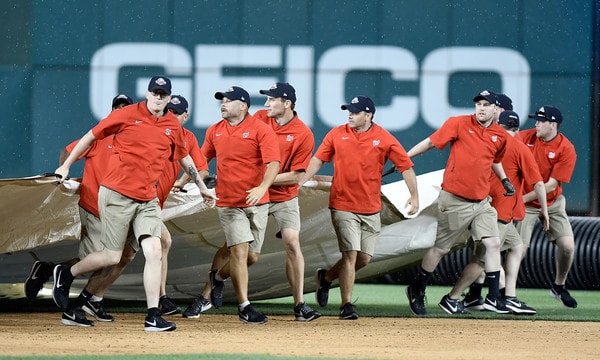 Mads asks: During the 5th inning of the Yanks – Nats game, would it then have been completely insane for the Nats to use their closer? The forecast wasn't great, and had they held a lead at that point, they would have gotten the win.
This one of those things that sounds great in theory but probably wouldn't work so well in practice. Remember, the Yankees batted in the sixth inning the other night. The game was suspended after the top of the sixth. Had the Nationals used Sean Doolittle to preserve the one-run in the fifth, the Yankees still would've had a chance to tie the game in the sixth, presumably against a lesser reliever. (And if not for the long top of the fifth, the Yankees might've batted in the seventh too.) Yeah, this sounds like a good idea. It's just really tough to predict the weather, even only a few minutes in advance.
Peter asks: How does the MLB deal with roster changes that normally occur with teams for suspended games? For example, if Greg Bird is on the MLB roster on June 18th when the remainder of the Nationals game is played and Tyler Austin (who started on the game) is in the minors, how is this handled? Will the Yankees play with only 24 players for the remainder of the game, as if Austin was substituted? Do we all just pretend Bird is Austin? Thanks for the insight, I love the blog.
Whoever's on the 25-man roster the day the suspended game resumes is eligible to play. So, if Austin is in the Triple-A when the Yankees and Nationals resume the suspended game, the Yankees can sub any available player into Austin's spot. That would presumably be Greg Bird, though who knows what the roster will look like in a few weeks. The only thing you can't do is put a player back into the game who has already been removed. Masahiro Tanaka and Gio Gonzalez started the game and were removed for pinch-hitters, so they can't re-enter the game. Between injuries and trades and whatnot, rosters can change quite in a bit in only a few weeks. Letting teams use whoever is on their roster the day the suspended game resumes is the only practical way to go about this.
Michael asks: Concerned about all this time off considering how well they were playing?
Not at all. This is basically an All-Star break, and even then the Yankees did play a few innings the other night. I can't find where I read this, but after the double postponement the other night Aaron Boone told reporters the Yankees had guys throwing bullpens and hitting in the cage to stay sharp. Not worried about these four days throwing a wrench into things at all. The bullpen needed the breather and I'm sure some position positions were glad to get a few days to rest their legs too.
John asks: As we remember the 20th anniversary of David Wells' perfect game this week, wondering what is the rarest thing you have seen in person at a baseball game? What you would most want to see? For me, I have seen a player hit a home run in their first at bat, and seen two grand slams in the same half inning, but would love to see a no hitter.
Yesterday was the 20th anniversary of Wells' perfect game, which makes me feel old. I was at Alex Rodriguez's 500th home run game, which was pretty cool. I have seen a triple play in person too, specifically this one at Tropicana Field in 2011. I'd really love to attend a perfect game and a four-homer game one of these days. A no-hitter would be cool too. I've been to a few near no-hitters — I went to the May 2007 game when Chien-Ming Wang took a perfect game into the eighth against the Mariners — and I'm pretty sure I've never been to a three-homer game. (I feel like I would've remembered it if I did.) Those are my two bucket list items. A perfect game and a four-home game.