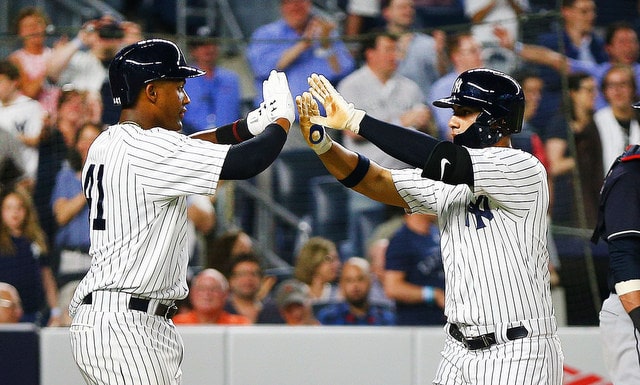 Last night the Yankees stole a win away from the defending champion Astros. The Yankees really had no business winning that game. They made five errors — it could've been seven — and struck out 17 times in ten innings. Each of the four relievers used put at least one man on base and the Astros had a runner in scoring position in each of their last three offensive innings. The Yankees were hardly crisp.
Three of those errors — and two other defensive miscues that were scoring infield singles but could've been errors — were charged to Miguel Andujar and Gleyber Torres. Andujar tripped over his own feet in the fourth and turned a potential 5-4-3 double play ball into zero outs. He also threw away a leadoff grounder in the fifth inning. Both plays contribute to two-run rallies. Torres threw away a grounder in the first and booted another grounder in the seventh. Somehow neither led to a run.
The two rookies had sloppy games defensively — Torres also committed a lackadaisical error Monday, so the last few days haven't gone well for him in the field — and it very nearly cost the Yankees a game. The bullpen kept the Astros in check and the offense was able to come back in the late innings. Brett Gardner's game-tying two-run homer was another one of those classic clutch Gardner hits. He's had a bunch of them the last year or two.
Andujar and Torres had a hand in the comeback. More than a hand, really. They played a very big role in making it happen. Gleyber of course had the walk-off single, but that's not all. Consider what else they did:
Andujar doubled with two outs in the second and Torres brought him in with a single.
Andujar worked a five-pitch leadoff walk in the ninth to set Gardner up for the game-tying dinger.
Andujar doubled in an 0-2 count with two outs in the tenth, setting Gleyber up for the walk-off.
The errors were sloppy. No doubt. The two kids were also able to turn the page and contribute to the comeback. Andujar went 2-for-4 with two doubles, a walk, and three runs scored. Torres went 2-for-5 with two-run scoring singles, including the game-winner in a two-strike count.
"(I told Torres in the dugout) hey, let's put that aside. We're going to have some good at-bats. We've got to play all nine innings … Until the end of the game," said Andujar to Randy Miller following last night's game. "You have to be able to (forget the errors), put that aside, and look forward."
The Yankees have produced gobs of young talent lately and, while the offensive performances stand out the most, it is truly impressive how mature all these kids seem to be. Luis Severino has embraced being the staff ace. Aaron Judge has handled becoming the face of the franchise and most talked about player in the sport like a pro. Gary Sanchez has done a wonderful job taking on all the responsibilities of catching for a contending team at a young age.
Andujar and Torres have not been everyday players all that long but we're already seeing that same type of maturity from them. Gleyber looks like a ten-year veteran at times. That tenth inning at-bat was the perfect example. He shortened up in the two-strike count and served the ball to right field for the game-winning single. Andujar loves to swing — and I mean loves to swing — but he's hit the crap out of quality pitching since coming up.
Last night might've been the most impressive game of their young careers, in my opinion. Andujar and Torres both made multiple bad defensive plays that put the Yankees down multiple runs. They were able to turn the page, contribute on offense, and help the Yankees rally from behind for another win. The errors didn't spiral into bad at-bats. "I need to make up for the errors with a homer here," that sort of thing. We didn't see those swings.
The two young infielders — remember when the Yankees seemingly didn't want to go with two rookie infielders this year? — displayed short memories last night and they were able to refocus after the errors. The Yankees are big on makeup and work ethic and it shines in games like last night. Andujar and Torres didn't feel bad for themselves. It was just okay, we screwed up, let's move on and do what we can to help the team win. Young players are going to screw up, it's inevitable, and being able to turn the page is important. It's a special trait in young players and the Yankees seem to have it in spades.
"It's been an amazing experience for us just to be together here," said Andujar to Miller. "We're trying to do the best we can and trying to help the team. It's been a great ride for us."