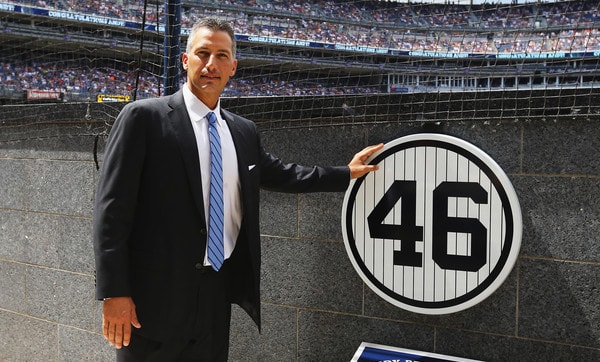 The Yankees and Angels continue their three-game series later tonight, but not until 7pm ET. Saturday night games are The Worst. Here are some notes to check out before first pitch.
Pettitte to make Old Timers' Day debut
Andy Pettitte is officially an Old Timer. The Yankees announced the 2018 Old Timers' Day roster earlier this week and Pettitte is among the first-timers, along with Jason Giambi, Nick Swisher, Dion James, and (of course) Aaron Boone. The usual cast of characters will be in attendance as well. Here is the press release. Old Timers' Day is Sunday, June 17th, this year.
Pettitte, who turns 46 next month and recently became a grandfather, retired for good following the 2013 season. He will be Hall of Fame eligible for the first time later this year. Mike Mussina has been unable to get over the hump and into Cooperstown, and based on that, I don't think Pettitte is getting voted in anytime soon. I do think he'll stay on the ballot for several years though. Going to be fun to see him at Old Timers' Day.
MLB.com mock draft v5.0
Another week, another mock draft from MLB.com. Jim Callis provided this week's mock. He has the Tigers selecting Auburn RHP Casey Mize with the No. 1 pick, which should be no surprise if you've been following mock drafts these last few weeks. The Yankees hold the 23rd overall pick. Here is Callis' mock selection for the Bronx Bombers:
23. Yankees: Brice Turang, SS, Santiago HS (Corona, Calif.)
Turang was mentioned as a candidate to go No. 1 overall entering last summer, and while he hasn't lived up to those expectations, he's still a talented shortstop in a Draft thin at that position. A variety of high school position players get mentioned with New York, including Adams, Casas, Edwards and outfielder Mike Siani (Pennsylvania).
Here are my write-ups on Turang, Siani, and Triston Casas. Could've sworn I wrote one for North Carolina OF Jordyn Adams, but apparently not. Florida HS SS Xavier Edwards is still on my list of draft prospects to profile. Anyway, once again the Yankees are connected to bats. That has been the case all spring. Aside from guys expected to go in the top 5-10 picks, this draft class is light on college bats, so it's no surprise the Yankees are connected mostly to high school kids. The draft is a week from Monday.
Nike, not Under Armour, to get MLB apparel rights
According to Terry Lefton, Nike is expected to get MLB's next apparel rights deal, which begins in 2020. Under Armour was getting the deal but is backing out for financial reasons. "They were a different company when they did the deal. It's just not affordable for Under Armour anymore," said a source to Lefton. You may remember Under Armour was set to slap their logo on all jerseys, like so: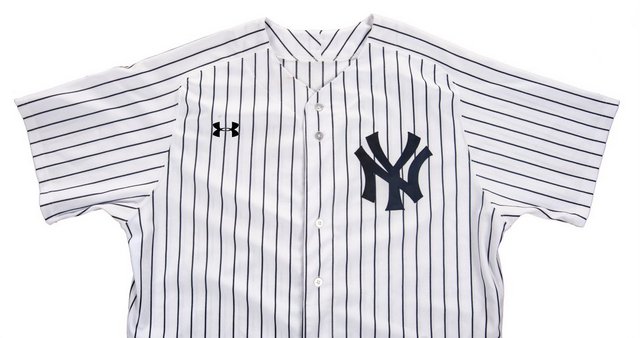 It's unclear whether the Nike swoosh will appear in a similar spot going forward. Majestic currently provides MLB apparel and their logo appears on the sleeves of all jerseys except the Yankees. The Yankees were granted an exception. They weren't getting an exemption from Under Armour. No idea what's up with the Nike deal.
I'm of the belief it's only a matter of time until there are advertisements on MLB jerseys — they're not going to look like NASCAR cars or anything, but I bet we see advertisement patches on sleeves in the near future — and a logo on the chest of jerseys is step one. Well, no, step one was the Majestic logo on jersey sleeves and step two was the New Era logo on the side of caps. A logo featured on the front of jerseys is step three. Jersey ads are coming. Maybe not with the Nike deal, but eventually.
MLB releases study on "juiced ball" study
Earlier this week MLB released the results of a study into the "juiced baseball," or, in English, they looked at whether changes to the ball led to the uptick in home runs. Here's a breakdown of the results. The study found the baseball itself has not changed. Everything is within specifications, though, to be fair, those are wide-ranging. From the study:
There is also no evidence that any variations in the ball occur either intentionally or through substandard quality control by Rawlings. If anything, they would be inherent to the manufacturing process, which relies on substantial "by hand" labor.
The committee in charge provided recommendations, which include potentially establishing standards for storage (i.e. a humidor in all parks). Homers are actually down this year — teams are averaging 1.12 homers per game, down from 1.26 last year and 1.16 homer the year before — but they're still flying out of the park at one of the highest rates in history. I like dingers. Dingers are cool. If MLB does something to reduce dingers, I'll be bummed, but I'd understand.