Well that was a satisfying series. After pitching back-to-back shutouts the last two days, the Yankees won a wild back and forth game Thursday afternoon — back and forth in the late innings, anyway — to clinch the four-game series victory. The final score was 6-5. We play today, we win today, das it.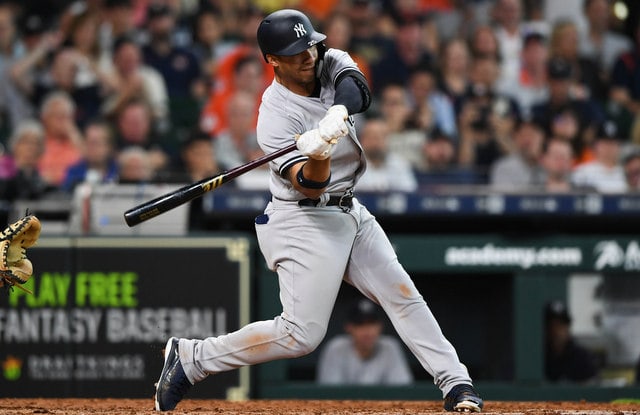 And The Yankees Take The Lead
Gotta start in the ninth inning, don't we? A very eventful seventh inning and a slightly less eventful eighth inning gave the Astros a 5-3 lead heading into the ninth inning. Chris Devenski struck out Didi Gregorius, Giancarlo Stanton, and Gary Sanchez authoritatively in the eighth, and I thought Astros manager A.J. Hinch was going to send him back out for the ninth. Why not? He's been flexible with his closer's role, and Devenski threw only 12 pitches. Hadn't pitch since Monday either.
For whatever reason Hinch went to Will Harris in the ninth inning instead. I guess he didn't trust Ken Giles after the other night, when Sanchez's homer had him punching himself on the way to the dugout. Who knows what would've happened had Devenski stayed in the game. I know what happened with Harris though. Let's annotate the play-by-play for that inning.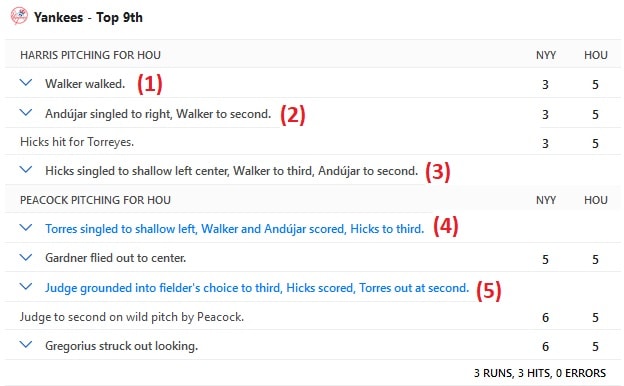 (1) Shout out to Neil Walker for having what feels like his first productive game of the season. He was hit by a pitch in the second inning, which led to a run. He singled in the third inning, which drove in a run. And, in the ninth, Walker drew a leadoff walk to get the rally started. I know Walker has stunk so far this season — even after this game, he's still hitting .171/.233/.195 (15 wRC+) on the season — but he's better than what he's shown, and he still knows how to put together a good at-bat. Props to Neil. He was a factor in this game.
(2) As good as he's been this season, Miguel Andujar has struggled of late. He went into Thursday's game 1-for-14 (.071) in his last four games. It was bound to happen. The kid wasn't going to keep ripping two extra-base hits a night all year. Andujar singled in that ninth inning on a pitch that was one of those pitches only a dude like Andujar could hit. It was a very elevated fastball and he poked it to right field. It takes a certain level of bat control and plate indiscipline to make that happen. Andujar singled, and the Yankees were in business. Two on, no outs.
(3) Aaron Hicks, like Walker and Andujar, is another dude who's struggled of late. He went into Thursday's game 4-for-26 (.154) in his last eight games. Hicks came off the bench cold to pinch-hit for Ronald Torreyes, worked a six-pitch at-bat after falling behind 0-2, then served a single the other way to load the bases with no outs. Hicks is the anti-Andujar. He is super disciplined. He fell behind 0-2, took three close pitches for balls, then did what he was supposed to do with a hittable fastball.
(4) Gleyber Torres, man. What an impressive player this kid is. The kid doesn't just look like a big leaguer, he looks like an All-Star who is comfortable on the field and knows how to go about his business. Brad Peacock was in the game at this point, and he started Torres off with a first pitch fastball for strike one. Pitch two was a slider up in the zone and Torres dunked it into left field for a game-tying two-run single. To the action footage:
GLEYBER TORRES TIES THE GAME.

IT AIN'T OVER 'TIL IT'S OVER.#YANKSonYES pic.twitter.com/SYNKVSYiSM

— YES Network (@YESNetwork) May 3, 2018
Love this kid. Aaron Judge and Gary Sanchez are truly awesome. You can never go wrong with dudes who hit massive dingers. There's just something different about Torres though. He has that slow heartbeat. The kid — and he is a kid, he's still only 21 — is just so impressive. Simple approach in a big situation and he came through. Love it.
(5) I'm not sure why Alex Bregman didn't throw home on Judge's weak grounder. Looked like he had plenty of time to get the lead runner and keep the game tied. Instead, Bregman went for the difficult inning-ending double play, and Jose Altuve muffed the transfer at second. Judge was safe without a throw and Hicks cross the plate to give the Yankees a 6-5 lead. Shout out to Gleyber for going in hard (and clean) at second base to make life complicated for Altuve.
The bottom of the ninth was, of course, interesting. A game like this deserved a stressful ninth inning. Aroldis Chapman came in, got two quick outs, then Sanchez let strike three to Evan Gattis get through his legs. The third out was recorded! But Gary didn't handle the pitch and Gattis was safe at first to keep the game alive. They scored it a wild pitch, and hey, a 101 mph fastball in the dirt ain't easy to catch, but yeah, Gary's gotta stop that one.
That brought George Springer to the plate and he singled to left to push the tying run in scoring position. Of course. The batter? Jose Altuve, the reigning AL MVP. Fun! Stressful, but fun! Chapman completely and totally overpowered him for the three-pitch game-ending strikeout. Truly awesome. Two brilliant talents going head-to-head with the game on the line. Look at this. Just look at it: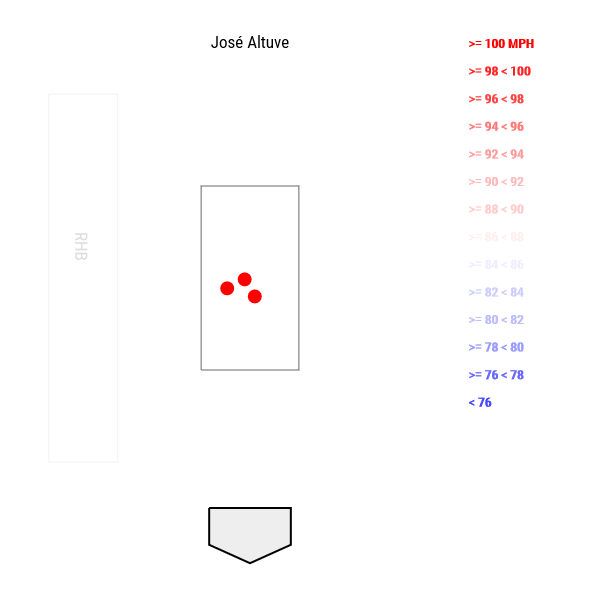 First pitch: Swing and miss. Second pitch: Called strike. Third pitch: Swing and miss. Incredible. Chapman made Altuve look like a rookie making his big league debut. Three fastballs at 101 mph right by him. What a finish to an amazing game and an amazing series. If I wasn't sure it would kill me, I'd be rooting hard for these two teams to play another seven games in October.
A Dumb Rally To Blow The Lead
The Yankees nursed a 3-0 lead for most of the game. Torreyes drove in a run with an infield single in the second and Torres got a second run home with a sac fly. The inning could've been bigger, but Andujar was thrown out at the plate on a Lance McCullers Jr. wild pitch. He absolutely should've gone home. No doubt about it in my mind. The ball took an unfortunate bounce off the backstop, McCann flipped it to McCullers, and he applied the tag at the plate. Sucks.
Walker added the third run with a third inning single. The Yankees took that lead into the seventh inning, and with Masahiro Tanaka cruising right along, it wasn't hard to feel good about where things were heading. Then things went haywire in the seventh inning. This was another eventful inning, so let's annotate the play-by-play again.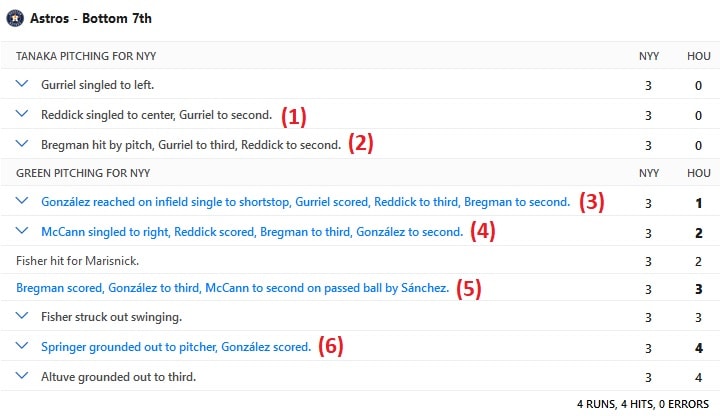 (1) What stupid hits these two were. Yuli Gurriel and Josh Reddick both reached out of the zone and dumped weak singles into the outfield to start the seventh. Look at the pitch locations: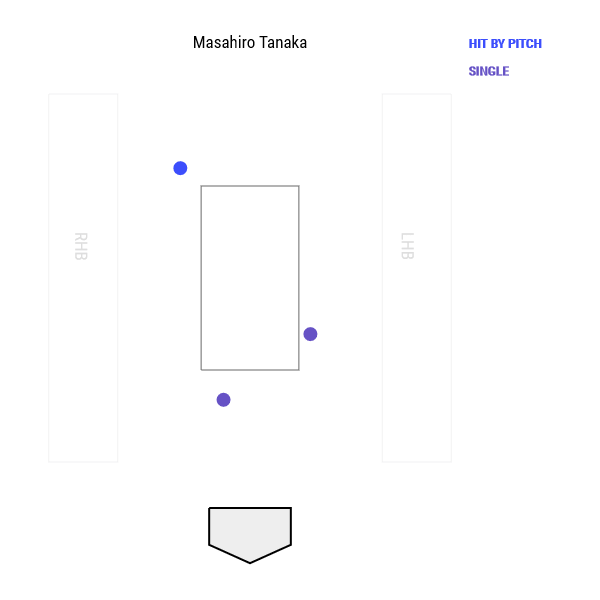 That's Gurriel (a right-handed batter) on the right and Reddick (a left-handed batter) below the zone. Two dinky hits put the wheels in motion for the Astros. Baseball can be so stupid sometimes.
(2) I dunno man, it sure didn't seem like that pitch hit Bregman. It looked like it did live, I don't blame home plate umpire Jim Reynolds for initially calling it a hit-by-pitch, but the replays sure made it look like Bregman narrowly got out of the way. The Yankees challenged, the replay crew in New York took a good long look at it — a long review is a pretty good indication they know the call is wrong but can't find definitive evidence — and determined Bregman had been hit. I do not understand. The Minute Maid Park crowd even groaned when they showed it on the scoreboard. The phantom hit-by-pitch loaded the bases with no outs.
(3) More stupid baseball. With Chad Green on the bump, Marwin Gonzalez hit a weak tapper — weak as in 49.5 mph exit velocity — to no man's land behind the pitcher's mound for a run-scoring infield single. That's how the Astros snapped the Yankees' 29-inning shutout streak. Two bloop singles, a phantom hit-by-pitch, and an infield single. Had the outcome of the game been different, this would've gone down as one of the most annoying innings of the season, for sure.
(4) Finally, a legitimate hit. I mean, if you're going to blow a three-run lead, at least make them earn it with some hard contact. Green spun a slider right in the middle of the plate and McCann hooked it to right field for a clean single and another run, getting the Astros to within 3-2. It was not the first time Green would pay the price for a crappy slider.
(5) For whatever reason this play was scored a passed ball. Sanchez wanted a fastball outside to Derek Fisher, but Green yanked the pitch way inside and it went to the backstop. Look where Sanchez set up and where Green threw the pitch: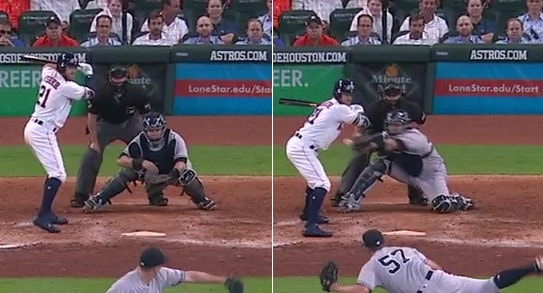 That was called a passed ball and the strike three to Gattis that went through Sanchez's legs was called a wild pitch. What even is official scoring anymore? Anyway, the wild pitch passed ball scored a run and knotted the game up at three apiece. The Astros had runners on second with no outs too, at least before Green struck out Fisher.
(6) Oh hey look, another run on a ball that doesn't leave the infield. Three of the four runs that inning scored on balls that stayed on the infield (or went to the backstop). Like I said, this would've gone down as one of the most annoying innings of the season. Springer's grounder was hard hit right back to Green, and by time he got his bearings, there was no chance for a play at the plate. The second out of the inning was made at first and the go-ahead run scored. Sigh.
I know it's easy to second guess things given the way the inning played out, but I have no problem whatsoever with Aaron Boone's bullpen decisions. Tanaka was cruising pretty much all afternoon and he went into the seventh inning at 73 pitches. There were no indications he was about to lose it, and, frankly, he didn't lose it. Two soft singles and a phantom hit-by-pitch.
As for Green, absolutely bring him in with the bases loaded and no outs. You need strikeouts in that spot and Green has been one of the top strikeout relievers in the game since being called up last year. (He had a 36.4% strikeout rate going into this game.) The big problem? Green kept getting beat with his second best pitch. Look at his slider locations: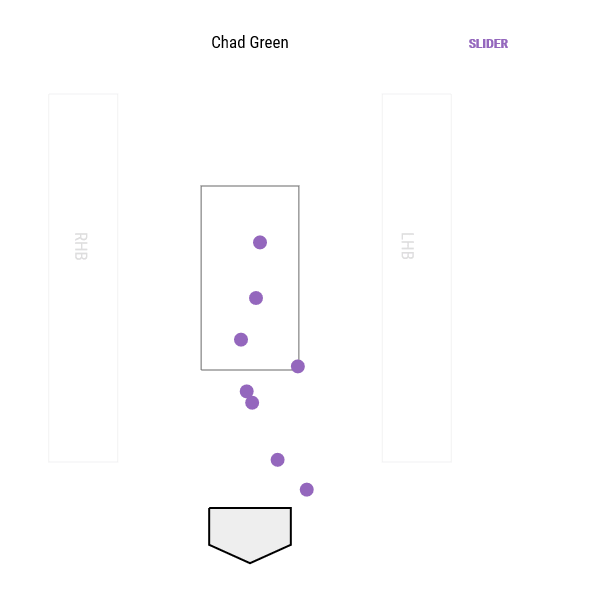 That top slider? Carlos Correa's monster insurance run solo homer in the eighth. The second slider from the top? McCann's single. The third slider from the top? Gonzalez's infield single. You could argue David Robertson should've been in with the bases loaded and no outs, but Green is pretty awesome as well, and he just didn't do the job. There were a lot of dumb hits and events that inning. They all count the same though.
As for Tanaka, gosh, he was awesome. Three runs in six innings doesn't do him justice at all. He held the Astros to three hits, all singles, in the first six innings before those back-to-back soft singles to open the seventh. Five strikeouts, eight ground outs to five fly ball outs, and a dozen swings and misses out of 83 pitches. The final line: 6 IP, 5 H, 3 R, 3 ER, 0 BB, 5 K. At one point Tanaka threw 18 consecutive strikes spanning the fourth and fifth innings. Deserved better than a no decision.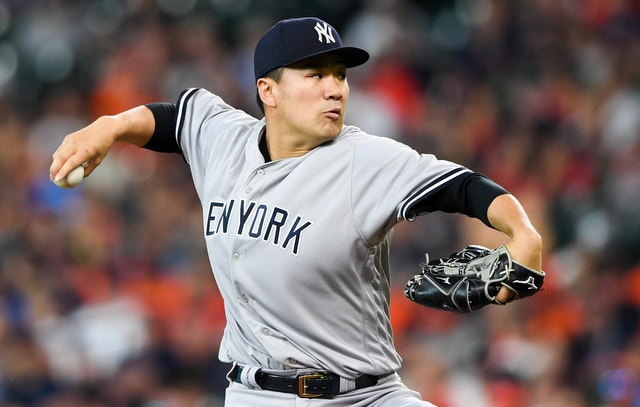 Leftovers
Two hits for Gregorius, two hits for Andujar, and one each for Walker, Torreyes, Hicks, and Torres. Feels like every hit was a big one. The Yankees went 5-for-11 (.455) with runners in scoring position, and, coming into this game, they were hitting .279/.347/.454 (109 wRC+) in those situations. Fifth highest batting average with runners in scoring position in baseball, and that doesn't include this game.
Chasen Shreve got two quick outs after replacing Green in the bottom of the eighth, after he gave up that big homer to Correa. I was surprised Green went back out for the eighth. He didn't look super sharp in the seventh and Robertson was warming up. With a two-run deficit, Shreve came in to put an end to that inning. He threw nine pitches and got a win. Go figure.
And finally, the Yankees took three of four in Houston and won six of seven games on the road trip overall. They've won 12 of their last 13 games and outscored their opponents 79-25 in the 13 games. The Yankees are going to cool down at some point because that's baseball. Right now, they're winning games in every possible way. Pitchers duels, blowouts, back-and-forth games, whatever. The Fighting Spirit is strong with this group. A lesser team folds like a lawn chair after that seventh inning.
Box Score, WPA Graph & Standings
ESPN has the box score, MLB has the video highlights, and ESPN has the updated highlights. Here's our Bullpen Workload page and here's the win probability graph:

Source: FanGraphs
Up Next
The road trip is over and the Yankees are heading home for a nine-game, ten-day homestand. First up: The Indians for an ALDS rematch. CC Sabathia and Josh Tomlin are the scheduled starting pitchers for Friday night's opener. Tomlin has allowed ten homers in 18.2 innings this season. For real.