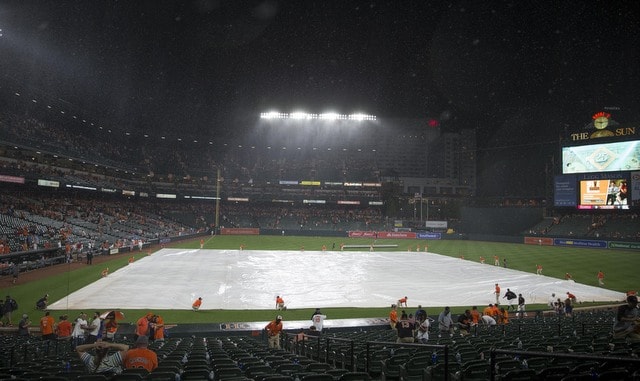 Once again, the Yankees have been rained out. Today's series opener with the Orioles at Camden Yards has been postponed due to rain, it has been announced. The game will be made up as part of a single admission doubleheader on Monday, July 9th.
This is the fourth rainout for the Yankees this season, not including the suspended game with the Nationals. They were rained out twice in Detroit, once in Washington, and now once in Baltimore. The Yankees now have multiple games on three of the next six Mondays.
Monday, June 4th: Doubleheader in Detroit.
Monday, June 18th: Completion of the suspended game plus a makeup game in Washington.
Monday, July 9th: Doubleheader in Baltimore.
Pretty terrible! The Yankees and Orioles will open what was originally a three-game series on July 9th. Now they'll play four games in three days. At least they're not losing an off-day this time. The Yankees will be Toronto prior to the makeup doubleheader in Baltimore. Travel's not too bad.
The weather forecast for the rest of the weekend in Baltimore isn't looking so great, so we're just going to have to hope for the best the next few days. Getting real sick of these rainouts, you guys. The Yankees will now play three games against the Orioles this weekend, the doubleheader in Detroit, then two games against the Blue Jays before Thursday's off-day.
At the moment it's unclear what the Yankees will do with their pitching staff the next few days. Chances are they'll just push everyone back and use the postponement to give the starters extra rest. They're still playing six straight days beginning tomorrow, so they're going to need to use a spot starter at some point, either during the doubleheader or otherwise. The Yankees won't be able to skip Domingo German like they did following the Washington rainout.
Update: The Yankees will stay on turn with their rotation this weekend, so it'll be Sonny Gray on Friday, Masahiro Tanaka on Saturday, and German on Sunday. They have not announced their plans for Monday. They could go with CC Sabathia and Luis Severino in the doubleheader Monday with a spot starter Tuesday, or Sabathia or Severino and a spot starter in the doubleheader, with Sabathia or Severino on Tuesday. We'll see.