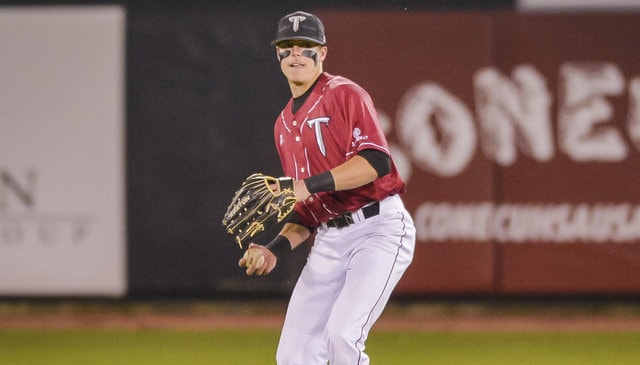 The first ten rounds and 314 picks of the 2018 amateur draft are now in the books. The top ten rounds are the rounds tied to the bonus pool, and because of that, teams typically spend Day Two getting their bonus pool situated. They cut underslot deals with certain picks to ensure they have money for the players they really want. The Yankees are no different. Let's recap their Day Two activity.
The Power Bat
Once you get beyond the first round or two, you stop looking for complete players and start focusing on individual tools. The well-rounded guys are off the board already. In Tennessee HS OF Ryder Green (3rd round), the Yankees landed a prep bat with big time raw power, among the most in the draft class. He's a right-handed hitter with good bat speed who will put on a damn show in batting practice.
The question, as is often the case with these non-first round big power guys, is whether Green can make enough contact. He had swing-and-miss issues in high school, and while he showed better pitch recognition and bat-to-ball ability this spring, there is still a lot of work to be done. Pro pitchers will work over a guy with contact issues. Even in the lower levels.
The good news is Green is not a one-trick pony. He's a good runner and a good athlete with a very strong arm — he pitched a 93 mph in high school — who has played the infield at various points, but was announced as an outfielder at the draft. Down the line, Green projects as a profile right fielder with power and the arm necessary to prevent runners from taking the extra base.
It's worth noting Green is committed to Vanderbilt, which is usually a tough commitment to break. The fact the Yankees drafted him anyway tells me they already have a bonus agreement in place. They wouldn't risk losing their third round bonus pool money ($576,400). That's not how Day Two works. The two sides talk ahead of time — technically illegal, but everyone does it — and figure out a deal. Green will sign and the Yankees will try to get him to make more consistent contact so he can show off that power in games.
The Speed Demon
In Green, the Yankees selected a loud tool in his power bat. In Troy OF Brandon Lockridge (5th round), they selected another loud tool, this time speed. Lockridge is a true burner with 80 (or close to it) speed on the 20-80 scouting scale, and he's been a great performer for a very good Troy team the last two years. This spring the 21-year-old hit .303/.427/.455 with only two homers in 60 games, though he also had seven triples, 25 steals in 27 attempts, nearly as many walks (36) as strikeouts (41), and a ton of hit by pitches (17!). Lockridge knows his game. Get on base and run like hell.
Interestingly enough, Lockridge started his career as a middle infielder and he has the skills to handle second base, but Troy moved him to center field this year to better take advantage of his speed. The Yankees announced him as an outfielder, so it seems the center field experiment will continue. Lockridge is still new to the position and his inexperience shows at times, but he has the skills necessary to play the outfield long-term. His speed allows him to go a long way to get the ball. The upside here is a pesky leadoff hitter who saves runs in center field. Lockridge is a junior and figures to sign for slot ($320,700) or close to it.
The Personal Favorite
Hands down, my favorite Day Two pick is North Carolina RHP Rodney Hutchison (6th round). He's a big dude (6-foot-6 and 225 lbs.) who pitched in a variety of roles on a perpetually deep Tar Heels pitching staff. Starter, long reliever, short reliever, you name it. This spring Hutchison threw 56 innings in ten starts and eight relief appearances, posting a 4.79 ERA and a 52/16 K/BB. He had a 4.64 ERA in 131 1/3 career innings. Not good!
So why is Hutchison my favorite Day Two pick? Two reasons. One, his stuff ticked up late in the spring. Michael Lananna had him at 94-96 mph with a "very sharp 86 mph slider" and a changeup that "could get big league hitters out right now" two weeks ago, saying it was the best he'd ever seen him throw. Well then. Secondly, Hutchison varies his delivery to mess with hitters. Check this out:
Rodney Hutchison Jr. (UNC), 3 Pitch Filthy K Sequence/Messing with Timing. Excellent use of varying tempos + nasty movement. @rodhutch9 pic.twitter.com/VnrHbfpvfu

— Rob Friedman (@PitchingNinja) May 31, 2017
Three different deliveries in a three-pitch strikeout. Fun! Hutchison is a fun pitcher and I am pro fun. If the uptick in stuff is real and something he can sustain going forward, this dude could really be something. Hutchison is a junior, but given his performance, there's a chance he'll sign for something below his $247,600 slot value.
The Bullpen Sleeper
The middle rounds are for draft pool manipulation and the Yankees, like every team, grab a few college seniors in rounds 6-10. They have no leverage and sign for peanuts, saving lots of bonus pool space. In recent years, however, the Yankees have done a nice job turning some of those picks into prospects and big leaguers. Tyler Webb was a senior sign, for example. Others like Nick Rumbelow and Nick Goody were mid-rounders.
This year's senior sleeper is Grand Canyon RHP Mick Vorhof (9th round). In addition to having a great baseball name, he had ridiculous numbers this season, pitching to a 2.35 ERA with a 48/3 K/BB — 48/3 K/BB! — in 38 innings. Vorhof is a reliever all the way, and he sits low-90s with his fastball and backs it up with a solid (but unspectacular) breaking ball and changeup. To me, he's a classic "the Yankees are going to get this guy to throw harder" prospect. The control is there and the secondary pitches are good enough. Wait until he adds some fastball.
The Depth Arms
The middle rounds are a good place to add inventory and, to be fair, North Florida RHP Frank German (4th round) is more than organizational depth. He's very athletic with an easy low-to-mid-90s heater and a quality changeup. German is still working to refine his breaking ball, which sometimes drops like a curveball and sometimes sweeps like a slider. Three-ish pitches, strike-throwing ability, and a good delivery. A good starter kit for a fourth round pick, that is.
Gonzaga RHP Daniel Bies (7th round) and Bucknell RHP Connor Van Hoose (8th round) are senior signs who are interesting for different reasons. Bies is the better prospect of the two. He had Tommy John surgery in high school and has been better and better the further he's gotten away from surgery. He's Dellin Betances sized at 6-foot-8 and 230 lbs., and he brings low-to-mid-90s gas and an occasionally above-average slider to the mound. Bies had very good numbers this spring (2.49 ERA and 124/25 K/BB in 112 innings) and that always helps.
Van Hoose pitched to a 2.36 ERA with a 103/31 K/BB in 76.1 innings this spring, and
he has a wonderfully simple and repeatable delivery
that helps him throw strikes with three pitches (fastball, curveball, changeup). There's not much to the fastball — he's mostly 88-92 mph these days — which limits his ceiling. Perhaps the Yankees can get him to add some velocity. That'd be cool. If not, then I could see him as a solid organizational arm who spends several years in the system.
The Yankees used their final Day Two pick on UNC Charlotte LHP Josh Maciejewski (10th round) who, if nothing else, is an interesting statistical case. His year-by-year numbers:
| | IP | ERA | K/9 | BB/9 |
| --- | --- | --- | --- | --- |
| 2015 | 64 | 5.06 | 5.1 | 2.8 |
| 2016 | 85 | 5.51 | 6.9 | 3.5 |
| 2017 | 77 | 5.35 | 6.9 | 3.6 |
| 2018 | 104 | 2.25 | 9.0 | 2.1 |
Hmmm. Something is going on here. Something I am unable to find at the moment. Maciejewski changed something last year. Did his stuff improve? Did he change his pitch selection and sequencing? His position on the rubber? Something's different. Whatever it was, it was enough for the Yankees to grab Maciejewski in the tenth round and roll the dice. He, Bies, Van Hoose, and Vorhof are all college seniors who will sign well-below-slot. They're not non-prospects though. All four of them have something to offer.
* * *
Day Two is, typically, the least exciting day of the draft. Teams usually grab college seniors or cheap sign guys to get their draft pool situation where they want it. The Yankees actually had a pretty interesting Day Two though. I'm looking forward to seeing whether Hutchison maintains his suddenly improved stuff, whether Green can control the strike zone, and whether guys like German and Bies can fully harness their stuff and raise their profile like so many recent Yankees' mid-round picks.