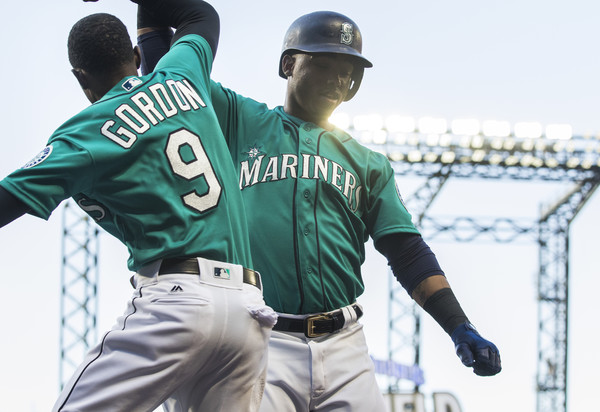 Worry not, dear reader, for the dreaded trip to Seattle (and Oakland) isn't until September. That doesn't necessarily make this match-up any better, though.
The Last Time They Met
The Yankees hosted the Mariners for a three-game Players Weekend set last August, picking up two wins and outscoring the visiting club by 11 runs. Some other notes from the series:
The first game of the series was one of the most frustrating in recent memory. The Yankees left thirteen runners on-base in total, and left the bases loaded three times. Aroldis Chapman, who lost his job as closer a week earlier, surrendered a go-ahead (and game-winning) pinch-hit home run in the 11th. Ugh.
Greg Bird returned to the lineup after missing nearly four months of action in the second game, and he looked pretty good. He went 1-for-2 with two walks and a run scored, and played all nine innings at first.
That second game also included somebody named 'Jacoby Ellsbury' going 2-for-4 with a home run and four RBI. That guy went 4-for-10 in the series as a whole, with a double, that home run, a walk, and 6 RBI.
Seattle made five errors in one inning in the third game, which made things pretty easy for the Yankees offense. Masahiro Tanaka twirled a gem, as well, tossing 7 innings of 1 run ball, and striking out 10.
Check out Katie's Yankeemetrics post for more fun facts.
Injury Report
The Mariners have half of a bullpen on the DL, with Dan Altavilla, David Phelps, Erasmo Ramirez, and Nick Vincent out with a variety of ailments. Phelps had Tommy John Surgery in March, so he won't be back any time soon, and Altavilla has a nebulously named "mass sprain" in his elbow, so his return is up in the air, as well. The other two could be back this month, but probably not in time for this series.
Their Story So Far
Seattle is 46-26 with a +22 run differential, good for second-place in both the AL West and the AL Wild Card race. They've overachieved quite a bit relative to their Pythagorean expectations, which place them as a 38-34 team. That's not shocking, considering that they have the 4th best winning percentage in baseball, and the 12th best run differential.
The Mariners are basically a middle of the pack team, sitting 12th in runs allowed, 13th in runs scored, and 22nd in defensive runs saved. Their biggest strength as of now is the bullpen, which is among the five-best in the game by pretty much every measure. That isn't to say that their offense or starting pitching is bad; rather, that it's good enough to be put over the top by a light's out bullpen. And that's been the key to their success so far.
All that being said, their biggest story so far may well be Robinson Cano's 80-game suspension for violating the league's joint drug agreement. He's not eligible to return until August 14 and, when he does, he might not get his full-time job back.
The Lineup We Might See
Third-year manager Scott Servais has had a fairly steady hand with his lineup card, as the only real shake-up was the result of Cano's suspension. We'll probably see something like this:
Dee Gordon, 2B – .290/.311/.361, 1 HR, 19 SB
Jean Segura, SS – .340/.363/.490, 6 HR, 14 SB
Mitch Haniger, RF – .269/.357/.512, 16 HR, 3 SB
Nelson Cruz, DH – .249/.339/.521, 17 HR, 1 SB
Kyle Seager, 3B – .224/.272/.413, 12 HR, 1 SB
Ryon Healy, 1B – .257/.288/.485, 13 HR, 0 SB
Ben Gamel, LF – .297/.371/.406, 1 HR, 5 SB
Mike Zunino, C – .207/.266/.445, 11 HR, 0 SB
Guillermo Heredia, CF – .241/.343/.348, 2 HR, 1 SB
Denard Span (.259/.368/.415, 6 HR, 6 SB) could see some time in left, as well.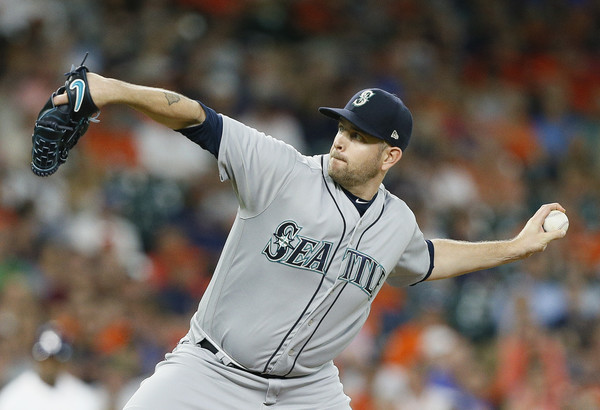 The Starting Pitchers We Will See
Tuesday (7:05 PM EST): RHP Domingo German vs. LHP Marco Gonzales
Despite being a top-50 prospect a few years ago, Gonzales never received much of an opportunity with his original organization, the Cardinals. He was shipped to Seattle for prospect Tyler O'Neill last July, and the Mariners stuck him in the rotation. Things were a bit rocky last season, but Gonzales has been very good in 2018, pitching to a 3.42 ERA (117 ERA+) and 3.20 FIP in 79.0 IP. His 21.1% strikeout rate is right around league-average, and his 46.8% groundball rate and 5.8% walk rate are comfortably better than average.
Gonzales is a true five-pitch guy, working with a low-90s four-seamer, low-90s sinker, high-80s cutter, mid-80s change, and high-70s curve. Much of his success this year has been attributed to that cutter, which he only starting throwing this past off-season.
Last outing (vs. LAA on 6/13) – 5.0 IP, 7 H, 3 R, 2 BB, 7 K
Wednesday (7:05 PM EST): RHP Jonathan Loaisiga vs. RHP Felix Hernandez
The once-dominant King Felix is a shell of his former self at 32, sporting a 98 ERA+ since Opening Day 2015. This has been his worst season to-date, though, as he has a 5.44 ERA (73 ERA+) and 4.67 FIP in 84.1 IP, having allowed four or more runs in 7 of his 15 starts. He does have a 4.00 ERA in June, though, with two strong outings sandwiched around a 3-inning, 6-run effort on June 9, so the flashes are still there … to some degree.
Hernandez's once elite velocity is gone nowadays, as his four-seamer averages 90.3 MPH this year, a full MPH lower than 2017. He still throws the same arsenal, albeit with a reduced velocity – that four-seamer, a high-80s sinker, a mid-80s change-up, a low-80s slider, and a high-70s curve.
Last outing (vs. BOS on 6/14) – 7.0 IP, 8 H, 2 R, 1 BB, 6 K
Thursday (1:05 PM EST): RHP Luis Severino vs. LHP James Paxton
Paxton struck out 16 A's on May 2 and followed that up by no-hitting the Blue Jays his next time out, in the midst of an utterly dominant stretch that saw him pitch to a 1.75 ERA in 56.2 IP. He's been mortal around those eight games, though, and that's largely been the story of his career. And he's never faced the Yankees.
Paxton is primarily a three-pitch guy, focusing on his mid-90s four-seamer, high-80s cutter, and big-breaking, low-80s curve. He'll also throw a mid-90s sinker and a mid-80s change-up, but those are oftentimes little more than show-me pitches.
Last outing (vs. BOS on 6/15) – 2.1 IP, 6 H, 6 R, 1 BB 4 K
The Bullpen
Edwin Diaz is the closer, and his numbers are kind of absurd. He has more than three times as many strikeouts (62) as hits allowed (20), and he's striking out 42.5% of all batters. He already has 27 saves, which is five more than the second-place Craig Kimbrel, and his 2.56 WPA is ninth among all pitchers.
James Pazos (1.48 ERA in 24.1 IP) and Chasen Bradford (3.21 ERA in 28.0 IP) have done the heavy lifting behind Diaz, and they've been very good so far. The rest of the bullpen has been something of a revolving door due to the aforementioned injuries, but the newly acquired Alex Colome (3.68 ERA in 7.1 IP for the Mariners) has high-leverage experience.
Yankees Connection
A few have been mentioned so far – Cano, Ben Gamel (parts of seven years), and James Pazos (six years) were all brought-up through the Yankees organization. You'll also remember Nick Rumbelow, who rode the shuttle for the Yankees in 2015 and was dealt to Seattle last November; you may not remember Wade LeBlanc, who pitched one awful inning for the good guys back in 2014 and was a non-roster invite to Spring Training this year. He has a 2.63 ERA (152 ERA+) in fourteen games this year, because of course he does.
Who (Or What) To Watch
Paxton's curve is a sight to behold, and Diaz is just filthy all-around; hopefully the Yankees won't have to see him at all this week. And Gordon and Segura have a vibe that's not all that different from Starlin Castro and Didi Gregorius, if you're into that sort of thing.