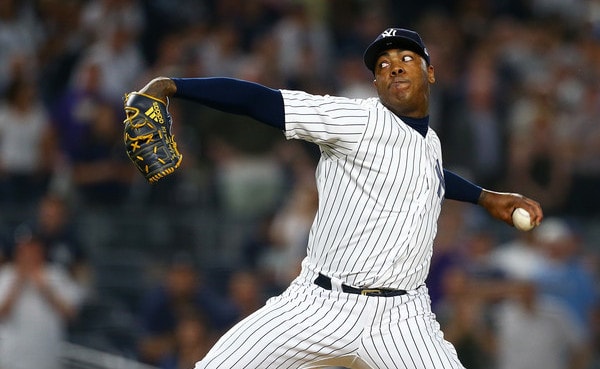 Aroldis Chapman's first full season with the Yankees was pretty uneven. In the first season of his five-year, $86M contract — the largest reliever contract in history, that is — he spent about a month on the disabled list and lost the closer's job in August. Chapman rebounded with a dominant September and an excellent postseason, so things worked out there.
This season Chapman has been worth every single penny. He's posted a 1.21 ERA (1.20 FIP) with 44.8% strikeouts and 11.2% walks in 29.2 innings, which are numbers on par with (or even better than) his Reds days. With Cincinnati from 2012-15, Chapman managed a 1.90 ERA (1.74 FIP) with 45.0% strikeouts and 10.7% walks, so yeah, he's been as good as ever so far this season. A very welcome sight after last year's issues.
There is, however, one weird little anomaly in Chapman's season to date: Left-handed batters have a .476 OBP against him. Huh. Chapman has held lefties to a .130/.252/.179 (.212 wOBA) batting line with a 46.2% strikeout rate throughout his career. Yet this season they're getting on base nearly half the time. It's weird. You could argue Mets manager Mickey Callaway did Chapman a favor by pinch-hitting righties for two lefties Saturday.
Two things about Chapman's reverse platoon split. One, it's a tiny sample. He's faced 21 left-handed batters this year! That's nothing. Teams usually send a bunch of righties to the plate against him (Example: Callaway on Saturday) because, historically, the numbers say that's the right move. And two, lefties are getting on base without swinging the bat. Chapman has faced 21 left-handed batters, walked five, and hit three. Only four have struck out.
That last part is what caught my attention. It's one thing to give up some bloops or seeing eye grounders in a small sample, but that's not happening here. Chapman has allowed two singles to lefties. Putting eight of 21 batters on base without making them swing though? Hmmm. Watching him pitch this year, it's seemed to me Chapman has had a lot of fastballs sail up and away to righties/in on lefties. His fastball locations: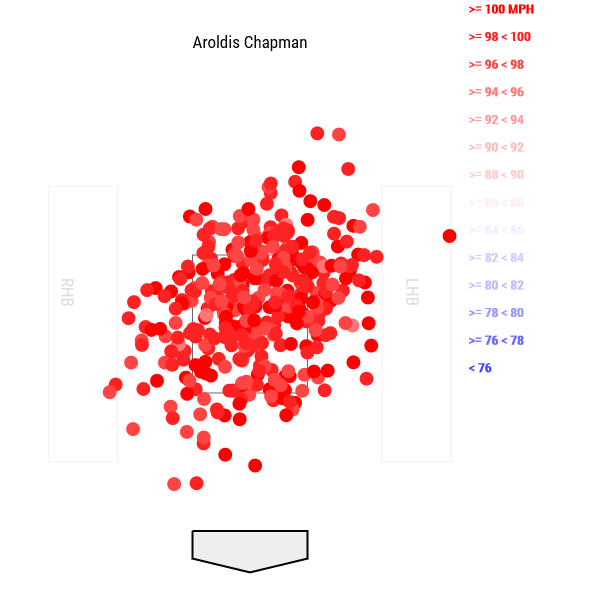 All three lefty hit-by-pitches were fastballs to the shoulder area, so fastballs that sailed up and in. None of them were intentional — he's a closer trying to nail down a save, he's not retaliating for anything and putting free runners on base — but it's all part of a pattern. Chapman has had a lot of pitches sail up, and lefties are getting on base because of it. Remember that ridiculous wild pitch play against the Astros? Another fastball that sailed up.
On one hand, we're talking about 21 left-handed batters faced this season. That's nothing. On the other hand, this weird small sample reverse platoon thing has me wondering about all those fastballs that are flying up and getting away from him. Chapman's never had good control (career 11.3% walks), but are these high fastballs are symptom of something else? Two things jump to mind.
1. Is it the knee? This past weekend Chapman admitted he's been pitching through left knee tendinitis for two or three weeks now. He's been getting treatment and has been able to pitch in the meantime. "I've been working very hard with the trainers. I've been doing a lot of exercises and work on it to get better. That's the plan right now," said Chapman to Randy Miller over the weekend.
Chapman's left knee is his push-off knee, and it is entirely possible that he's changed his mechanics to compensate for the achy knee — this could happen subconsciously! — and that has led to all the fastballs sailing way up and out of the zone, which in turn has led to the walks and lefty hit-by-pitches. That would be bad. Changing mechanics to compensate for the knee is bad news. That could lead to other problems. I hope this isn't happening.
"Every now and then when he is running around, backing up, we get a lump in our throat, but it hasn't been something that has affected him at all throwing and it hasn't been something he has said is an issue for him other than staying on top of it and getting the proper treatment," said Aaron Boone to George King. "I feel he is good to go moving forward. Any time any of our players have an issue, it's a concern, but I don't think it's anything that's affecting his pitching right now."
2. Is he overthrowing to compensate for velocity loss? Chapman is 30 years old now and he's been pitching a long time. Velocity loss through age and general wear-and-tear is totally normal. Chapman's velocity is still excellent! It is down a tad from previous years, however. The average velocity numbers:
2016: 101.1 mph
2017: 100.2 mph
2018: 99.6 mph
Velocity is Chapman's thing. It's the biggest reason he's so great and it's his calling card. When you think about Aroldis Chapman, you think about velocity. It's on his mind too. He's not oblivious to it. The dude has a tattoo of his fastest pitch on his arm (photo).
Now that velocity isn't what it once was, so maybe Chapman is muscling up and throwing with more effort to generate those 102s and 103s rather than letting it fly naturally. Fastballs way up are a classic sign of overthrowing and we've seen more of them this year. It could be possible Chapman is overthrowing to make up for the velocity he's lost due to normal baseball aging.
* * *
The reverse platoon split thing is weird and it's probably small sample size noise. I just worry about the knee because I don't like players playing hurt. I'd rather the Yankees give Chapman a little 10-day DL break now to knock this out rather than risk having it blow up into something more serious down the line. If he's overthrowing to make up for lost velocity, well, there's nothing anyone can do about that. Hopefully it doesn't lead to injury if that is indeed the case.
Despite the high fastballs and the slightly reduced velocity and the knee issues, Chapman has been off-the-charts good this season, and he's played a huge role in helping the Yankees right the ship after that 9-9 start. He's pitched a lot — Chapman's pitched six times in the last eleven days now — and he's been very effective. The reverse split will probably sort itself out soon enough. Hopefully there isn't a worrisome underlying cause.