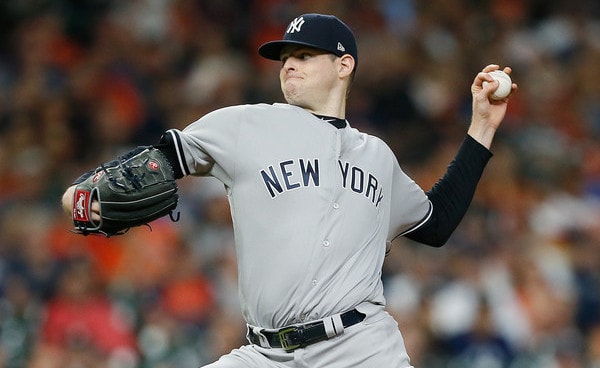 Jordan Montgomery is done for the season. The Yankees announced this afternoon that Montgomery will undergo Tommy John surgery in New York this Thursday. He'd been sidelined with a flexor strain since early last month and he started playing catch on flat ground fairly recently. Within the last two weeks or so. Given that, the torn ligament is fairly new. Sucks.
In a sense, this changes nothing for the Yankees. Montgomery has been out a month already and wasn't particularly close to returning, so it's not like they're losing someone from the rotation. The Yankees were always expected to pursue rotation help at the deadline and the same is true now. If nothing else, we no longer have to worry about the Yankees deluded themselves into thinking they don't need rotation help because Montgomery is coming back.
Domingo German has filled in as the fifth starter since Montgomery got hurt and has been okay at best. He's had some ugly starts and also some starts in which he deserved better (like yesterday), but was betrayed by his defense. Guys like Chance Adams and Justus Sheffield are in Triple-A and could get a shot at some point, though Adams hasn't pitched well this year and Sheffield was just moved up. Could Jonathan Loaisiga be an option?
It isn't all that uncommon for a flexor strain to turn into Tommy John surgery. The Yankees have been through this with James Kaprielian and Joba Chamberlain in recent years, and others like Stephen Strasburg, Matt Harvey, and Homer Bailey went from flexor strains to Tommy John surgery. It happens. The Yankees have now lost a starter to elbow reconstruction in each of the last seasons:
2018: Jordan Montgomery
2017: Michael Pineda
2016: Nathan Eovaldi
2015: Chase Whitley (he was in the rotation at the time)
2014: Ivan Nova
Not great! Teams have gotten significantly better at protecting hard-to-fix shoulders — the number of major shoulder surgeries is down considerably in recent years — but elbows are still tough to predict. The Tommy John surgery monster came for Montgomery. It sucks, but what can you do? Pitchers break. Get well soon and see you next year, Monty.