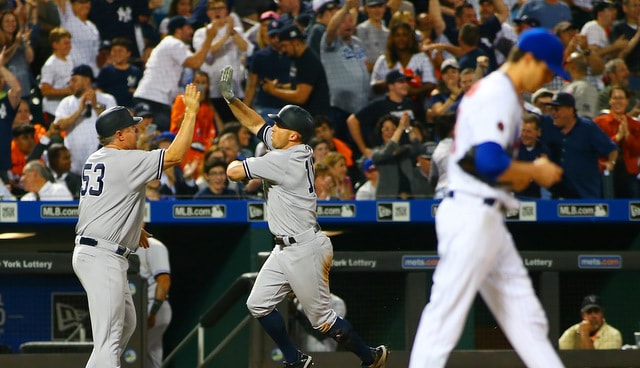 The Yankees and Mets continue their three-game series with the middle game later tonight. It's a 7pm ET contest. Until then, here are some links and notes to check out.
Mets may or may not consider fire sale
Depending who you ask, the Mets either will (Kristie Ackert) or will not (Bob Nightengale) consider trading Jacob deGrom and/or Noah Syndergaard if they don't climb back into the postseason race. "Can circumstances change that? Yes. But I think that would be very, very remote. It's not something we're even considering or talking about," said GM Sandy Alderson with regards to a potential fire sale.
The Yankees could use another starter in the wake of Jordan Montgomery's Tommy John surgery, and gosh, either deGrom or Syndergaard sure would be a wonderful fit. Both this year and going forward. The thing is, even if the Mets do become open to trading them, the Yankees-Mets hurdle has to be cleared. Trade talks about Lucas Duda and Jay Bruce were reportedly contentious last August. Imagine talks about deGrom or Syndergaard?
I think Alderson and Brian Cashman would be willing to do a deal with each other. They're two veteran executives who've won and lost their share of trades. They have the stomachs for it. Would ownership do it, specifically the Wilpons? Watching deGrom or Syndergaard potentially carry the Yankees to glory might not sit easy with them.
Seigler will catch, not pitch
Not surprisingly, scouting director Damon Oppenheimer confirmed to Brendan Kuty that the Yankees will use 2018 first round pick Anthony Seigler as a catcher in pro ball, not as a pitcher. Seigler is a switch-hitter with good all-around skills behind the plate. He's also a switch-thrower who pitched with both arms in high school. From Kuty:
"Not at this point (do we see him pitching)," Oppenheimer said. "At this point, we're seeing him as a switch-hitting catcher. The versatility he has and he's shown throughout his high school career is something that's attractive to us but the development as a catcher is the key here and that's what we're working on."
Baseball America (subs. req'd) says Seigler "throws a changeup from the left side and changes his arm slot, while he can reach 92 mph from the right side to go along with a slider." With Shohei Ohtani (and Brendan McKay in the minors) doing the two-way thing, I guess the Yankees could've considered it with Seigler, but nah. Catching is hard enough as it is. Imagine pitching as well?
As far as I know Seigler has never been considered a serious pro prospect on the mound. It's always been catcher all the way. I guess Ohtani and the switch-pitching thing generated some buzz and led to the question being asked. No surprise the Yankees are sticking with Seigler behind the plate though. That's where he's best.
Yankees have insurance on Ellsbury's contract
Jacoby Ellsbury has yet to play a game this season and, based on the way things are going, it seems unlikely he will play a game anytime soon. He's dealing with oblique, hip, and back problems in addition to plantar fasciitis. According to Wally Matthews, the Yankees do have insurance on Ellsbury's contract, and it will reimburse them 75% of his salary while he is on the disabled list. From Matthews:
A Yankees source told me the club has a similar policy (to David Wright's) on Ellsbury, which has already begun to defray the bulk of his salary for the first two months of 2018. In an ideal world, Ellsbury would sit out the remainder of the season, the Yankees would muddle through with a rotation of Gardner, Hicks and Frazier in centerfield – and be reimbursed to the tune of $15,857,142.86.
It's important to note the insurance does not change anything with regards to the luxury tax. Ellsbury still counts as $21.85M against the luxury tax. Nothing changes there. The insurance policy just means the Yankees get some cold hard cash back for Ellsbury's injuries. I'm not a conspiracy theorist. I don't think Ellsbury and the Yankees have a secret agreement to stay on the disabled list — that's insurance fraud! — but the insurance sure is convenient, isn't it?