Remember how I said yesterday's game was relatively stress-free? This one wasn't like that. It was a deadlock tie for the first 12 innings with several scoring chances that the Yankees could've taken advantage of. Thankfully, New York ended it in a loud way with home runs from Aaron Judge and Giancarlo Stanton in the 13th inning. Oh, and Sonny Gray was also really, really good and so was the bullpen. Can't forget those guys. Overall, good win, and the Yankees have 40 of those this season and it's only June 6. Let's recap this thing.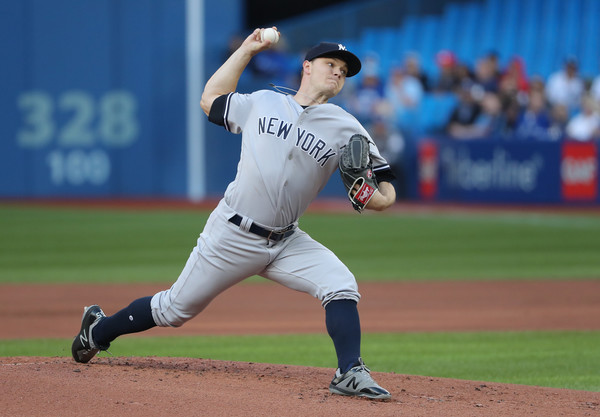 An anatomy of Gray's start
Sonny Gray is starting to turn the narrative around this season. After a rough start, he's pitched a quality start five times out of the past seven starts. Going eight scoreless, tonight's game might have been his best in 2018.
Gray started the game with four perfect innings. The perfect game bid broke in the fifth with a Justin Smoak leadoff double. That frame also happened to be the most trouble Gray got into. After the Smoak double, Kendrys Morales hit a single to put two runners in corners with no out. Kevin Pillar hit a grounder right at Miguel Andujar and the young third baseman wisely threw home for a force out. Smoak is not a fast runner and that run the Yanks prevented turned out to be huge (though you can never tell how the game would've unfolded in a different scenario). Gray followed up with a walk to Russell Martin to load the bases but induced an inning-ending GIDP from Devon Travis to end it.
A good diagnosis from tonight's outing? Gray attacked the strike zone. Here is his pitch map from Baseball Savant: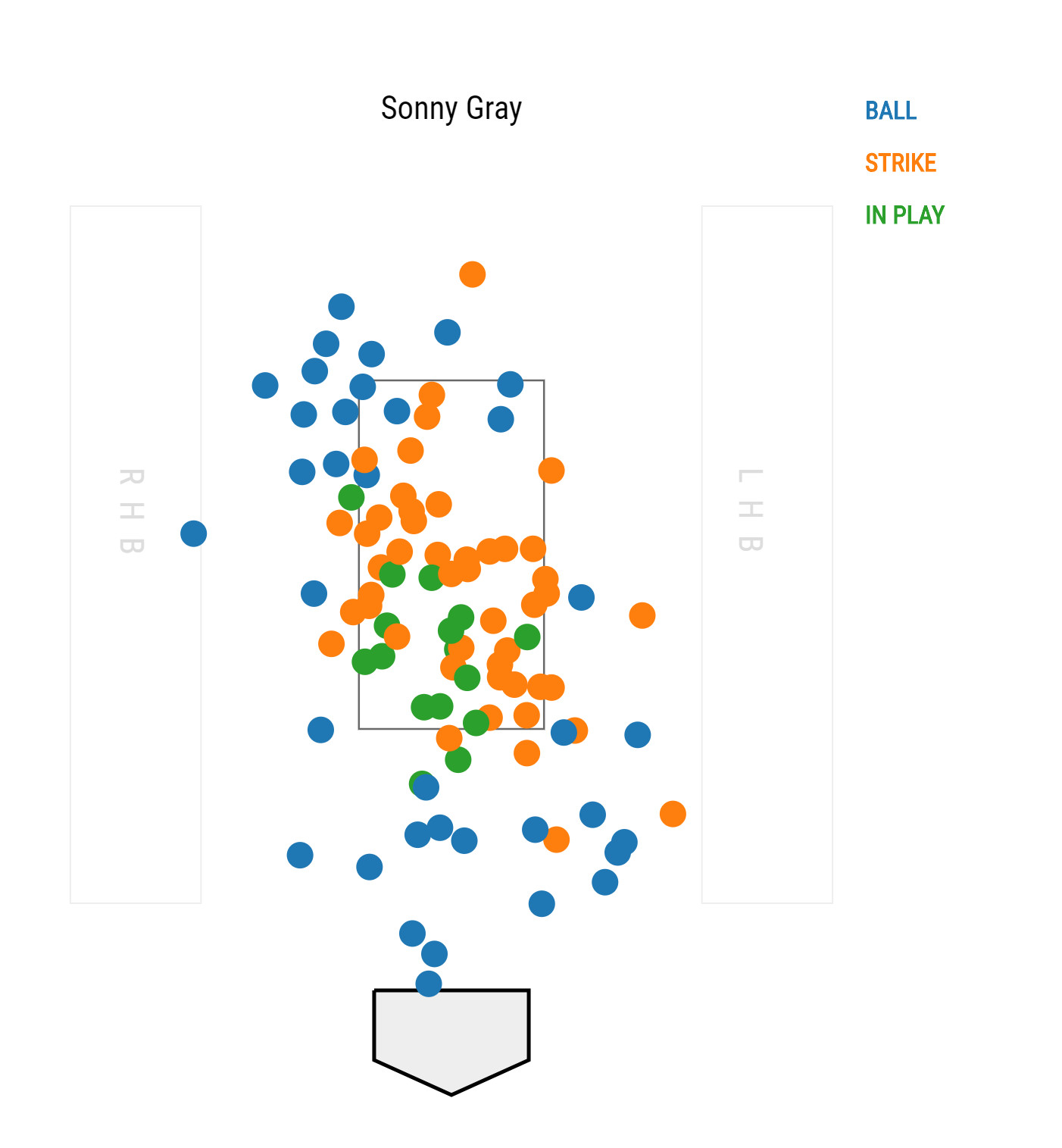 99 pitches, 63 strikes. He did a pretty good job staying within the strike zone compared to when he's having a bad day. Here's his pitch map from May 26, when he allowed 5 ER in 3.2 IP versus the Angels: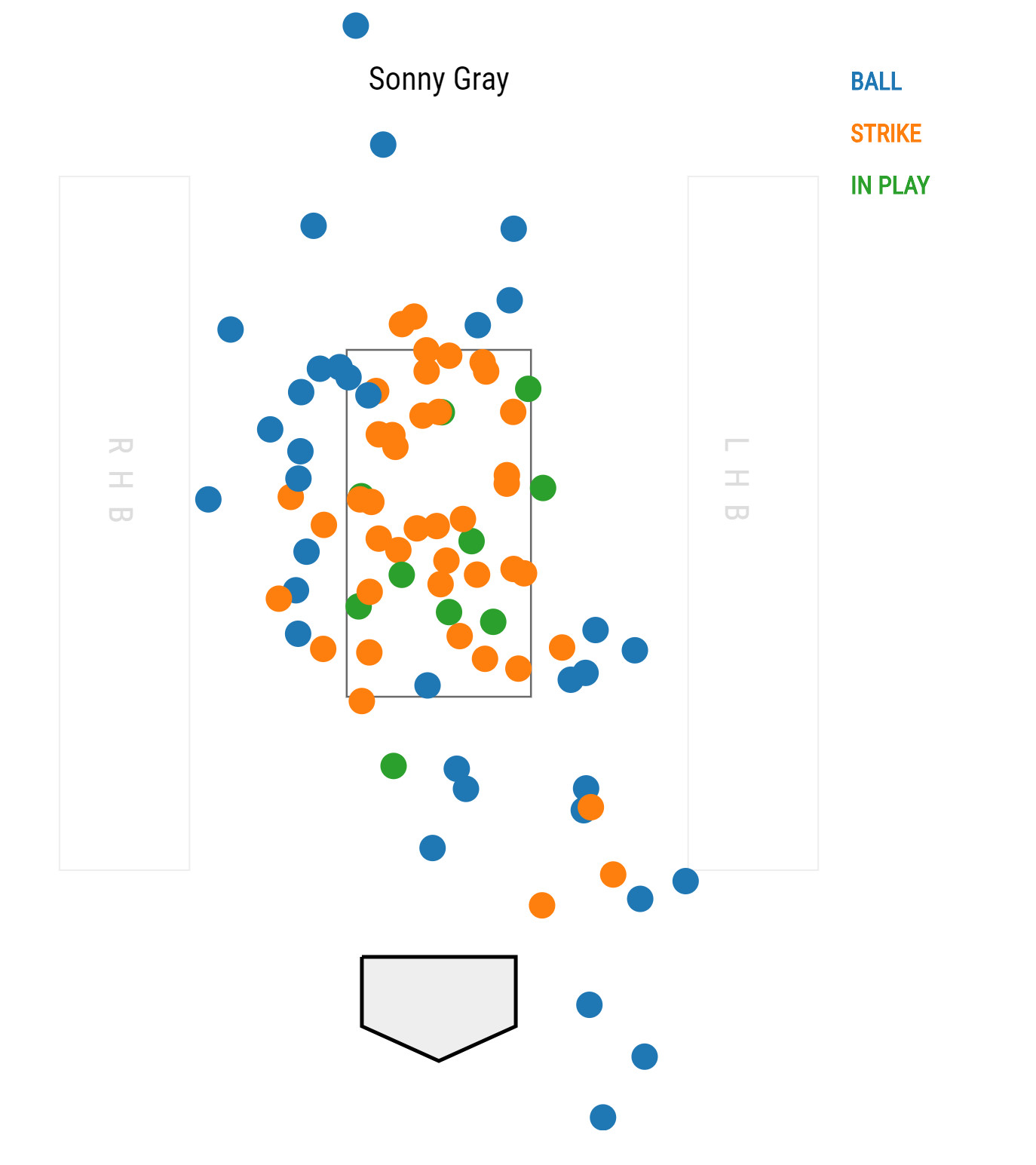 A bit more all over the place here. Gray's got an excellent stuff and it works wonders when he can locate it, and that was the case tonight. He went 8 innings, allowed 2 hits and struck out 8. He brought his season ERA under 5 (4.81) and has a 3.38 ERA in his past 7 starts, which goes back to that road game versus the Astros.
The lucky 13th
Sam Gaviglio isn't really a household name in Toronto, but he threw a heck of a start tonight. Coming into tonight's game, Gaviglio had pitched in Triple-A and made three starts with the big club. He wouldn't be a guy that the Jays would send out for a must-win game but he pitched like that guy.
Gaviglio isn't really an electric stuff guy, but his low-zone sinker approach worked well. The Yankee batters hit an average of 81.3 mph exit velocity against him (per Baseball Savant). That doesn't mean that the Yankees didn't have opportunities though. In the second inning, Austin Romine hit a smash up the middle with runner on corners only to be robbed by Travis for a base hit and a sure RBI. In the fifth, they had the bases loaded with two outs, but Greg Bird grounded to first to end the threat.
Things turned for the dramatics in the 13th. Again, it is nice to have power in the lineup. As the Yanks approached the softer part of the Jays bullpen, John Gibbons sent out Joe Biagini, who hasn't been great in 2018 (7.50 ERA in 8 games before tonight). After a Gleyber Torres strike out, Brett Gardner singled to get on base. On a 1-2 count, Judge hit a hanging curveball low in the zone for a two-run homer. Judge had been scuffling for a bit while – he had that 8 strikeout doubleheader game and was 0-for-4 before that home run – so it's nice to see him breaking out of it. Getting the team a lead is nice too.
Two batters later, Giancarlo Stanton hit one of the most ridiculous homers of the season. On a 1-0 changeup, Stanton crushed the pitch into the left field seats for a 119.3 mph (!!), 416 feet home run. 3-0 Yankees.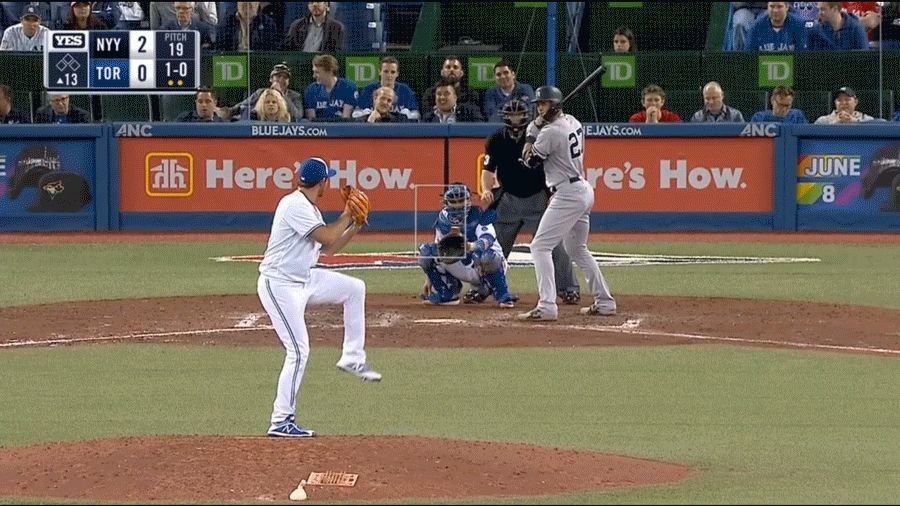 There's just something about Stanton homers. We often use terms like "punishes," "smashes," "pulverizes," etc. We're gonna need something else for him. He swings at baseballs like he's angry at them.
Leftovers
Remember that "We bring the heat" commercial from spring? That was full on effect tonight. Chad Green, Dellin Betances, David Robertson and Aroldis Chapman combined for a 5.0 IP, 2 H, 7K outing. Robertson's been slowly progressing to his usual self, allowing only one run in his past 7 appearances. His ERA has dropped from 4.91 to 4.08. Much more like it. Chapman is having a heck of a season so far. After the save tonight, he has a 1.3 fWAR, which is tied for the best in AL with Mariners' Edwin Diaz. Chappy also has a 46 strikeout sand 11 walks in 25.2 IP in 2018. That'll do.
How does a team go 12 innings without scoring? The 2-3-4-5-6 hitters of the Yankees lineup went a combined 0-for-22 prior to Judge and Stanton dingers (after that, they were 2-for-26). Greg Bird had a rough one, going 0-for-6. Austin Romine also had an 0-fer night, going 0-for-5.
Box score, highlights, standings and WPA
Here's tonight's box score, video highlights, updated standings and WPA.

Source: FanGraphs
The Yanks have a day off tomorrow and then they will head to Queens for a weekend series versus the Mets. Masahiro Tanaka is scheduled to be on the mound against Jacob deGrom in Friday's opener.