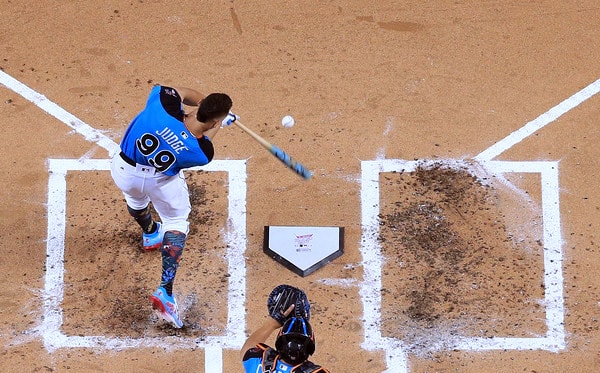 The Home Run Derby is a little less exciting this year. Last year Aaron Judge stole the show and won the whole damn thing convincingly, but unfortunately he elected not to defend his title this year. A bummer — I'm not sure there's anything in baseball I enjoy more than watching Judge hit dingers — though it's probably for the best. The extra rest can only help.
A few years ago MLB revamped the Home Run Derby format to make things more exciting and hey, it worked. Now it's a head-to-head bracket style tournament with a race against the clock. We've seen a few brackets go down to the final seconds in recent years. Here is the 2018 Home Run Derby bracket:
I'm going to put my money on — note: I am not actually putting money on the Home Run Derby — on Jesus Aguilar. Why? No reason, really. He socks dingers and I enjoy watching him play. Good story too. Aguilar spent a long time in the minors before finally getting a chance to prove himself in the big leagues, and he's made the most of his opportunity.
The 2018 Home Run Derby will begin at 8pm ET and you can watch on ESPN. Talk about the Home Run Derby or anything else here tonight.