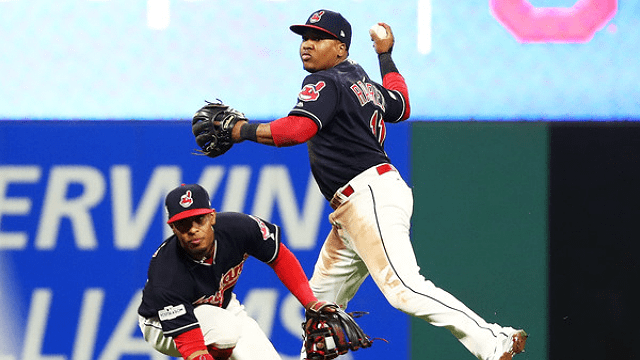 After splitting in Baltimore, the Yankees get a much tougher opponent, a challenge with which they seem to thrive. The Bombers swept the Indians in May, but it was a close series and Cleveland is no longer a complete zero at the plate, scoring 19 runs on Wednesday night.
The Last Time They Met
As I mentioned, that the May 4-6 sweep was closer than most sweeps. Two walk-off wins and a victory that came from just one big inning. Still, it was a big part of the Yankees 17 wins out of 18 stretch in April/May.
After Gleyber Torres, Aaron Judge and CC Sabathia handed the bullpen a 5-0 lead, Chasen Shreve, David Robertson and Aroldis Chapman conspired to cough up the lead. Miguel Andujar salvaged the game with a walk-off single.
Conspiracy theory time: Didi Gregorius got whacked on the head making a play in the eighth inning of Game 1. He stayed in the game, but his 0-for streak began that night. Please ignore all of my conspiracies as they are of the crackpot variety. (H/T Wendy Brandes)
In the middle game, Sonny Gray outdueled Trevor Bauer, though the Yankees benefitted from a double error by Francisco Lindor that broke open the game.
Gleyber Day! Domingo German no-hit Cleveland for six innings, the Yankees fell down by four runs and staged an epic comeback capped by Gleyber's three-run homer.
For more information, check out Katie's Yankeemetrics post on that series.
Injury Report
This team has an army of pitchers on the disabled list. Nick Goody, Ryan Merritt, Cody Anderson and Danny Salazar are on the 60-day DL while Andrew Miller, Evan Marshall and Josh Tomlin are on the 10-day. Miller should be back after the All-Star break as he recovers from knee issues but Salazar is out for the year.
On the hitting side, Lonnie Chisenhall is out until September with a calf strain.
Their Story So Far
Normally, a 50-41 team wouldn't have their division locked up. Most teams don't play in the AL Central though. The Indians are up 8.5 games on the scuffling Twins and should be facing the lesser of the AL East and AL West division winners in October. Indians-Astros is the likely outcome.
Lindor and Jose Ramirez have carried this team with borderline MVP seasons while their rotation is once again formidable led by Corey Kluber. The change this year is a shockingly poor bullpen, in part due to Miller's absence.
Lineup We Might See
1. SS Francisco Lindor (.295/.370/.571, 153 wRC+)
2. LF Michael Brantley (.307/.352/.488, 127 wRC+)
3. 3B Jose Ramirez (.293/.392/.609, 167 wRC+)
4. DH Edwin Encarnacion (.227/.309/.458, 105 wRC+)
5. 1B Yonder Alonso (.255/.324/.438, 106 wRC+)
6. 2B Jason Kipnis (.223/.314/.366, 88 wRC+)
7. C Yan Gomes (.251/.314/.447, 104 wRC+)
8. RF Tyler Naquin (.280/.316/.371, 85 wRC+)
9. CF Greg Allen (.215/.254/.300, 47 wRC+)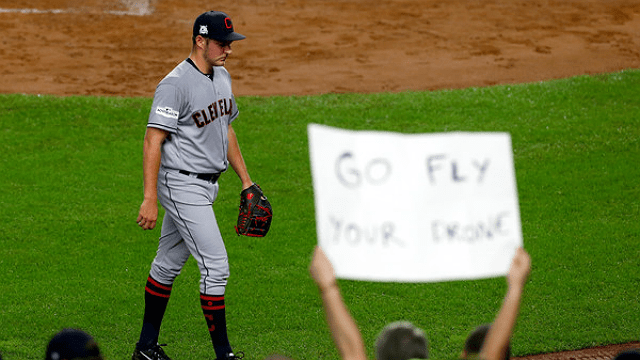 The Starting Pitchers We Will See
Thursday (7:10 PM ET): RHP Luis Severino vs. RHP Corey Kluber
Kluber is the same machine on the mound that he's always been. The two-time Cy Young winner is striking out fewer batters this year, but he's made up for it by walking just 3.1 percent of batters. Pitching to a 2.49 ERA (3.31 FIP) makes him less of a Cy Young candidate this year, yet I still don't know how you beat him. He averages 6.5 innings per start.
His one weak spot may be the home run ball. He's given up 17 this year after allowing just 21 last season. That's how the Yankees beat him last time… IS THAT DIDI GREGORIUS' MUSIC?
Last Outing (vs. OAK on July 7) – 7.0 IP, 5 H, 0 R, 2 BB, 3 K
Friday (7:10 PM ET): RHP Domingo German vs. RHP Shane Bieber
While not nearly the dominant force that Kluber is, Bieber has made his mark in a similar way by controlling the strike zone. In the first 36 1/3 innings of his MLB career, he's struck out 23.1 percent of batters while walking just 3.9 percent. The 23-year-old rookie has done this at every level: walking very few batters, striking out a decent clip and keeping the ball in the ballpark. Not a bad combination.
Definitely-not-Justin Bieber sits in the low 90s with his fastball and throws it nearly 60 percent of the time. He throws his low-80s slider and high-70s/low-80s curveball a combined 37 percent of the time, leaving room for the occasional changeup. The slider and curveball have been his most effective pitches thus far.
Last Outing (vs. OAK on July 8) – 6.0 IP, 8 H, 4 R, 1 BB, 7 K, 1 HR
Saturday (7:15 PM ET): LHP CC Sabathia vs. RHP Mike Clevinger
No longer the forgotten guy in the Indians' rotation, Clevinger has made a name for himself this season and shed the swingman role of past seasons. The 27-year-old righty is 7-4 with a 3.34 ERA (3.19 FIP) over 116 innings, striking out 110 batters and walking 39. Clevinger's been quite stingy with the home run ball, giving up just 0.62 per nine innings.
The Yankees saw him in May and Clevinger one-hit them for 7 1/3 innings before the bullpen blew his lead. It was one of four starts this season for the righty where he struck out 10 or more batters, something he hadn't done before 2018.
Last Outing (vs. CIN on July 9) – 6.0 IP, 7 H, 5 R, 3 BB, 11 K, 1 HR
Sunday (1:10 PM ET): RHP Masahiro Tanaka vs. RHP Trevor Bauer
The most scientific pitcher in baseball has been pretty dominant this season and has the numbers to show for it. He carries a 2.30 ERA (MLB-best 2.15 FIP) into Sunday's action, striking out 11.7 batters and allowing 2.9 walks per nine innings. He also leads baseball in home runs allowed per nine, surrendering just five in 129 1/3 innings. He hasn't given up a homer since June 2.
Bauer has struck out 11 or more batters in six of his last nine starts. The other three starts? Eight strikeouts. He also consistently pitches deep into games. He's pitched into the seventh inning in each of his last seven starts and has completed six innings in all but three starts this year.
Last Outing (vs. CIN on July 10) – 8.0 IP, 3 H, 0 R, 1 BB, 12 K
The Bullpen
After having the best bullpen ERA last season, the Indians now have the worst in baseball this year at an unseemly 5.37 mark. They've produced -0.8 WAR and have surrendered 1.66 home runs per nine.
Closer Cody Allen has a 4.66 ERA this season and Miller has been on the DL. They also lost Bryan Shaw and no one has filled the gap. RHP Dan Otero hasn't been quite the same and has been lit up by left-handed batters. Righty Neil Ramirez has emerged in a middle relief role while Zach McAllister works mostly in low leverage situations.
Cleveland has a pair of lefties in the pen and both have Yankee connections: Oliver Perez and Tyler Olson. RHP Adam Plutko made a series of starts for the team and is now in long relief, absorbing four innings on Wednesday.
Yankees Connection
Goody and Miller, who are on the DL, each pitched for the Yankees in 2015-16 (Miller must more memorably) while Olson pitched all of one game in pinstripes. McAllister was a strong performer in the Yankees' farm system for a while before he was dealt for Austin Kearns in 2010. Lol. Perez spent two months in the Scranton this year and his Baseball Reference photo is him in a Yankees hat.
Who (Or What) to Watch?
Kluber vs. Severino! We got this matchup last August and it was pretty darn good for 5-6 innings.
Ramirez and Lindor are just unreal. They've combined for more than 50 home runs and are sure to pop a few this series. If it weren't for Mike Trout, these guys would be battling assorted Red Socks for the MVP.