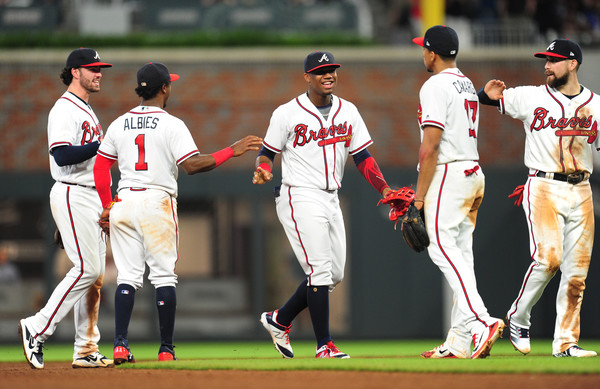 This is the last home series of the first half for the Yankees and, surprisingly, a battle of first place teams. By winning percentage, these are the best and fifth-best teams in baseball, and I'd hazard that both are surprising, albeit to significantly varying degrees.
The Last Time They Met
The Yankees visited Atlanta for a three-game set back in August of 2015, picking up the sweep by a combined score of 38 to 11; and, no, that's not a typo. Some notes from the series:
Didi Gregorius had a hell of a series, going 7-for-12 with a double, a home run, and 8 RBI. His OPS on the season jumped by 29 points as a result – all the way up to .672. It's amazing how far he's come.
Game two was the second start of Luis Severino's career, and it was one of the best of his rookie season. He went 6 scoreless innings, allowing four hits and three walks, while striking out 5.
The Yankees hung 20 runs on the Braves in the last game of the series. They put 30 runners on base, with ten different players reaching safely. Nate Eovaldi – the starting pitcher – was the only starter that didn't have a hit … but even he scored a run, having reached base as the result of a fielder's choice. Stephen Drew (!) was the star of the game, going 4-for-4 with 3 runs scored, a home run, 4 RBI, and 2 walks.
Check out Katie's Yankeemetrics post for points of interest.
Injury Report
Top prospect and rookie of the year candidate Mike Soroka was placed on the disabled list with right shoulder inflammation a couple of weeks ago, and was transferred to the 60-day disabled list last week – that's not a great sign. Brandon McCarthy is also on the DL due to right knee tendinitis, and will not be back until after the All-Star break. Closer Arodys Vizcaino was also out with right shoulder inflammation, but he's expected back for this series.
Their Story So Far
The Braves are 48-34 with a +82 run differential – and both of those marks rank fifth in all of baseball. They lead the NL East by three games, and have a 6-4 record against the third-place Nationals thus far. And they're coming off of a three-game sweep of the Cardinals.
How did we get here?
The short version is simply that the Braves farm system – which was arguably the best in baseball over the last couple of years – has paid tremendous dividends. Former top prospects Ozzie Albies (120 wRC+), Ronald Acuna (115 wRC+), and Sean Newcomb (143 ERA+) have been excellent so far, and most every other young player to get the call has performed admirably. Toss in Freddie Freeman (153 wRC+) continuing to be one of the best hitters in baseball, Nick Markakis (134 wRC+) finding the fountain of youth, and a team that profiles as average or better in offense, pitching, and defense, and you have a formula for success.
The Lineup We Might See
Third-year manager Brian Snitker has had a steady hand with the lineup, with most of the shakeups coming as a result of promotions, demotions, and injuries. The biggest question will be who he'll use to DH. Regardless, we should see something along these lines:
Ender Inciarte, CF – .247/.309/.341, 5 HR, 21 SB
Ozzie Albies, 2B – .275/.316/.507, 17 HR, 7 SB
Freddie Freeman, 1B – .315/.407/.546, 16 HR, 6 SB
Nick Markakis, RF – .323/.389/.488, 9 HR, 1 SB
Kurt Suzuki, C – .287/.352/.484, 8 HR, 0 SB
Ronald Acuna, LF – .269/.329/.469, 6 HR, 2 SB
Tyler Flowers, DH – .250/.378/.402, 4 HR, 0 SB
Dansby Swanson, SS – .249/.300/.418, 7 HR, 3 SB
Johan Camargo, 3B – .254/.357/.434, 7 HR, 0 SB
Charlie Culberson (110 wRC+) may start at third base or DH, as well.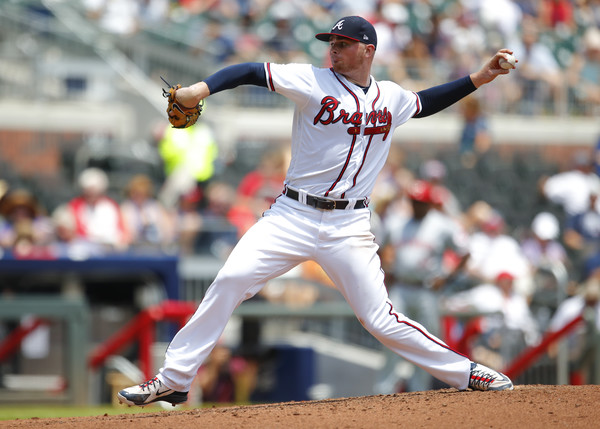 The Starting Pitchers We Will See
Monday (7:05 EST) – RHP Jonathan Loaisiga vs. RHP Anibal Sanchez
In case you were wondering, yes – this is the Anibal Sanchez that posted a 5.67 ERA (5.01 FIP) across 415.2 IP from 2015 through 2017. He has been something of a revelation for the Braves this year, though, pitching to a 2.68 ERA (145 ERA+) in 47.0 IP, even as his velocity slips. There are some signs that this is unsustainable – notably his 4.05 FIP – but the Braves couldn't have asked for much more than a scrapheap pickup for $1 MM.
Sanchez has become something of a junkballer, throwing six pitches, and none of them more than 27% of the time. Those offerings are a low-90s four-seamer, a low-90s sinker, a high-80s cutter, a low-80s slider, a low-80s change-up, and a high-70s curve.
Last outing (vs. CIN on 6/26) – 4.2 IP, 5 H, 2 R, 1 BB, 5 K
Tuesday (7:05 EST) – RHP Domingo German vs. LHP Sean Newcomb
Newcomb turned in a solid rookie campaign in 2017, pitching to a 4.32 ERA (98 ERA+) in 100.0 IP, but his 12.5% walk rate was a major red flag. He's cut that down by almost two percentage points (10.9%), without sacrificing much in the way of strikeouts – his K/9 has dropped, but his K% has actually went up a tick. Factor in a 3-plus percentage point jump in grounders, and Newcomb is pitching to a 2.71 ERA (143 ERA+) in 93.0 IP.
Newcomb is basically a three-pitch guy, with a low-to-mid 90s four-seamer, a mid-80s change-up, and a devastating mid-70s curveball. He'll flash a low-80s slider every so often, too, but it's basically a slightly harder curve.
Last outing (vs. CIN on 6/27) – 6.0 IP, 7 H, 3 R, 2 BB, 6 K
Wednesday (1:05 EST) – LHP CC Sabathia vs. RHP Julio Teheran
It wasn't so long ago that Teheran was perpetually on the trading block, as a young pitcher on a good contract that didn't quite fit the Braves timeline. Nowadays he's bringing up the rear of the team's rotation, having never quite getting back to the levels of strong campaigns in his first two seasons. He currently sports a 4.21 ERA and 5.12 FIP, with a career-worst 11.3% walk rate.
Teheran throws five pitches – a low-90s four-seamer, a high-80s sinker, a low-80s change-up, a low-80s slider, and a low-70s curve. His velocity is down across the board this season, though, which is not an encouraging sign.
Last outing (vs. STL on 6/29) – 6.0 IP, 2 H, 0 R, 2 BB, 4 K
The Bullpen
The Braves bullpen is very top-heavy, with Arodys Vizcaino (1.82 ERA. 27.1 K%), Dan Winkler (2.41 ERA, 31.3 K%), Jesse Biddle (2.76 ERA, 25.0 K%), A.J. Minter (2.83 ERA, 25.7 K%), and Shane Carle (2.93 ERA, 19.2 K%), all putting in good work. Beyond those five, however, it's something of a trainwreck, which is why the Braves bullpen is 22nd in the game in ERA+. None of their starters go deep into the games, either, which means those not-so-good options see a lot of innings.
Yankees Connection
Former Yankees Brandon McCarthy and Jacob Lindgren are on the disabled list, which is an unfortunately common issue. Arodys Vizcaino was dealt by the Yankees way back in 2009, as a part of the ill-fated Javier Vazquez/Boone Logan deal; he has a career 135 ERA+ in 181.2 IP, but he's dealt with a laundry list of injuries.
Who (Or What) To Watch
Acuna and Albies are two of the most exciting players in baseball, and they're the second and fourth-youngest players in the game, respectively. And, if you're a fan of defense, Inciarte is one of the best defensive center-fielders around.