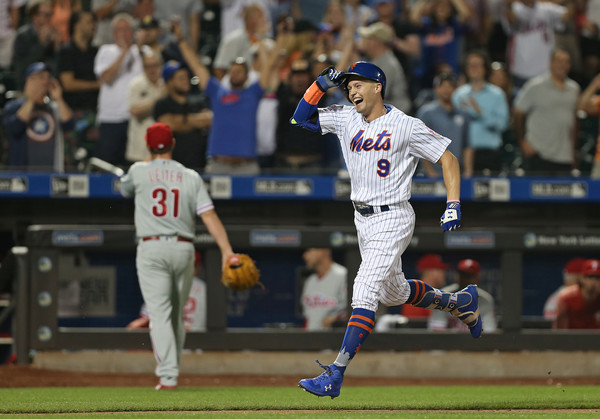 The All-Star break always feels a bit too long, doesn't it? But meaningful baseball is back after a mere four days off, as the Yankees look to climb right back into the race for the AL East. They're currently 4.5 games behind the Red Sox, and 5 games ahead of the Mariners for home field in the Wild Card game.
And they'll play host to the Mets to get things underway.
The Last Time They Met
The Yankees visited the Mets back in June, taking two out of three. You may best remember this as the series with the latest example of why pitchers should never hit, as Masahiro Tanaka went down with strains of both hamstrings in the first game. He ended up missing about a month. Some other notes from the series:
Tanaka was in the midst of one of his best starts of the year before getting hurt on the basepaths. He tossed 5 innings, allowing one hit, one walk, and one run, while striking out 8.
The bullpen was utterly dominant, throwing 10 scoreless innings and allowing just seven base-runners, while striking out 13. Jonathan Holder, Chad Green, Dellin Betances, Aroldis Chapman, David Robertson, Adam Warren, and, yes, even Chasen Shreve all got in on the action.
The Mets shutout the Yankees in the third game, which is notable for the fact that the Yankees were the last team to be shutout this season. The last time the Yankees were shutout prior to that was on August 11, 2017.
Check out Katie's Yankeemetrics post for more information.
Injury Report
In typical Mets fashion, there are lots of players on the disabled list – they actually have an entire outfield on the DL, with Jay Bruce, Yoenis Cespedes, and Juan Lagares all out with injuries. Cespedes will be back for this series, though. Other denizens of the DL include Travis d'Arnaud, Todd Frazier, Rafael Montero, A.J. Ramos, Jason Vargas, and David Wright.
Their Story So Far
The Mets are 39-55 with a -68 run differential, and they're comfortably outside of the playoff race. They're said to be willing sellers at this point, and there has already been quite a bit of conjecture about Jacob deGrom, Noah Syndergaard, Zack Wheeler, and Jeurys Familia. That puts them in an interesting position, as deGrom and Syndergaard would be the best starting pitchers on the market, and Familia would be among the best relievers – and that could mean a huge injection of talent into the farm system (if not the big league roster). Who they move over the next eleven days is undoubtedly their most intriguing storyline.
The Lineup We Might See
First-year manager Mickey Callaway has gone through several different lineups this season, owing to injuries, signings, trades, and the like. The only real constant has been Brandon Nimmo hitting atop the lineup – but, even then, he has only led off in 55 of the team's 94 games. Nevertheless, I suspect that we'll see something like this:
Brandon Nimmo, RF – .253/.373/.490, 13 HR, 7 SB, 139 OPS+
Asdrubal Cabrera, 2B – .281/.334/.490, 17 HR, 0 SB, 127 OPS+
Jose Bautista, DH – .238/.394/.437, 5 HR, 2 SB, 132 OPS+
Michael Conforto, LF – .216/.344/.366, 11 HR, 2 SB, 99 OPS+
Wilmer Flores, 1B – .272/.322/.460, 8 HR, 0 SB, 115 OPS+
Matt den Dekker, CF – .000/.083/.000, 0 HR, 0 SB, -74 OPS+
Devin Mesoraco, C – .226/.307/.409, 7 HR, 0 SB, 98 OPS+
Jose Reyes, 3B – .181/.257/.246, 1 HR, 4 SB, 42 OPS+
Amed Rosario, SS – .246/.289/.379, 4 HR, 6 SB, 85 OPS+
Kevin Plawecki (115 OPS+) will see some time behind the plate, and Dominic Smith (48 OPS+) could start at 1B or DH. Cespedes is expected to see some DH time this series as well.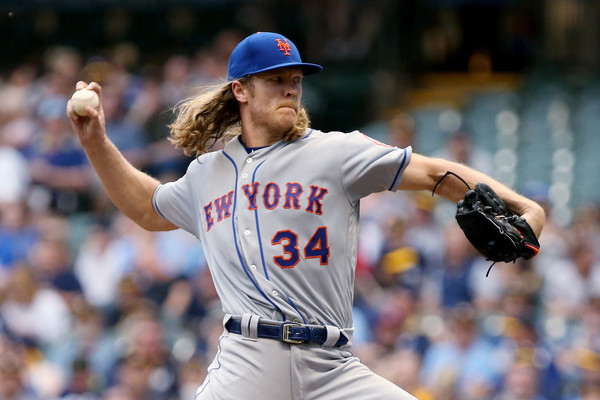 The Starting Pitchers We Will See
Friday (7:05 PM EST): RHP Domingo German vs. RHP Noah Syndergaard
The Yankees missed Syndergaard last time around, as the man they call 'Thor' was on the DL with a strained ligament in his index finger. He missed over a month with that injury, returning on July 13 – and just in time to get a bit more rest. This is the second year in a row that he has missed significant time with injuries, which isn't great, but he's been his typically excellent self around those injuries. He's currently sitting on a 2.97 ERA (129 ERA+) in 69.2 IP, with elite strikeout (27.2%) and walk (5.2%) rates.
Last outing (vs. WAS on 7/13) – 5.0 IP, 7 H, 1 R, 2 BB, 3 K
Saturday (1:05 PM EST): RHP Sonny Gray vs. LHP Steven Matz
Matz struggled a bit against the Yankees back on June 9, pitching to the following line: 6.0 IP, 5 H, 3 R, 4 BB, 6 K. That's a quality start, to be sure, but he had to throw a lot of pitches to get through those innings, and he labored towards the end. Matz has been solid overall thus far, pitching to a 3.38 ERA (113 ERA+) in 96.0 IP.
Last outing (vs. WAS on 7/12) – 6.1 IP, 8 H, 3 R, 2 BB, 4 K
Sunday (8:05 PM EST): RHP Masahiro Tanaka vs. RHP Jacob deGrom
deGrom has been the best pitcher in the National League this year, if not the majors as a whole. He currently leads all pitchers in ERA, ERA+, and bWAR, and he's third in fWAR. He has been so dominant that his last start against the Yankees – an 8 inning, three-run effort – represents his ninth best start of 2018 by Game Score. The last time that he allowed more than three runs was back on April 10, and he's thrown eleven quality starts in a row.
Last outing (vs. PHI on 7/11) – 8.0 IP, 5 H, 0 R, 1 BB, 7 K
The Bullpen
The Mets bullpen ranks:
22nd in K%
23rd in BB%
26th in ERA
29th in fWAR
30th in WPA
In short, this isn't a good group. Closer Jeurys Familia (2.88 ERA) and Seth Lugo (1.96 ERA) have been solid in their roles. Beyond those two, however, they have nine relievers with 10+ IP and an ERA of 4.31 or worse.
Who (Or What) To Watch
The Mets are throwing their three best starters, and the Yankees their three worst. That's less than ideal for the Yankees, but watching Syndergaard, deGrom, and Matz work is a genuine treat – and seeing the Yankees lineup tee-off on them would be even better.