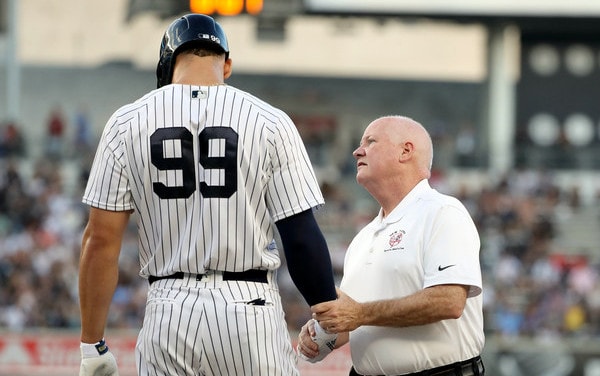 11:06pm ET: Bad news. Judge suffered a chip fracture of the ulnar styloid bone in his right wrist and it will be at least three weeks before he can resuming swinging a bat, the Yankees announced. He doesn't need surgery, which I guess is good, but this still sucks. Three weeks until he can swing a bat means it'll be at least four until he returns, probably longer, because he'll have to get some minor league rehab games in.
8:45pm ET: Judge was examined by team doctor Dr. Ahmad at Yankee Stadium, and is going for an MRI, the Yankees say. Here's the play:
8:32pm ET:
Welp. Aaron Judge exited tonight's game in the fourth inning after taking a pitch to the right wrist in the
first
inning. He got hit and stayed in the game long enough to run the bases and get an at-bat later in the game. Judge was pinch-hit for in his third at-bat as the designated hitter.
Needless to say, losing Judge for any length of time would be a devastating blow, even with Giancarlo Stanton ready to step in as the every day right fielder. I suppose the good news is that, if Judge does have to miss time, there's still a few days before the trade deadline, so the Yankees can go out an get a replacement. Hopefully it doesn't come to that. Keep in mind Clint Frazier on the disabled list with post-concussion migraines.
The Yankees have not yet announced an update on Judge because he just came out of the game a few minutes ago. He's surely heading for x-rays and tests and whatnot. Hopefully he was taken out as a precaution and everything checks out okay.