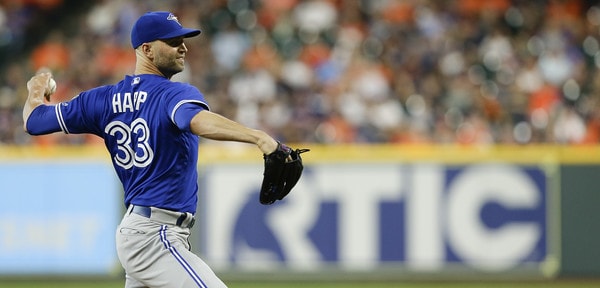 So the Yankees need another starting pitcher. That has been true since the offseason and it is extra true now with Sonny Gray among the least effective starters in baseball. Masahiro Tanaka is coming back next week, so that's good, but Jordan Montgomery is done for the year. The Yankees need at least one starter. Two would be cool.
One starter they're said to be considering: J.A. Happ, who they'll face this afternoon. Happ has a 4.03 ERA (3.64 FIP) on the season — it was a 3.62 ERA (3.58 FIP) before getting rocked last time out — and he's faced the Yankees once this season. He couldn't complete five innings against them on Opening Day, you may remember. Beat up on Happ, win the game, and drive down the trade price. Sounds good to me. Here are today's lineups:
New York Yankees
1. LF Brett Gardner
2. RF Aaron Judge
3. DH Giancarlo Stanton
4. CF Aaron Hicks
5. 3B Miguel Andujar
6. SS Didi Gregorius
7. 2B Brandon Drury
8. C Kyle Higashioka
9. 1B Greg Bird
RHP Luis Severino
Toronto Blue Jays
1. LF Curtis Granderson
2. 2B Lourdes Gurriel Jr.
3. 3B Yangervis Solarte
4. 1B Justin Smoak
5. DH Kendrys Morales
6. CF Kevin Pillar
7. RF Randal Grichuk
8. C Luke Maile
9. SS Aledmys Diaz
LHP J.A. Happ
It is another spectacular day in Toronto, so the Rogers Centre roof will be open. This afternoon's game will begin at 4:07pm ET and YES will have the broadcast. Enjoy the game.
Roster Move: Welcome back, Clint Frazier. He was called up today and David Hale was designated for assignment. Figured that was coming. Hale pitched too much last night. I suspect he'll once again clear waivers and sign a new minor league contract with the Yankees. It would be the fourth time they've signed him this year.
Injury Updates: Gary Sanchez (groin) caught a bullpen session today and has done everything (catch, hit, throw, etc.) except run the bases, which he should be cleared to do soon. He could begin a minor league rehab assignment next week and it's possible he'll come off the disabled list before the All-Star break. That'd be sweet … Jonathan Loaisiga was placed on the Triple-A disabled list with shoulder inflammation, the team announced. That bites. He's going for more tests. That rules Loaisiga out for a start in Monday's doubleheader. Luis Cessa will start the second game instead.